Recent Forum Posts for Coffee
Limit: 20 - 40 - 60 - 80
(Uguu, @Cara you silly nilly cutiepoof! I heart you moooaarr) 25! I am going to have to ping miss @Rinny whom is constantly lending me a hand when needed around here, I can always count on her to give me a Subetian hand when it comes to needing a certain item or what-have-you! Not to mention she is one of my closest squishypoof compadres and has put up with me for literally.. years. Years. I am so sorry, featherpoof ahahah. (If there are any errors with this message I blame it on my bottle of Italian wine ok, ok.) Thankja kindly!
Aww, I do not think I have any of my screenies and whatnot from the past - my former computer kind of.. lit on fire, and lost the majority of everything I had - including my subbie filesss. Pity, too. I had some good ones.. like that time waaaay back when, when the shoutbox had that error.. where everyone's usernames were inside an item image code. So no one's names showed unless they were a name that was also a Subeta item, which in that case, it showed up as the item picture ahah. I was a little green coffee cup..
Zephyr was the minion, ect. Good times.

Link to SUBETASHOTS: Documenting the history of our virtual world in Screenshots!
There! Danced with everyone who has posted so far.
Luuuls, yaaaay
furby! XD I was lost, but now I am found. Yes, yes it does Brass.. yes it doess.
Hey goobs~ Like everyone else, I have a need for many a token, so! Post, and I shall dance with you, and I would appreciate if those who post would offer me their hand in a dance or two as well~ thankja!
Would appreciate some kissus~
Gave you a kissus~
Gave you a kissus~
I giveth you a kissus~ return, please and thankja?
Not the style I am really looking for puddin, but thankja for posting!

Link to [Buying] - Multiple Pieces of Duo Anthro Sonas [USD]
Heyloha! So, I have tons and tons of rare items hanging around my account (see my shop 'Waiting for Treasure Spaces as well as taking a peek into my pets TCs. Such as Soy, Maraschino, Doll, Tea, ect. All of them have quite a hoard of rarities.) but I don't really need them. So, I am looking to buy some artwork in exchange for rare items/sP (I can sell items to get you the sP price that you want.) If I like your art enough, I may can do a USD option as well. Just let me know your USD prices, too~! At the moment I am focused on getting artwork of I and my bff's sonas done. But if you would like different options, feel free to message me. I have some other options that I just am to lazy to include on the board. Before you doodle, please post examples of your work! I want to see if your style is what I am looking for before we go through with anything! Anyway, here is what I'd like drawn: Project #1: BFF Sonas I would like artwork of I and my BFF's sonas interacting. You have a lot of artistic freedom with this, we can be doodled doing many things. We both are coffee fanatics, so any doodle where we are partaking in tasty coffee goodness together is a plus. We can also be doodled with my sona doodling and her sona watching or giving me ideas of what to draw; messing around with tin can phones; just hanging out, talking to each other with or without coffee/tasty pastries; with us riding on a sauropod dinosaur or feeding daisies to a stegosaurus/ankylosaurus. Really, anything similar. We both love dinosaurs, coffee, teals, oranges, creams, whites, browns, pastries/baked goods, music and doodling. My sona is a cross between a stegosaurus and an alpaca, her sona is a cross between a ram and an ankylosaurus. She is the one in teal colorations, I am the one in browns/tans. See these examples (sorry they are not fantastic, that is why we need more doodles!): 1 (my sona on left, her sona on right), 2 (her sona on left, my sona on right) More examples of my compadre's sona: 1 (left side), 2 (rated M for \'language\'), 3 (left) As the colors vary in the doodles due to many of them just being pchat scribbles, here is a better example of our colors: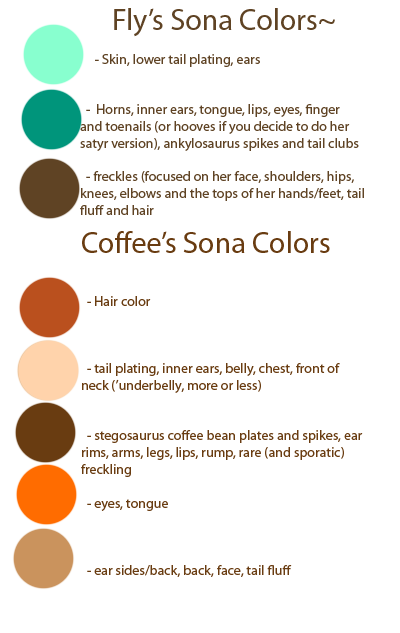 Um.. um. Here are some additional details on each of our sonas and personal likes/dislikes if it helps any: Coffee's Sona: alpaca ears, alpaca wool on the upper tail! Stegosaurus tail, plated tail bottom, stegosaurus plates resemble coffee beans while stegosaurus spikes remain typical of the stegosaurus. Mid-back length wavy/curly bedhead mess of copper hair that is a lot like thisclickhere! Only a bit longer, and a bit of variation color-wise. More copper than red. Sideswept messy bangs. Wears glasses at all times. Kind of like these: clickhere! I am a working barista and adore coffee in every way, shape or form. I also have a great fondness for dinosaurs in all their many magnificent shapes and forms. I am a big fan of the color orange, but the colors brown/teal/cream/white and yellow green are never far behind. I dress like a dweeb. Clothing ideas would include: daisy dukes, cute flats, bows, vintage prints, long shirts, hoodies, tanktops, ruffles, bows, frillies, garter belts, stockings/thigh highs, cute heels, scarves (short or longlonglong), jewelry (necklaces, bracelets, earrings.. my ears are pierced twice on both sides), layers, skirts, headbands, plaid, bows/flower head bands, ribbon chokers, anything with coffee/dinosaur/insect/pokemon themes! If you need further information, just give me a poke. Fly's Sona: ram ears, horns, optional satyr ram legs from the knees down, ram sheepy wool on the upper tail and such. Ankylosaurus tail, tail spikes, tail clubs and optional spikes on her shoulders and outer thighs. Just below shoulder length semi-thick, semi-wavy-wispy dark brown hair that matches her tail wool and freckles. She has sideswept bangs. Wears glasses, just like I do~ Fly is a nerdalert and I love her to iddle widdle pieces. She is an extreme baker and enjoys coffee, dinosaurs, bugs, pokemon and everything related just as much as I do. She favors teal, but also enjoys browns, aquamarines, creams, oranges and greens. Clothing-wise, she favors comfy hoodies, jeans (with or without wear and tear), geeky t-shirts, tanktops, nerd boots (plaid print cute boots would be win), sneakers and anything with dinosaurs/pokemon/coffee/bug themes! As with my own, if you have any questions about Fly's sona just give me a poke. Both of us would love if shirts/hoodies used in doodles had dinosaur, pokemon, bug or coffee themes. I think that about covers it! If interested in taking this on, just post with your prices and examples of your work so I can yay/nay things. Thankja!

Link to [Buying] - Multiple Pieces of Duo Anthro Sonas [USD]
@Love Luls.. I need like a bajillion. So I am just dancing with you whenever I remember to click over to this tab~ hope you don't mind. XD
Kuku~ I found'chu.
I would love to dance~
-smooch-
[center]Holee, talk about zombie forum. The last time I posted on this forum was a year ago, people. XD It is no longer a valid board. I will erase it ahah. Sorry about that. ..Wow, really. It was bumped the day it turned a year old.
@PlipKat Holy dear god.. I am so sorry for the wait, I keep getting called into work or kept for extra hours and ugh. I will be off FINALLY (at least I BETTER be off.. rrfff) between Tuesday/Thursday, so I HOPE to have everything together for you including payment on Friday. That sound good? IF you are still interested. XD -fail-
@Plipkat Alright, fair enough. o: I will see what I can do! I was going to have the refs done today, but I got called into work short notice. I work until Sunday, so I will do my best to have some simple refs done up by Sunday evening at the latest if all goes well with work. Thankja muchly, Magnolia. (:
@Plipkat How much would two chibi anthros and two quads/pet overlays be all together from you, cupcake? (:
Indeed I do, Magnolia. Though, I suppose I am looking more for a 'chibi' style as I need the images to be fullbody but small enough to be used in graphics without problem. I am looking for a somewhat animated style as well. I like your work though, so I will be considering you. (: Your work isn't exactly what I am looking for Uni, but thankja for posting! Still looking for interest~