Recent Forum Posts for Botanist
Limit: 20 - 40 - 60 - 80
@hungarian_dancer Yes, I think that works better. I know nothing about CSS either, but the minion box scrollbar seems like something the coding fans in the Profiles & Graphics Discussion board should be able to fix for you.
I don't mind if it's Maleria specifically, but it would be cool if for the next plot instead of introducing new characters we used some of the oldest ones that are already hanging about the place. There's quite a few things, like Maleria, the SAI and Calvin Blackmoon that are presented as Important To Subeta, but who I've never really seen do anything and am kind of vague about their history...
I generally start every morning with a bowl of museli and a cup of coffee - I'm having it right now in fact. I actually don't think I could go without breakfast as even with it, my stomach starts making whale sounds at around 10.30 anyway. If I skipped breakfast I'd probably start eating my desk or something.
Captain obvious: really small. Don't even bother trying for that 500K, guys. I got this.

Link to 500k to the person that helps me figure out something!
@hungarian_dancer I don't quite get what's going on in the story, but I guess that's the point? When it comes to pet profiles, I prefer a mysterious wee scene that's meant to make you curious over a full-on novel chapter any day. Layout-wise, it looks great, except that the minion box has a scrollbar when it seems like it should fit nicely in the frame on the layout. Also, some of the treasure chest items seem a bit random - a cosy cup of cocoa and a cupcake (even an icy one) seem a bit out of place when the story is so bleak. Also, I wouldn't have made the connection between the berry in the treasure and the plant the woman is looking for, either. Perhaps she should state she's looking for a fruit, not a plant? Edit: also, 'image from Tumblr' isn't proper credit; Tumblr didn't take the photo.
They look much cuter... But why so bristly?
@anti First thing that springs to mind is:
There's also the 'scrap of paper' items (check the shop search, there's about 20 of them)
Yeah, it seems like there's been a proper spring clean going on around here - dusty areas of the site getting attention, old items getting a brush up, lots of little things being added and fixed here, there and everywhere. Good on ya, staff.
Quote By @Silverfish:
Well, I cannot say I would mind being trapped in a vicious art cycle with you!
Well, honestly, I can't say I'd mind either
Well, I think you can be fairly sure that people appreciate your kindness whether they find a way to say so or not. Honestly, some people just hate bragging or drawing attention to themselves. Especially with an anon gift, it's hard to make the topic about the gifter because you don't know who they are, and I think some people are wary of coming off as, like 'LOOK AT ME GUYS! People like me! Do you get people secretly sending you amazing gifts? NO? WELL, I DID!'. You do find a lot of naturally shy people on sites like this. Try un-anoning. I'm sure more people will thank you if they can do so directly or privately and know who they're talking to.
@Silverfish So glad you like it! And don't worry about the late response...I did originally offer to draw for you back in...November, was it? Something ridiculous. And, yes, the tree's a magnolia. I moved to a new city last autumn and have been pretty amazed by how beautiful spring has been here. In my old place we had a few nice avenues of cherry trees that put on a pretty good spring display, but my new city is just awash with magnolias and when they all blossomed at once it was really something else - I couldn't help but draw one. And I was checking out your sig links the other day, and your art is lovely (especially your dragons! Scales
) - but just think, if you draw something else for me, than I'll want to draw something else for you and then, knowing me, I'll offer to do it and promptly vanish for a month or two again...the cycle will begin afresh! @Prey Thank you very much
And, whoa, 'can't send as much as you hoped'?! That was very generous, indeed, especially for a sketch, and a sketch that I kind of messed up at that. I hope I have time to colour it at some point because I like the prisim-y colours he has, but I'm going to be overloaded with work for the foreseeable future so I don't know if/when that will happen.
claim
My favourite is still the #886; it's a spooky, shiny, see-though sea-thing. What more could you want?
Claim
Full support! Would be nice to get something for the times when you get a few screens in and start thinking 'Maybe...could it be?! ...Am I FINALLY going to beat the cry-" before you fall down the inevitable trap door.
Sketch for @Prey Ahh, I really like this character design. I think I messed up a bit on it, though, including (I notice just as I upload it) putting his normal eye on the wrong side. Sorry - it's been a tiring week! Hope you like it anyway!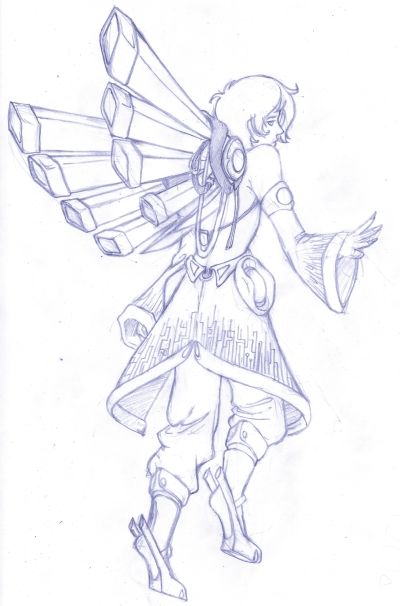 (click for larger) @Silverfish - dunno if you missed my ping? I finished yours a wee while ago
Claim
Claim
Claim
Claim