Recent Forum Posts for Isabella
Limit: 20 - 40 - 60 - 80
oh yeah i forgot i deleted this ping a while ago. yayyy summer camp!
yessss the shorts! finally!

Link to Clothing Rack Revamps [Preview and WL/DC] [5/18 Update]
@barbie - I have the shoes. Sending. And I don't know if there's a hard rule on this but a day is perfectly reasonable. I don't know what anyone else thinks but I start getting nervous when it's been so long I think the person forgot they're borrowing from me and it gets awkward because you have to ask for it back. So like a few weeks? But yeah you can assume you can borrow something for more than a day, unless the lender tells you otherwise.
@MenstrualCramps - Another thing when you're making a simpler HA is that all the little touches become even more important (as knikol said with the jewelry.) I think the face is an area where you could make a few improvements. The mouth fits the softer, girlier parts of the HA like the flowers and the dress and heels but the eyes and nose are harsher and go with the bold bright colors. But together, I think it's too all-over-the-place and you should either go more girly with the eyes and use a smaller nose, or change the lips to something bolder and go crazy with the eyes (lashes, eyeshadow, something to make it more exciting. it doesn't have to be a bunch of items you need to max out your face layers for but it's definitely something you should play around with.) Also about item choices, those tights, even though I know you're going for the ombre effect of the dress + the pink of the hair, don't really work because those ombre tights are just an unfortunately-drawn item and they're going to stand out more when they are the main focus on the legs. You could still go for that fuchsia color, though, just using other items.

Link to CHIC Critiques [Please READ edited OP before posting]
@sewb - I like this better but the legs are still more of a highlighter yellow-green than the golden yellow of the hair band and shirt details.

Link to CHIC Critiques [Please READ edited OP before posting]
@spoken - I'll get into the individual HAs but as a general critique, I think you should work a bit more on your faces. While it's not necessarily bad to have a few favorite go-to items (I mean, I certainly do...) it can be pretty limiting, and when you're working on a CHIC application you want to show off a wide variety of what you can do. I know you're using a lot of different items here but they all have the summer lipstick + dark rimmed eyes + smeary eyeshadow/blush going on and I don't think it's always the best expression to go with the HA. Like the last one would make more sense with something much softer for the eyes, instead of the hard black liner look, because the outfit and hair are so pastel girly cutesy. One: Here I actually like how the eye makeup mimics the legs. But I would show this off even more by using a hair style that didn't cover so much of the eyes. The heavy bangs also make those (and probably most) eyes look weird because of where it cuts them off. I think you should also use a shorter necklace that doesn't interfere with the layered complicated bits of what is going on in that top, because even though it's just a necklace over a top, it ends up looking very busy. The anklets over the shoes are kind of weird too; it would look cleaner if the shoes were on top. Finally, I think you should look into some bracelets or rings since it's an easy way to add a touch of gold. Two: I think you should pick if you're going to go with black or brown on this one. You have everything from black (the arms) to dark brown (the top and belt) to lighter brown (the shoes and legs) and then there's the purply-brown hair. I think I'll cut it off there because how you change the colors impacts what else I'd critique but yeah I think this is one that could use a general overhaul. Three: I think this is your best one, but as I said earlier, the face needs work. There's also some color-matching issues here; you can get away with some mis-matched colors but then there are things like the hair which you can use a color-dropper add-on to match as close to perfect as the shading on that style allows and I think you could get it closer to the pink in the shoes here. @MenstrualCramps - Sorry if you've changed your HA since posting but I'll critique the one you have on now. The shirt layered over the hair creates a weird part on the right where the sleeve is just floating on the hair. The hair also looks a bit flat, so make the high and low lights more pronounced. The pants and sandals make the HA look like she just woke up and wore her pyjama bottoms out with the first shoes she could find idk I just don't think it works. This is a really simple HA and while simple can be good, here I just think there's not much going on and you'd be better off starting over. Like the shirt is a nice item and I think there are a lot of cool things you could do with it (also I want it and I am jealous) but sticking with the brown and off-white with some silver is rather dull. @sewb One: Nice. Make the legs more yellow and less green. I also think you should change the belt to something more realistic, to go with the style. Two: Belt under the jacket. Also those shoes always look like bedroom slippers and I think something like the High Elf sandals or something like that would work better here and still match (the ankle wraps would have to be removed, though.) Three: The braids look weird over the shoulder things. Also I think with this HA you need to decide if you're going to go fantasy badass or a more realistic cutesy look because you have some of both here and it's not really blending well. Four: This one is my favorite. It's simple but everything makes sense and it avoids being boring. I think you should take out the black, though, so that it doesn't look like you're trying to match it to the brown. Like add a lighter colored scarf instead of this one, and try the gingerbread whatever they're called shorts (that your first HA has) and actually I think the necklace and tights can stay because the smaller things don't bother me. Also I think the hair clip doesn't layer with this hair quite right; I'd change one or the other. Five: I love the blush. I don't know what item has the faint white dots around the eyes but it works great with the tights; the texture weirdly matches. I like it. But like this is the kind of simple that I don't really have anything to say about because yeah the colors match and it works but it's also kind of dull and I can't really think of where to take it but I see other people have posted while I'm writing this so maybe they have something idk. Six: The belt sitting so low on the waist when the pants are high-waisted doesn't work. It also cuts off the shirt weirdly since it's drawn to billow out. I think you should change the pants to something less structured and stiff, to go with the spring feel of this HA.

Link to CHIC Critiques [Please READ edited OP before posting]
#chicbl - Could I borrow someone's
please?
@barbie - Happy birthday! OK you have so many cute HAs and I don't want to repeat any of the ones here so I'm going to pick this one: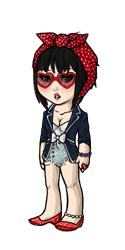 because I keep wanting to use that headband but never quite manage it, and these shades are really growing on me!
@jila - Wow congrats! And could I get a slot for the overlay?
@barbie - sorry to do this but i don't have quite enough csc and would probably not have it in time to pay so you can open up my slot!
Thank youuu!
#chicbl - OK sorry last time, I promise. But does anyone have a
? Thanks!
@vela - hooold up do you have two of these? unless you just lent me the one you're wearing and cache is slow (in which case that was really nice!) also thanks!
#chicbl - Could I borrow a
please?
@vela - Awww you're so sweet! ♥ My favorite of @sugary's HAs is: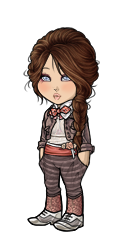 because I'm a big fan of realistic HAs and am quite partial to the ~feminine menswear~ look she's got going on here. Also the soft, muted colors are great. Also lol Simona you would pick an HA of mine with a pug.
@cheyanne - sending the breastplate
hah all the CWs i can't figure out what to do with are ones no one wants so they're unsellable and i'm stuck with them, looking at the money i wasted~
@hero - Sending the dagger.
@luscious - Thanks!
OK I just went down the dangerous road of looking at all the head items and now can't decide which one I want exactly so since they're all CWs I'm just going to go with "I would like to borrow any one of these and I'm not really picky as to which: "
#chicbl