Recent Forum Posts for Sewb
Limit: 20 - 40 - 60 - 80
@Isabella I really have no clue how to fix the yellow sheers, I've tried layering white and orange sheers but it doesn't fix much. Maybe I could try with patterned stockings/sheers? But it's hard without CWs. ; 3 ;

Link to CHIC Critiques [Please READ edited OP before posting]
@Isabella @Nightwing @chess Thank you for the critiques it was helpful! c: Just updated the first one and I would like to see what you think! I've realized that the belt wasn't really in the theme, I hope this is better. o: I'll try to work on the others as well!

Link to CHIC Critiques [Please READ edited OP before posting]
Well, I've been wanting to join this cult for a while now and I think I'm ready to be critiqued! Here are my entries: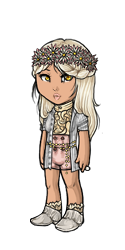 Link to CHIC Critiques [Please READ edited OP before posting]
Hi guys! Just letting you know that I posted in the critique forum, I'd love to know your opinion on my HAs before I post my application. c:
@Rapunzel So do I make a topic in the critique forum with my application form? o: Just making sure though, for the 3 avatars (no black, no sheers and shoulders) I can't use CWs for them?
@Rapunzel Yes, I do!
Sorry guys, I just have one question! (about applications) Can I create a forum topic now? Because I don't see any other ones on there and I don't want to make a mistake. D;
@Alexi The cutie evil bunny! o:
Super cute flats, I can never get enough of those! <3
@Untouchable Just offered, thank you for selling! c:
@Untouchable Would you take 1.5k CSC for the Cream Cocktail Pumps?
@Unforgotten 9/10 Well done, nice theme! c:
claim
claim
claim
claim
claim
claim
claim
claim