Recent Forum Posts for ginger_kitty
Limit: 20 - 40 - 60 - 80
@ambrose101034 Some dogs are just naturally prone to anxiety, similar to some people. It doesn't always mean that they had a stressful upbringing, or that you've done anything wrong, it's entirely possible that it's part of her brain's wiring. But, you can still help her, and she can still get better-- Think of it like an anxiety disorder, and you're the theattacker.
@ambrose101034 I used to work with dogs, and this definitely sounds like anxiety. Punishment of any sort is a BAD way to deal with dogs who are stressed or anxious, as it usually just makes the problem worse. She sounds like she could use a big boost of self confidence, and some desensitization to the situations that are causing her the most stress. Even though she might know your friends, and might have been to their houses before, she is not associating them as being a safe den space for her. Since it sounds like your friends have dogs, then she might also be uneasy about being in their territory, even if she's friendly with the dogs themselves -- she just might not understand where she falls in the pack setting at their house. Building general self confidence in a dog is a long, hard road. Practice obedience training, try some new tricks, introduce her to obstacle agility, make some new dog friends. Set her up for success at a bunch of little goals, and praise her thoroughly. Keep her physically and mentally stimulated and challenged, but not overwhelmed. As I said: little goals that she can manage. You might want to enroll in a local training class, like click-a-trick. If she seems intimidated by big dogs, try introducing her to some well mannered smaller dogs that she can play with, and do this on NEUTRAL ground (like a dog park, or doggy day care), not at your house or the other dog's house. Spend a lot of time learning and practicing the "watch me!" command. You can find instructions for this online, but the gist is: hold a GOOD treat in front of your face to get her to look at you. Give it to her when she's focused on you. Repeat, getting her to watch you for a few seconds longer each time. Eventually, just point at your nose and tell her to watch you, without using the treat as a lure. Continue adding time before you treat/praise. This will redirect her focus away from whatever is bugging her -- sometimes just breaking that focus and making her look at you will be enough to stop her from freaking out. Otherwise, it gives you a chance to give her a new distraction (toy, etc). When it comes to stressful situations like going to a friend's house, get your friends to be really encouraging and welcoming when she comes in (have them give her a treat, have them get on her level, etc). Give her distractions and things to do (puzzle toys and treat toys are great for this) while she's there. Dig out the big guns when it comes to treats (something she REALLY loves. Something really smelly is best, so it can really catch her attention), and reward her any time she is calm & quiet. To help her along a bit, I also recommend the thundershirt. Just consider it a tool to help with her anxiety WHILE you work on the other parts, and not just as a fix-all.
@Wolf_Spirit I'm with @BOND That was basically the only method that could break my border collie from pulling on walks. It's really frustrating and exhausting, and it takes a lot of time + work + patience, but it's worth it. Just keep at it, and try not to get angry when you're out walking. I had good results after a few days, and GREAT results after a week or so. ANY time she pulled, I stopped walking. When the line would go slack, we'd walk. She'd pull, I'd stop again. When we started out with this method, I might only make it two steps before I had to stop again, but I'd still do it. She got the message eventually and is a great walking buddy now. Another tip, which can be hard when the dog is a problem walker, but he might need more exercise than what he's currently getting. He might just have so much energy pent up that he can't concentrate on good manners (this ended up being part of my problem). Try adding in some extra fetch, trips to the dog park, or see if you can teach him how to run alongside a bicycle? Good luck!

Link to Anyone here own a dog? Training help needed, please!
I'm 23 and have been on here for a little over 2 years. I don't feel so old?
I am 23 and working on my Master's degree. More than a few people have assumed that I'm not only still an undergrad, but most assumed that I was a freshman. Just... no. I'm 5'6" and small boned, but I definitely still have some womanly curves. I just have a really young face, I guess?
My first job was working as a dog bather for PetSmart. One of the most stressful jobs ever -- you not only have to deal with the stress of customers, but you get to be scratched, bitten and peed on, all for just a little over minimal wage. You were expected to bathe 8-12 dogs per day, plus handle walk in services, answer phones, schedule appointments, and assist the groomers with their dogs. And the bathers were responsible for scrubbing down all of the kennels and the bathing area at the end of each day. That said, I still enjoyed it. I like working with animals, I had some great repeat customers, and I loved most of my coworkers. I quit for school and later went back (but to a different store location that was more convenient). Between both stores, I worked in PetSmart salons for almost 4 years.
claim!
claim!
claim!
Claim
Claim!
Claim!
Claim!
claim!
claim!
Claim!
Claim
Claim!
claim!
Claim
Claim!
Claim!
I'm glad that you guys were able to work something out, and that she is happy in her new place!
claim!
@Bonnibell Congrats on the new addition! She's still in a very new environment, and adjusting to a new place and new family is very stressful (even my dog of the past 8 years freaked out about moving halfway across the US with me last fall, and took a month to adjust to the new apartment). Australian Shepherds and other highly intelligent breeds can be especially sensitive to stress, and both urinating/defecating are normal stress behaviors. That said, given that there is blood in the fecal matter, it's imperative to see a vet ASAP to make sure it's nothing more serious, such as Giardia or Parvo. You should also check her gums regularly to make sure that she is staying hydrated during the diarrhea -- her gums should be pink and wet. If they are pale, or feel tacky to the touch, then she is getting dehydrated and will likely need IV fluids from a vet. As a general tip: dogs can take pepto bismol. 1/4 tablet per 20lbs of body weight (or 0.5~1mL per pound), every 6-8 hours. This should not replace professional vet care, but it can help ease symptoms until she can be seen, and it can soothe a temporary upset stomach caused by stress or a bad meal. For the peeing, try to stay calm and enforce a regular routine. Clean the floors/carpets THOROUGHLY with non-ammonia based cleaners to discourage her from eliminating in the same place. If you catch her urinating inside, don't get mad, but take her outside immediately. Praise a LOT for peeing on walks (bring treats if she is food motivated. Praise/reward every time she pees in an appropriate place). If she still has some trouble adjusting, you may wish to look into kennel training, or set up a baby gate to keep her away from her preferred indoor potty areas. A beginner's training class can also help to strengthen your relationship, make her feel more secure, and your trainer can give you more specific tips about behavioral issues. (Qualifications for these judgments: living with dogs for 23 years, professional dog groomer for 4 years, plus volunteer with dog shelters/vets)
A good portion of my innocent elementary school crushes were on girls. After puberty, I noticed sexual attraction to girls as well. Where other girls would mention being interested in a guy's ass, or abs, or muscular arms, I was repulsed by traditionally masculine figures. I was attracted to breasts and femininity. It took many years to actually come to terms with this, mind you. I accepted during middle/high school that I might be bi, and I continued to date men well into my university years. I was even sexually active. But, I just never felt the same with men as I did with women. When I was around 20/21 I finally stopped worrying about it. I'm queer with a strong preference for women, and I don't believe in gender as a strict binary.
claim!
claim!
claim!
claim
claim!
Claim
claim!
Claim!
claim!
claim!
claim
claim!
claim
claim!
claim!
claim
claim
claim
claim
claim!
claim!
claim~
Claim!
claim
claim
claim!
Claiming!
I may have just spent a lot of SP to make my avatar look like Amy Pond from the "Vincent" episode. For a long time my favorite doctor was Ten. Eleven took a while to grow on me, but Matt Smith has definitely usurped David Tennant now in my heart. Love him, love Amy & Rory, love River. Just finished rewatching season 5 and first half of 6, totally gearing up for when season 7 starts this autumn. For my overall favorite companions, though, I'm torn between Amy and Martha.
I like cleaning, especially scrubbing/deep cleaning; Things like scrubbing the grout between floor tiles, and washing the mud/dog snot off my back door. I also really like rainy/cloudy days, and... I like how my dog smells. Obviously not after she's just rolled on a dead animal or gone through the garbage, but her normal-slightly-earthy-stereotypical-dog-smell.
I'm 22 years old From the USA (Been in Austin, TX for 12 years, but moving to Seattle, WA in 2 weeks!) I've been a member for 1 year, 4 months, 5 days.
@Elric I just graduated from a major university, and I'm about to start graduate school. Before the university, I went to a community college, so I was never your typical "freshman" (transferred to Uni with credits to be in between sophomore/junior) but I hope I can still help. Is the first day any different from a first in grade school? Yes and no. There are orientations for freshmen and transfer students to help you get an idea about the campus and how college will work, but I recommend taking some time to wander campus, locate where your classes will be BEFORE the first day of class, and keep a campus map with you during your first few weeks. On the first day of classes, you may or may not introduce yourself to your classmates. In languages classes and smaller classes, you usually will do a basic "Hi, I'm X, and I'm an X major" but bigger classes won't waste the time on it. You will primarily focus on reviewing the syllabus and schedule for each class, and then move on. Pretty bland. What's it like in a classroom with 100+ people? Not bad. You don't always have a close relationship with the professor (unless you actively ask questions and go to office hours), but TAs will be assigned to work with smaller groups of students within the class, and you might even have a weekly discussion group lead by your TA. In these types of classes, attendance to the big lecture may not be mandatory, so you might be tempted to skip -- police yourself, but play that by ear. 99% of the time, you should attend all of your lectures. But I'll be honest: for some classes, I did better attending the TA discussion session and skipping the professor's lecture, because the TA was better at explaining the material. On the other hand: I had professors who would sneak hints or answers for exams into lectures on days that they expected students to skip (such as classes before a holiday). How did you deal with the workload? There's usually a lot less "busy work" than in High School. But there is a lot more reading, and a lot more essays, so be prepared for that. Language classes frequently have homework and quizzes every day or every other day, and a test every chapter. Liberal Arts/Humanities classes might have a homework assignment once per week. English classes will have you reading stacks of books, and writing essays on everything. Rhetoric classes are around the same. Math & science classes will require some homework, and be very heavy on the exams. I dealt with it by using a daily planner and just working hard to manage my time. Never wait until the last minute to do something, or you will fail. I used the breaks in between classes where I couldn't go home to hole myself up in the library and study/do homework, so I had less to do at home in the evening. I would do most of my reading on the bus, and most essays were done at home or at work (I worked for a tech center on campus in the mornings, and we were allowed to do homework during down time). Also, this is only slightly related, but don't schedule all of your classes back to back. While you should get your homework and studying done ahead of time, it's still good to have an hour or two in between classes to refresh the material before you walk in, and make any last minute changes to your assignments, etc. How can I make friends? Clubs! Organizations! My university had an endless amount of clubs/organizations, for every possible interest. Since I lived off campus, I mostly ended up making friends with classmates, but I did participate and meet some people in ballroom dancing classes, and in one of the culture clubs. I also ended up making friends with some of the professors and TA's within my department.
@Scone You're very welcome! I hope you can sort it all out.
It took me forever to get my hair & scalp under control, so I know how frustrating it can be. Also, just to give you another option on the tea tree shampoo, I checked and Nature's Gate brand also has a tea tree oil shampoo ($9.29 for 18oz instead). Unlike some other organic brands, you don't need to order it online or go to a health/organic store: Nature's Gate is currently available in the "organic" corner of Walmart's beauty area, as well as at places like CVS/Walgreens/Albertsons, etc. I've used NG's herbal and aloe shampoos before and was really pleased! The big bottle is nice and lasts a while. I can also vouch for products by Jason (I think this is also available in some normal grocery stores), Giovanni, and Avalon Organics.

Link to I have a question/need some tips and advice...About Hair
@scone I've battled a lot of hair issues, and have talked to countless hair specialists about them (note: few hairdressers actually understand the science of hair *care,* so it's hard to get good information). They've helped me tremendously, so I hope you find them useful! Here are some good general tips: Avoid using shampoos or conditioners with strong chemicals, and especially avoid sulfates & parabens. Organic and natural products will be better, especially if this started after you went blonde: your scalp might be chemically sensitive, and had a strong reaction to the bleach. You should know that your hair may not feel as "silky" or as squeaky clean at first, but it will smooth out and become more healthy over time. The commercial products that really smooth out your hair usually have waxes in them, which just build up and block your hair from absorbing good nutrients. Try not to over wash your hair. When your scalp dries out, it will just produce more and more oil to overcompensate. I'm not sure how often you shampoo right now, but try extending an extra day in between shampoo-ings, whenever you can. Eventually, you'll want to reduce the shampooing to 2-3 time per week. In between, just rinse with warm water, and condition the length. You will have some oil build up, but your hair needs a certain amount to be healthy (squeaky clean hair is almost always more brittle). If the oil does bother you or you need to freshen up to be more presentable at work/school: try a dry shampoo. Instead of stripping ALL of the oils, this will just absorb the excess, and leave your hair with a healthy amount. Put a dime sized amount in the palm of one hand and use the fingers of your other hand to sprinkle it over your roots, then ruffle your hair a bit and comb it through. Baby powder or talc both work on lighter hair, but for darker hair you can buy some actual dry shampoo (skinnyskinny or ojon are both good brands) or make your own! Just google how to make your own dry shampoo, and you'll find some good instructions. Since you use so little at a time, a small container can go a LONG way. Switch out all of your hair brushes for a wide tooth comb, and try to avoid over brushing. Whenever you can, like when you're at home, you can loosely braid it to keep it from getting tangled, instead. Comb from the bottom of your hair up, being really gentle to avoid pulling or breaking. In place of a leave in conditioner, you can use pure coconut oil (warning: It's more of a cream at room temperature, so you have to warm it up. Rubbing it between your hands first works fine) on the length of your hair. Coconut oil is a lot easier than other oils for your hair to absorb, and you can get it pretty cheap online or from Indian markets. To start, you may want to apply it at night, and then rinse in the mornings, until you get used to it. For some more specific tips: For your dandruff, I STRONGLY recommend using tea tree oil. It is naturally anti-bacterial and anti-fungal so it's a miracle worker for both dandruff and acne. I recommend this for your shampoo (Desert Organics has a great one with peppermint & yucca: $8.99 for a 13oz bottle, but there are a lot of options. For dandruff, look for something with 5% tea tree oil). For strengthening products, look for coconut oil and/or jojoba oil. I recommend this for your conditioner. I would check with your doctor about potential vitamin deficiencies. Healthy hair needs Vitamin B3 (aka Niacin), Vitamin B5 (aka Pantothenic Acid), Vitamin B6, Vitamin B12, Vitamin C, Vitamin E, and Biotin (brewer's yeast, whole grains, egg yolks). You may need to make some adjustments to your diet and/or add some vitamin supplements.

Link to I have a question/need some tips and advice...About Hair
@Feral I'm moving to Seattle next month, and thankfully found a job working at the University of Washington (where I'll also be going for graduate studies). But I did bookmark some resources while I was still looking: Craigslist Seattlejobs.com NWjobs.com simplyhired.com And if you don't mind working for the city, seattle.gov/jobs If there's a specific field that you're looking for, try googling that + jobs + seattle (ie: "Library jobs seattle" or "engineering jobs seattle"), and you'll usually find websites specifically devoted to that field.
I sew a lot. I especially enjoy making new patterns, and browsing fabrics. The actual act of sewing it together is still fun, but pattern drafting is really my favorite part. Other than that, I also paint, read, watch movies, and I play with my border collie.
I've been in Austin, TX for around 12 years, but I'll be moving to Seattle, WA next month!
1. Turn on water (warm/hot) 2. Get in shower 3. Herbal shampoo, rinse 4. Aloe shampoo, rinse 5. Conditioner, let soak 6. Wash face 7. Shave underarms 8. Rinse conditioner 9. Organic body wash, rinse 10. Shave legs (if necessary) 11. Turn off water, towel off, get out 12. Apply leave in conditioner, body oil, etc 13. (Sometimes) blow dry hair
@Orangina UNT has a great campus! I visited there, and have some friends going there now. Good luck!
It's been ridiculously hot, so my most recent photo is from Uni graduation last month!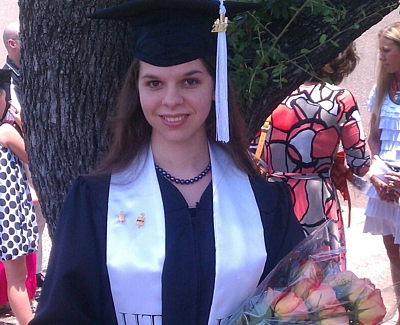 I just graduated from the University of Texas (Austin) with dual BA in Linguistics, and East Asian Studies. Minors in Chinese and Japanese languages. I never really intended to end up at UT, but my parents set up a tuition fund that covered 4 years at any public Texas university, so that was a huge factor. I started out at a local community college before I transferred to the University, and I ended up really loving both, so no regrets there. This fall, I'll be starting graduate school at the University of Washington in Seattle, for Chinese Language & Literature (focus on Classical Chinese). I've been really worried about paying for it all, but I just got accepted for a Graduate Research Assistant position with the university, which will waive my out of state fees! Still expensive, but that's ~$13K less than I'd need otherwise.
I use Mac at work, and in general I'm happy with it. We've had some issues with software compatibility (primarily for our faculty) and OS updates screwing up our reservation system and timeclock, but I really enjoy using it for media projects, and I find the whole system pretty easy to use. At home, for my personal and small business purposes, though, I use a PC. It's what I grew up on, and it's what all of my important programs run on. And my games, when I actually have time for them.
I've never liked any type of squash, sweet potatoes, bananas, mushrooms, or raw tomatoes. There are other foods that I don't really care for, but those are the highest on my "yuck" list.
Really expensive frilly dresses. I've been at it for 4-5 years, and I love it.
Linguistics major, and an absolute linguaphile here. Native language English. I've studied Spanish, American Sign Language, Japanese, Mandarin Chinese, and Turkish. I started Spanish and ASL when I was young, and can understand it and still use it conversationally, but I've forgotten a lot. Most proficient at Japanese and Mandarin, which I've done more advanced study in and focused on for linguistics. I still want to learn Russian and Korean, and... everything else.
@PURRr I haven't had an issue with it clogging my pores, but I've heard that from people who use the scar gel (versus the scar cream with spf).
@PURRR I've been using Mederma's scar cream + sph for the acne scars on my shoulders + a separate scar on my forearm. The main issues: It has to be applied 3 times a day, which can be hard to keep up with. For new scars, the directions say to use it for 8 weeks. For old scars, you're looking at 3-6 months. I've been using it for 3 weeks and I do notice a difference, but it's a slow process. A big plus is that it has spf 30, and it's safe for sensitive skin. A little also goes a long way! It costs $17-20 for a 20g tube, and you can buy it at Target, Walmart, Walgreens, etc, or online.
When Iw as a kid I always felt too young for my formal name, which is Virginia. I think it's beautiful, and I really like it, but it's clearly an old fashioned name, and I've never met anyone with the same name who wasn't considerably older (as in, 40-50 years older). I've always gone by Ginny, but I settled into Gin when I was in high school, and most of my University professors address me as Gin or Virginia. I think I've finally aged enough to catch up with the name, so.
1.How did you get started on subeta? One of my friends bribed me to join 2.Whats your fav color? Indigo! Any range of blue/purple, really. 3.Where are you from? United States-- military brat but I've been in Texas the longest 4.What are some hobbies you enjoy? Sewing, drawing, singing, dressing up, dancing 5.Whats your favorite type of music, fav band, musician Female singer-songwriters, broadway, and jrock. Maria Mena, Leah Andreone, Ivana Wong, Dir en Grey, Moi dix Mois, Olivia Lufkin 6.Whats something you enjoy doing when you're alone? Singing loudly. Lounging around half-clothed. Snuggling my dog. 7.How often are you on subeta? Once a week or so 8.If you really enjoy sports, state your fav team or player and what sport...if not then skip or say something random! I don't like sports... unless you count ballroom dancing? 9.Almost done! How long have you played on subeta? I.. cannot remember. A few months. 10.Say anything you want to about yourself! Your personality, what you like or hate, what you want in life, anything! Uh, I help run a radio show here that plays all East Asian music. I love animals, I'm a linguistics major, and I take the GRE next week. One of my guilty pleasures is the Chai Tea Latte from starbucks.
@Juicy You can soak them in lemon juice or hydrogen peroxide. You can also try scrubbing them with baking soda. Any of these will dry out your skin, though, so definitely work in some baby oil and/or lotion afterwards.
@Aishwarya I was diagnosed with endometriosis after years of the worst cramps you can imagine, so I'll offer all of my non-pharmaceutical remedies for cramps.
Given your situation, it makes sense that you shouldn't be exercising. But, just sitting down and stretching will help immensely! This link has some yoga/stretching poses that help relieve cramps. http://www.abc-of-yoga.com/yoga-and-health/yoga-for-dysmenorrhea-and-pms.asp They are all very basic stretching poses, and I've been able to do them even when I was personally banned from physical exercise. Heat! Especially a hot bath. As hot as you can take it, fill the tub up to your bellybutton and soak. I'm a tea-a-holic. Cut down on caffeine (caffeine can make the cramps much worse) and try to switch to green or herbal teas. Raspberry, Ginger, and "cramp bark" are amazing and available at most grocery stores. Fresh pineapple! It contains an enzyme that helps the muscles relax and thus ease cramping. Avoid standing. Fetal position, or anything close to it, is best for relieving pain from cramps. So if you can, pull your knees up in your chair/couch and enjoy a movie for some distraction?
I've had fairly good luck with Garnier, but primarily with their "triple strength" conditioner. I also use Garnier's "length & strength" shampoo since I have hip-length hair, but I have to also wash with a separate shampoo to get rid of residue in my scalp (I'm very prone to oily build up on my scalp, no issue with residue in the rest of it). I go back and forth between Desert Organics Lemon Tea Tree Oil shampoo (for oily hair) and Giovanni cosmetics shampoos. Organic shampoos are amaaaazing on my hair and scalp.
@Vilann Hooray for Virginias and Ginnys! I've had the Ginny Weasley thing too, especially since my last name already begins with W.
And, while your second part wasn't directed to me, I'm in Texas too!
My name is Virginia, but I've always gone by Gin or Ginny-- My parents started with wanting to call me by the nickname "Ginny" then found a "formal" name that went with it.
@Jigglypuff As Metalhead mentioned, what you need to do is focus on all of the good times you had. Talk about her. Write about her. Remember her. Remind yourself about the good life that she lived with you. And, you can take solace in knowing that this was sudden, and not a long, drawn out, painful decline. The suddenness hurts now, but it will feel better. So please, tell me about her. I'd love to hear. In the meantime, you can know you're not alone, and that I've been there too. My dog of 12 years died last summer-- Next Thursday will be the first year anniversary of her death. And I will tell you, it still hurts. And I still miss her. It was sudden, and I wasn't there, but I was the first to come home and found the horror movie scene of it all. The last time any of us saw her, including just 2 hours beforehand, she was happy and wagging her tail, and she did not know she was sick. She had a hemangiosarcoma that no one knew about, until it ruptured. Not for lack of taking care of her- She'd been to the vet twice during the month and a half prior, including for a strange episode that we now know was a small rupture that clotted. My younger dog was with her, and took care of her, and stayed with her. Since I wasn't there, knowing that part helps. You're very lucky to be able to have carried her. I work with animals, and I've seen much younger dogs decline slowly, and who are in constant pain for years, and I am so thankful Onyx didn't have to go through that. She was somewhere around 15, and she was happy, and she was loved. And that's the most important part: We all loved her as much as we could, and she knew it. We can't control how long our friends are with us, but we can take care of them, and we can try to save them, and we can love them. Onyx had a good life, and that makes the loss bearable. We gave her all we could, and I'm sure you did the same. That's worth more than words can say. (PS: I suggest you look up and read "Rainbow Bridge." And know she'll be waiting for you.)