Information
Phaine has a minion!
Kallisto
the
Veil
Phaine
The
Glacier Irion
Owner:
Keldeo
Age: 4 years, 10 months, 2 days
Born: July 17th, 2008
Adopted: 2 years, 2 months, 1 week ago
Adopted: March 9th, 2011
Statistics
Level: 2
Strength: 10
Defense: 10
Speed: 10
Health: 10
HP: 10/10
Intelligence: 0
Books Read: 0
Food Eaten: 0
Job: Unemployed
Patrol jobs ain't so bad. I like to treat mine like an adventure. There may not be much to see out in these snow plains, but it's worth a gander.
My whole family seems sort of… privileged. We've been workin' closely with the royal family for as long as I can remember - Me dad was a guard, me mum a maid. It's how they met. And now my older sister is the princess's personal guardian. So, why exactly am I out 'ere in the harsh wilderness by myself? Well, a palace ain't really my style. No matter how big a gaff is, four walls is always too wee for me.
Our sky is rarely blue. So rare that it's considered a sign of good fortune. Usually it's a dowdy shade of grey, always overcast. Not gloomy, really, just not bleedin' pretty. There ain't much colour in the town itself, neither… Not even the palace. This whole land is so bland and colourless.
On that day, the sky was blue. I trudged through the snow, wishin' I could find the energy I usually had. I looked up, scanning the entire area in my sight. Of course, there was nowt but snow. At least the blue sky helped me to keep me spirits up...
It wasn't just the sky, but it had become tradition hereaboot to wear light blue for luck. I was required to wear all white to camouflage meself against the snow, but I managed to get away with three silk armbands on each of me arms. The quiver on me back was also blue, though that was mainly for decoration anyways. I was bleedin' smashing with a bow, if I do say so meself, but I barely ever hae to use it nowadays, moreover for hunting.
My thoughts always wander during patrols, but rarely does summat snap me out of it. And this time, it was a bleedin' big summat.
It was just a flash of blue, at first - not the kind of blue I'm used to seein'. The split second I saw it I ducked behind a drift, startled. After a few seconds of not hearin' no movement, I peered up over it.
What blue. It was so deep and rich, and a different tone than the sky. It was a colour I had never seen before in me life. Whatever it was, it wasn't movin' at all, so I jumped down to investigate.
A person! It was a person, with hair of that beautiful blue. He was layin' face-down in the snow, unconscious. His clothes looked bleedin' strange, also mostly dark blue-greens. Somehow knowing he wasn't a threat, I started to move 'im into a sittin' position, but jumped. He had wings, like a bird, comin' from 'is back! They were the same colour as 'is long hair.
I reached out to touch em, but me hand went right through em. I was so dazzled that I almost forgot that he was a person… A person that needed help. I marveled at his beauty for a tad, then came to me senses. I tried to wake h'm a time or two, then decided to simply bring 'im back to the palace with me.

The trek back to town wasn't difficult, even with the mystical stranger in my arms. He weren't heavy at all. We were getting some bleedin' interestin' stares, though.
"Phaine, what is the meaning of this!?" I was approached immediately by an ornery palace guard, glaring at my guest. "Who is this oddly-colored stranger?"
"I don't know!" I gave my sweetest smile, which always seemed to win people over. "I found him out in the plains. I'm takin' him to a room to rest and get warm. 'Scuse me." I stepped forward, the path cleared. Me smile always worked.

When he stirred, I was jolted up. I leaned toward 'im, watching his face contort, when his eyes suddenly opened.
They were a pukka and unexpected gold. I could only admire em for a second before he sat up in a panic, looking around and breathing heavily.
"Ey, calm down!" I sprung up from me chair, and took a seat on his bed. "It's alright. Yeh're safe here."
He looked straight at me, 'is bright eyes wide with fear. "Where… am I? Where is this place? Who are you?"
"I'm Phaine." I tried my smile again, to calm him down. "Ye're in the palace of a land known only as the snow plains. I saved ye from nitherin' to death out in the wilds."
He sighed, closin' his eyes and resting 'is head back on the pillow. "Thank you. I thought I was going to die out there." He paused, and opened 'is eyes again. "My name is Kleitos. I am from the kingdom of Prism…"
The word hit me heart like a spear, and I immediately jumped to me feet. I had planned on kneelin', bowin', showin' me respect, anything… but my entire body had frozen. "…Prism?" was the only word I could muster.
Kleitos smiled sweetly at me. "Please, don't worry about it. I'm a person just like you, not a god."
I relaxed, but was bleedin' flumoxed on how to react. Me people were the Ice Levia, and we had always been taught that the Prisms were evil and horrible god-like creatures from the sky. Long ago we'd been simple Levia, dark-skinned and haired, livin' under the water. One day a group of Levia left the kingdom, and were promptly cursed and banished by the Prisms. This left us pale and white-haired, and we were forced to live in this nitherin' gaff.
But this… Kleitos… was sod all like what we knew of the Prisms. He seemed kind, only about me age, and claimed to not be a god…
"Are you okay?"
I shook my head quickly. "Yes! I am. I'm only a tad … amazed at yer presence. Ye are… magnificent! And kind! Bleedin' unlike what we know…"
He laughed. "We haven't been down here in so long, it's no wonder there's already been a misunderstanding." He sat up, extending his hand to me from under the thick blankets. "Please, let's be friends. Maybe you can help me with something… I'm down here to find someone. Could you show me around?"
Shakin' off the shock, I took his hand sheepishly. "Yes. Of course, Sir Kleitos! Anything!"
He released me. "Oh please, nothing like that. Just Kleitos. Alright… Phaine?"
I smiled, me heart beatin' with excitement. "Aye! Of course!" After starin' at him for a tad too long, I remembered me manners. "Oh, do yeh … need anything? Food, water?"
His eyes widened. "Food would… be very nice. If you don't mind!"
I nodded and headed for the door, turning back to look at him quick.
He was playin' with his hair, and fluttered his wings. He seemed almost kiddish, and had a sweet innocence about 'im. I made sure not to stare for too long this time.
As I closed the door behind me, I could feel me heart poundin' in me ears. Surely this was more than excitement.

Blue skies do bring smashing fortune after all, don't they?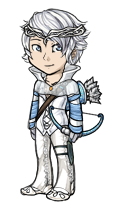 Pet Treasure
White Clay Wreathed Red Rreign
Primitive Merfolk Knife
White Snip Wig
High Elf Delicate Silver Tiara
White Vest Corset
White Mini Cape
Ice Bow
Cuffs of Aphrodite
White Small Flats
Frozen Heart Snowball
Pet Friends