Information
Pecan has a minion!
Ermont
the
Aquos
Pecan
The
Angel Jollin
Owner:
Jessi
Age: 7 years, 6 months, 1 week
Born: November 11th, 2005
Adopted: 2 years, 5 months, 1 week ago
Adopted: December 15th, 2010
Statistics
Level: 13
Strength: 11
Defense: 10
Speed: 0
Health: 11
HP: 11/11
Intelligence: 2
Books Read: 2
Food Eaten: 7
Job: Unemployed
The Traveler
Pecan paced uneasily around his small apartment, his toes digging into the hardwood floors until they ached. He was normally calm, easy-going and collected - but not tonight. Tonight, his head hurt and his heart was racing in his chest with anger and unease. Thatcher Fremont often had that effect on him, but not to the extremes of tonight - and he had not even run into his old "friend".

No, it had been Seth that had upset him, through no fault of his own. Seth, with his sweet disposition and sad smile, the hurt in his eyes over the lies he had been told... It was making Pecan angry to his very core.

Damn him. Damn Thatcher Fremont!

Before he knew what he was doing, Pecan whipped around and punched the closest thing to him - the wall. The delicate bones in his ring finger cracked upon impact, but he barely felt the pain, and he certainly did not notice the damage to his wall. Instead, he stood still, his hand buried in drywall and his breathing hard, almost a pant.

May everything he has burn to the ground - with him in it.


---
I'd rather waltz than just walk through the forest,
The trees keep the tempo when they sway in time.
Quartet of crickets chime in for the chorus.
If I were to pluck on your heartstrings, would you strum on mine?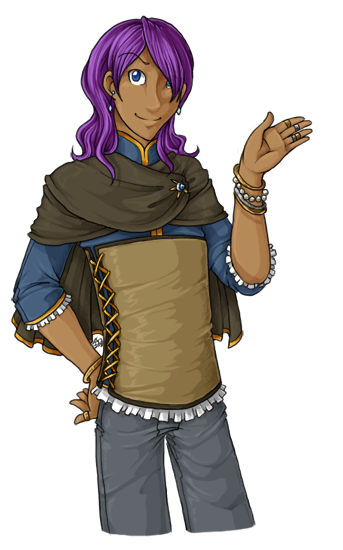 James Woodfield - better known as Pecan - is a talented mage with a penchant towards the water element. An only child, Pecan's parents gave him nearly everything he could ever ask for: private tutors, summer trips, and plenty of time to get into trouble with his best friend,
Walnut
- from whom Pecan got the idea for his own name. He remained Walnut's constant companion until the year he turned sixteen; it was then when, in an effort to further his schooling, his parents packed up their belongings and the small family relocated to the bustling city of
Cydry.
Here, Pecan met and befriended Thatcher Fremont over their mutual studies of magic. A natural at teaching, Pecan was soon using his talents to help Thatcher blossom into his own, and the two spent nearly as much time together as Pecan had once spent with Walnut. It was not long, however, before Pecan's research and studies lead him to find out what really happens to
those who work for Fremont Energies
- and at this same time, his parents confessed they had moved to Cydry so Pecan could get a job with the company filling mage-cells, forcing himself into an early retirement. Pecan rejected the idea vehemently, and in doing so severed his friendship with Thatcher beyond repair. Angry at his parents trying to force him into a job which he did not believe in, Pecan left Cydry in a huff, vowing he would bring back the real meaning of magic to Pridd and one day show Thatcher Fremont what a fool he was.
Pecan spent the next ten years traveling around Pridd, finding children with magical talent and teaching them how to properly use their powers for things other than filling tiny vials for light and fuel. Many of Pecan's students grew up to become teachers and travelers themselves, and rumors that the number of mages against Fremont Energies has grown in numbers have spread all over Pridd - much to Pecan's joy.
Eventually Pecan's travels brought him back to Cydry, and it was here he was reunited with Walnut. Overjoyed at being near his childhood friend once more, Pecan has settled down in Cydry for the time being, where he continues to take on new pupils - that is, when he isn't getting drunk with Walnut and Winifred!
A distant descendant of the famous Priddish hero
Carys Prescott
(a fact he is happy to share with
just about everyone
), Pecan shared not only her magical talents but her brash and loud personality as well. Never quiet and always boisterous, Pecan is often the center of attention in any gathering. His sly personality and constant flirtations are often a test for Fen, who wonders exactly
what
Pecan is hoping to get out of Walnut some day!
Of course, living in Cydry means Pecan is also closer once more to Thatcher Fremont. Their meetings, while infrequent, have been known to result in sharp words and harsh blows, and an encounter with Thatcher is one of the few things that can make Pecan turn from light-hearted and overly sweet to venemous in seconds.
Coding by
May
Overlay and human ref by
hagane
x by
grim, gifted by
finch ♥
x and x by
mini
x by
orangecake
x gift from
May
lyrics from Plant Life by Owl City
Pet Treasure
Royal Subetan Air Force Flight Jacket
Water Shard
Frozen Orbs
Magic Infused Orb
Rainyday Deep Blue Eye Hydration
Book of the Hydrus Keeto
Tranquil Arcrystal
Arms of the Sea
Blue Glowing Wand
Tempest Wizard Wand
Aquatic Wand of Blasting Torpedication
Aquatic Spear Head
Water Elemental Staff
Ancient Hydrus Staff
Eye for an Eye: Omens
Water Magic
Hydra of Tears Scroll
Anthem of Elements
Kora Magic Powder
Water Mage Amulet
Scale Of Merana
Water Droplets
Ocean Water
Frozen Ocean Curl
Bottled Ocean Environment
Ocean Vial
Legend Water
Experimental Dew
Aqua Esther
Raw Opal
Reverie Stone
Water Tear Crystal
Water Baguette Crystal
Water Defense Tear Crystal
Water Defense Baguette Crystal
Deep Sea Bioluminescence Artifact
Water Shard
Water Soul Stone
Water Orb
Sea Matter
Blue Elemental
Aquami
Berana
Plesish
Spindle Shell
Nautilus Shell with Pearls
Scallop Shell
Fox Shell
Triton Shell
Clam Shell
Pet Friends