Information
Excruciate has a minion!
Pain into
the
Ovlibion
Excruciate
The
Nightmare Terracoon
Owner:
AeriaLure
Age: 6 years, 5 months, 1 week
Born: December 12th, 2006
Adopted: 6 years, 5 months, 1 week ago (Legacy)
Adopted: December 12th, 2006 (Legacy)
Statistics
Level: 492
Strength: 1,229
Defense: 1,225
Speed: 1,226
Health: 1,225
HP: 1,140/1,225
Intelligence: 13
Books Read: 12
Food Eaten: 12
Job: Unemployed
Clarity
(Alias: Excruciate, Clara) - Possessed by the demon which feeds on excruciating pain.
Height:
5'7"
Weight:
125 lbs
Eye Color:
Royal Blue to Violet
Hair Color:
Raven Black with streaks of white
Evan
- (Alias: Prometheus) - Immortal, identity unknown.
Height:
6'1"
Weight:
185 lbs
Eye Color:
Cobalt Blue
Hair Color:
Dark Brown
Death
- (Alias: Thanatos) - One of the four horsemen of the Apocalypse
Height:
6'6"
Weight:
235 lbs
Eye Color:
Glacial Blue
Hair Color:
Pure Silvery-White
Famine
- One of the four horsemen of the Apocalypse
Height:
6'7"
Weight:
245 lbs
Eye Color:
Vibrant Green
Hair Color:
Mahagony Brown with copper gleams
Ethan
- Soul Monger. Possessed by the demon which feeds on causing eternal damnation.
Height:
6'4"
Weight:
205 lbs
Eye Color:
Gray Smoke
Hair Color:
Black
Prometheus on the Rock
__
Location:
Upon a cliff, Outskirts of Hell
She laid upon a ledge, bound in chains. Hundreds of feet below rested the molten core of the earth, which bubbled and released the occasional puff of sulfurous smoke. Every night, her fate was the same: she would be flayed alive, torn and ripped open by maws and talons. Her body eaten by the
Carrion of Hell
. Some preferred the soft tissue and the organs, others the fatty richness of her bone marrow. On nights when consciousness never left her, she laid in cooling pools of her own sticky blood. She fought the chains in the beginning, yet her fear only excited the Carrion into a feeding frenzy. Every night she would die, only to be regenerated the next day to repeat the same hellish cycle.
She struggled to turn her head to watch the growing blight which marred the blood red sky. Tonight they came from the East.
"Clarity!" Evan's voice called from below the ledge.
Ah, right on cue.
"Ah, Prometheus. You never cease to enjoy coming to my death! My very own spectator! Tell me, does the show get dull after seeing it so many times?"
"If anything Clara,
you're
the one who should be Pro--" he paused as if to reconsider his words.
Evan came to the bottom of her ledge most nights. He had been since she was first bound there. Yet during all that time, she had never seen his face. He was always a voice, unreachable, yet just over the edge of the rocks. In the beginning, she asked how he came to be in Hell, and why the Carrion lifted him far away yet never seemed to try to eat him. He never replied to those questions, only giving replies to trivial things that never let her know anything in-depth about the man. Eventually, she stopped caring and let him have his privacy. After all, he was her only companion in Hell. Truth be told, he was probably the only one between the two of them, who had any hope that he would one day reach her and set her free.
"Tonight is night 134,457 Evan. Will tonight be any different than the past?"
"Don't tell me you're losing faith princess!" She scoffed at the misnomer, she was in no way a princess by any standards. From below, she could hear the clunk-clunk sounds of metal hitting into the solid rock that made up her ledge.
The blight in the sky was growing larger now. She could make out the angular differences in the wings. Some had missing feathers, others missing patches on their bodies. Even from a distance, she could see their featherless heads, bobbing to the rhythm of flight. The vulture she called
Angry
made his way at the head of the swarm, and landed a short distance away from her. He stood an imposing 7-feet tall, and shuffled on the ledge as he tucked in his 15-foot wingspan.
"Hide Evan!" she blurted, yet even as she called this down she heard the frantic clicking of a man chiseling uselessly into stone.
The first strike tore down her stomach, then another. Angry shot his head full force towards her skull, pecking at her left eye.
"NOT THE LEFT EYE AGAIN! YOU STUPID BRU--" yet before she could even yell her retaliation, another bird ripped out her tongue. She gurgled and choked on the blood. From her remaining eye, she watched as they tore out her intestines, and fought over the entrails, yanking back and forth like newborn hatchlings in a nest.
Every day was like this.
WHY
was every day like this?
She drifted in and out of consciousness. At the screech of a hawk, she knew one of them had Evan.
"I promise---"
She couldn't hear the rest of his message. Blood and bits of her own organs, flooded into her ears. She couldn't even see the last of her salvation. Her eyes were gone.
How will he save me, when I am but a blood smear on a rock?
Will there ever come a day come, where I will no longer be known as
Excruciate
, but as
Numb
?
As her last thought drifted,
she died.
Location:
Upon a cliff, Outskirts of Hell
Clara opened her eyes. Her left eye had been giving her problems for ages, but she could still make out the redness of the landscape. The skies in Hell were always a red hue. Red-orange, red-yellow, red-black, red-purple. When was the last time she saw a different color? Her memories of life were a sieve. No colors other than shades of red, no recollection of family and friends, no joy. She couldn't remember what her parents looked like. She couldn't remember what
SHE
looked like. She was lost, and had been lost for a long time. Evan was the single remaining anchor that tied her to her sanity. She wasn't even sure she was human anymore.
Her stomach growled, but there was no food. She laughed humorlessly at the situation. How could her body remember to be hungry? She once read that people going on hunger strikes could feel the cramping and the pains of the stomach as it contracted and shrank, but after a few days, eventually the pain would subside and only emptiness remained. Yet every time her body grew back, the hunger demanded her attention.
For the 134,458th day, she laid chained to the perch, staring at the sky, as there wasn't much else she could do. Her lips were parched, and the sun continued to scorch and blister her recovering body. She wouldn't really call it a "sun," so much as a spherical ball that defied gravity and spewed molten lava across the land. Sun had the connotation of warmth and happiness, and she was literally burning in Hell.
Location:
Upon a cliff, Outskirts of Hell
Clara died six more times. By the seventh day, his voice came as a surprise.
"Princess! You up there?" He yelled up.
"No," she called down, "I'm not a princess, and this is just an answering device. What are you doing back Evan? Didn't the Carrion fly you far away enough this time? You know doing the same thing over and over again, expecting a different result is a mark of insanity?"
She heard him chortle out a laugh. "I came back didn't I? One day my persistence will pay off."
She didn't respond. She knew he would come back. He always did.
"Listen, I have a question to ask you. I've come up with a plan to get you off the rock, but would you do everything possible to come down?"
She didn't think, she just answered. "Anything."
"Anything?"
What could possibly be worse than being eaten alive every night and coming back to life the next day? She couldn't die, she had no family, no loved ones, no friends, hardly any memories, no life, no purpose. She could hardly recall why she was on the rock in the first place, all she could remember was it had something to do with a man named
Ethan
. She endured mental and physical anguish on a daily basis. What more could she lose? She would just have to survive whatever came next.
"I need to make some preparations, and enlist some help, but I will come back for you. I promise.
She wondered where he could get help at in the middle of Hell. But she didn't comment. If Evan thought he could free her, then let him try.
Location:
Upon a cliff, Outskirts of Hell
She didn't see them, so much as hear them. The clop-clop of metal shoes scaling the edge of the cliff. The occasional grunt of someone pushing something heavy.
The first head peaked over the edge, and it was not what she expected.
The horse was pale, translucent and heaving its seemingly heavy body atop the rock. It had visible musculature, yet was formed from wisps of smoke. Its body was no longer corporeal, yet it held mass and moved like a sentient being. The rider of the horse was adorned in a form-fitting suit of silver armor. He leapt down from atop the horse and headed towards her. He strode as if he hadn't a care in the world.
He held a scythe in his right hand, and lifted it as if to take a swing at her. She shut her eyes quickly, and wonder if this would be her final death. A
real
death.
TING
What was that sound? She felt the chains around her ankles scraping against the rock, but not giving way.
TING
TING
She had her face scrunched, ready for the blow, but it never came. She squinted through her eyelids, her eyes barely opening, and realized the giant of a man had been using his scythe to hack away at her chains.
He wasn't trying to kill her
.
He had walked back to the horse, and was coaxing the beast closer to her. The scythe was no where in sight. Instead, he now had a sword. He knelt down and began plying away at weak spots in the links.
From five feet away, the pale horse stared at her. It arched back on its hind legs and stomped down on its front hooves. The gesture made a cloud of dust rise up. The horse was decidedly male. She made a mistake by looking into his eyes. They had the filmy texture of dead fish eyes. There was no soul. Nothing reflected across them, but within the pupils, tiny flames danced. The irises were completely white, except for a light smoky ring. The horse let out a low whinny, then snorted at her. His ears perked to the right, as if something at the ridge of the rock had caught his attention.
"You're not Evan, are you?" She looked down at the man now tugging at the links.
He grunted.
"Did he send you?"
He gave a quick downward nod.
Before she could ask him any more questions, a second horse peaked over the edge. This one was solid and muscular, so dark, that it seemed to be absorbing all the colors and air around it--a black hole, distorting light to darkness. Atop the horse were two men. One clad in black armor, like the first horseman, and the second man sat behind him, an arm raised in salute.
"Evan?" she called.
The second man rushed down from the horse, and hurried to her. "Clara," he smiled.
Clara stared into the bluest eyes she had ever seen. Colors. Her life had colors again. Her world was no longer an endless red. There was hope. There was change. She bit down on her lip, as tears stung her eyes.
"Thanatos," Evan knelt down to the man still struggling with the chains around her body, "It doesn't seem like you're making much progress with the chains."
The man stood and said nothing. He gestured for the pale horse to come. As it came towards her, she felt her body begin to cool. She had forgotten what the cold felt like. Her body had been burning for so long. The chill came with a sense of peace, and she almost sighed in relief. Thanatos nodded at the horse, and the beast leap in the air and its hooves came down on the chains, crushing them into the rock. The chains tying her right ankle crumbled and lay like dust on her skin.
"You three better hurry," the man in black armor had left his horse, and now stood at the edge of the cliff, watching the reddening sky. "The winds are blowing in their favor. The Carrion are coming."
The pale horse had made his way around, and freed her hands and other foot. Now only the tight chain which bound her neck to the ground, remained.
"We can't have
Ghost
crushing the chain around her neck," Evan spoke to Thanatos, "He can't arrange his hooves in a narrow enough way. Even if he tried, he'd crush some part of her body. We need her conscious and preferably uninjured."
"Perhaps
Abyss
can help," the man in black gestured to the black horse, "His saliva is a corrosive acid."
"Clara?" Evan asked for her permission.
"Do it. You didn't come this far only to have me still tied by the last chain."
Ever so carefully, Abyss knelt and spit down on the chains that tied her neck to the rock.
As the last link burned away, Evan helped her sit up. She saw the first wave of Carrion, visibly darkening the sky.
"We need to leave," Black armor said.
"Take Ghost," Thanatos said, staring at her. His voice was so beautiful, like a balm for shattered soul. No wonder he hardly talked, he was like the pied piper for the broken and weary. She turned to him and
really
looked at him. She gazed into eyes so clear, it was like a looking into a reflective pool of water. A glacial blue hue. His hair was trimmed close to the skull, a color so pure and silvery-white like frost. Thanatos was backing away quickly, she didn't even realize she was reaching towards him.
Evan caught her hand. "Do not touch Death," he warned.
"We must go. Thanatos and I will take care of the Carrion. You take the girl and get on Ghost. We'll rendezvous at our agreed point."
With that, Black armor jumped on Abyss and the pair leaped off the cliff. They were headed
towards
the swarm.
Evan turned toward Clara. "Can you walk? I know you've been laying there for a long time.
Clara grasped his hand, and tried standing. Her legs were unstable.
"It's okay," Evan assured her. "Ghost can carry us both."
As Evan lifted her up and set her atop the horse, her hand brushed across a silky smoky mane. Ghost bristled beneath her, and attempted to turn his head back to nip at her fingers. "Calm down Ghost," Evan patted his hand against the horse's neck to sooth the creature. "He doesn't like strangers," Evan assured her, "But he'll get used to you."
With one last look to Thanatos, he called "Can you do this alone?" Thanatos glanced over and let out a scoff at the question.
Evan climbed on the horse, and settled in the saddle behind her. He grabbed the reins, and turned Ghost to the side of the ledge, where the horse quickly descended.
An Underground Labyrinth
__
Location:
Underground Labyrinth, Outer limits of Hell
For awhile, they rode in silence. Ghost seemed to know where he was going, galloping across the molten landscape, entering a cavern, and racing through what appeared to be an underground tunnel.
"Hell has tunnels?" Clara muttered.
"I dug it." Evan replied. Not as a feat to be bragged about, but as a simple statement of fact. "I knew one day I would free you, but the Carrion would have followed and attacked us. They don't have vision that can pierce through the ground, so it was best this way. Even if any had managed to followed us in, Iíve dug dead ends that lead to fiery pits. Itís literally a labyrinth down here," he mused.
THIS
was why it took Evan so many years to save her. It took one man, hundreds of years to dig the tunnel they were now traveling in. So much blood, sweat and labor, for a woman he had never even seen. Perhaps he always knew he could get her down the cliff, but the problem was: how far could he take her once she was free?
"Did no one notice you digging out here?"
"Not really. Souls are compounded in the same central locations, most creatures guarding the areas stay there. For the most part, only the Carrion ventured out into the deserts where you were. Those in higher demon tiers don't wander out this far, and even if they did, they wouldn't notice or pay attention to anything but themselves. They're a bit narcissistic." He didn't go into further detail.
What Clara really wanted to know, was how Evan knew so much about Hell. What Evan was doing in the desert, and why he was permitted to roam in the first place? He couldnít be an escaped soul; otherwise wouldnít demon guards be trying to retrieve him? Moreover, the Carrion had captured him time and time again, and would have had a chance to return him to wherever he belonged. What was Evan? Could he be a demon lord? He wasnít narcissistic--as Evan claimed Demon Lords tended to be--this tunnel was proof he thought of others instead of himself. She didn't want to voice her doubts about him, not yet. Not when he had just saved her.
"Why did you save me Evan?" Behind her, she felt Evan tense. His chin rested on her head, and she could hear his jaw lock as he clamped down on his teeth. He didn't say anything for a long while. She sat back and relaxed against him. She listened to the clopping of Ghost's shoes as they reverberated over the sandy ground, and watched as the strange red walls seemed to pulsate and hum in synchrony. Patience was a virtue she learned long ago.
"You shouldn't have been placed there. You shouldn't be in Hell." He murmured at last and left the topic at that.
"Who were those two men? And what is this horse? Both horses!"
Ghost's ears perked up and twitched, as if he knew he was being discussed.
Clara could feel Evan's lips tilt up in a smile against her hair.
"The two men were Famine and Death. Death, the one you were ogling at, likes to go by Thanatos. His horse is Ghost. Abyss is with Famine. There is no ownership between horse and man, only a partnership. Together, the pairs make up two parts of the
Four Horsemen of the Apocalypse
. As far as why they are helping us... I promised them both favors they can collect on at any time. In essence, I am indebted to them. This is why you don't see
Conquest
or
War
here. Can you imagine owing all four horsemen at the same time!"
He shook a bit in laughter before he continued, "These horses, well they're
special
. They imbued with the abilities of the four men they represent. Let's just say, most creatures in Hell wouldn't bother them, and it's a darn good thing they're on our side."
She could have sworn Ghost bobbed his head in agreement.
"If the horsemen are at the top of the Hell's food chain, why would Famine and Thanatos be willing to help you? Who are you to them, and why was your word enough?"
Clara watched as Evan's hands clenched over the reins, his knuckles turning white. "Maybe Thanatos and Famine are bored. Maybe they help us because it amuses them. Maybe I am nothing more than a pawn to them, but for us, their help is priceless. Have you thought about the demon possessing you Clara? The one that needs to feed on excruciating pain? The one that relishes and dances in delight every night, even as your body is torn apart? The demon is what keeps resurrecting you at dawn each morning. The demon is what keeps you immortal. Before you say you will starve the demon, I can tell you what will happen. Starving it will cause you pain, and your pain will keep the demon alive. You will cry for me when your body arcs and twists and your muscles seize. When you can't take any more, you will beg for me to kill you. You will always come back, and the cycle will always be the same. You are still trapped, and you cannot break free without their help. It is because I believe they can help you, that I have made a pact with them. They accept my allegiance because I am a man of my word, and in Hell, where deceit and betrayal are commonplace, truth and honor mean
something
to these men. So yes, I have indebted myself to unknown future evils, but I am also the man
who will not let your soul perish in Hell
." Evan was shaking. "Do actions mean nothing?Ē
"They mean everything," she replied, "Thank you." She took his hand and laid a kiss in his palm.
Location:
Thanatosís Castle, Inner Sanctions of Hell
As Ghost had slowed down to a trot, Clara tilted her head back, and looked at the castle before her. The structure rose at least 100-feet into the air. A singular structure, rather than pieced together by stone and mortar. The surfaces of the walls were like black graphite. They weren't smooth, but had the texture of blackened tree bark with knots and whorls. Within the bumps and grooves, were line-thin crevices, where gold and silver shimmered. From where she stood, each towers reached for the sky like small jagged spear tips. At the entrance, a corridor of torches lighted the way inside.
To her surprise, a second horse stepped out into the entryway. This horse looked
exactly
like Ghost... There
were
more horsemen, but Clara had a hard time imagining there was even one creature such as Ghost, much less two. Ghost let out a loud whinny and reared back on his hind legs. Jostling both her and Evan to the ground.
Clara screamed down the 5-foot drop. The landing blow was softened slightly, as she crushed Evan. "Oof," he grunted as the air whooshed out his diaphragm. Ghost turned nearly transparent. She had to squint, and could barely make out his outline. When he moved, she didn't see him move, but rather, noticed the disturbance in the air. The air had taken on an oily texture, like a reflective mirage on hot ground. Ghost seemed to be gliding around the air molecules, rearranging them and pushing them apart, rather than running into them. Ghost was gone, and the second horse gave chase. Evan sat up and scooted back, shaking his head. "They couldn't have waited a few more minutes until we got down?" he laughed.
Standing, Clara offered him her hand. "I thought Ghost was unique, there are more creatures like him?"
"No, Ghost is one of a kind. But don't worry, that other "horse" won't hurt him. They'll be back."
"I take it you know the other? If it's not like Ghost, what is it?"
"I do. And as far as
what
it is, you'll see soon enough."
Evan headed inside the castle. Clara gave one last look in the direction the two horses ran, huffed out a breathe, and followed.
Clara followed Evan down the torched entrance. The fires moved to-and-fro, as if it were breathing, watching. The shadows cast on the ground by the fires pulsated, moving slightly slower than the flames. Is the fire alive? She quickly dismissed the idea. The last thing she needed was to imagine sentience in the inanimate.
Before them, two giant doors stood, black and marbled like the rest of the exterior. There were no handles or keyholes, just the heads of two war horses, acting as door knockers. The tongues hung out of the wide gaping mouths, and the eyes and features were distorted by madness. Evan grabbed one, and pushed the jewel-toned eyes. The eyes flashed blood red, and the eyes were replaced by needles which pricked his fingers. Evan let out a curse as he sucked the blood from his hand.
"Thanatos
really
needs to figure out a different way to let people in!"
"This is his castle?"
Evan simply nodded once, as the door slowly opened, without making a sound.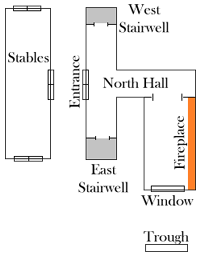 Note To Reader: This image is not drawn to scale. It is only meant to give you a rough idea of the direction. Hidden rooms are not shown, laws of physics do not apply (e.g. simply because the ground level is ďhĒ shaped, it does not mean the upper levels are similarly ďhĒ shaped)
The interior of the castle was vastly different from the exterior. Inside, the walls glowed a golden alabaster. There weren't any furnishings. No paintings, or mirrors, or decorations of any kind. Even still, she was enchanted by the golden hall, and if she stared at one spot long enough, it felt as if the hues were changing, to golden, to a pale cream, to honeysuckle. A golden kaleidoscope. The corridor branched off into north, east and west wings. Evan headed straight.
The north hall led to a dining room. A fire blazed along the 50-foot stone wall. A "fireplace," of sorts. Several stations where hell beasts spun in spittles were set up. Their fat dripped down and sizzled as it hit the fire. The smell of roasting meat perfumed the air. Her stomach let out a rumbled plea. Evan grabbed one of the roast pheasants from the spit, and was letting the meat rest before he cut into it. He told her the meat was more flavorful if the juices remained intact. She didn't say anything, as she couldn't remember the last time she ate food, much less meat.
Walking to the far wall adjacent to the fireplace, she realized it was actually a giant window which looked out into the night. When she had been standing outside, she didn't see windows or openings of any kind. The window was one-way. The owner could look out, but nothing could look in.
Outside, fog was rolling in. Not white and clear, but a dark green pea soup, denser towards the ground. 50 feet away, she could still make out a large trough. In the distance, she could see two filmy white horses running towards the castle. As they came closer, she noticed one of the horses had a black leather pouch on its back, the size of a burlap sack.
The two horses came closer into view. They were by the trough. One of the horses seemed to be changing. Clara blinked her eyes, convinced it was just the fog. But then its head bulged then shrank. Its front and back legs were contorting, thicker, then thinner, then settling on thicker. The creature fell to the ground as its spine arched, snapped and popped. The mane receded, and became shorter, but the creature's face was still cast in shadow. Finally, the transformation was complete. The creature on the ground stood up, and his face was lit by torchlight. Even from a distance, Clara couldn't mistake his features. Instead of two Ghosts, there stood Thanatos. His turned his head and looked directly at her. But that's impossible, she thought. He can't see me through the walls, not from the outside.
Dismissing her, Thanatos picked up the leather sack that had fallen to the ground during his change, and untied the top. From a distance, Clara could make out bloody oblong-shaped items falling into the trough. With one last shake of the bag, Thanatos turned towards the entrance. Blood dripping down the length of his arm. Ghost was still by the trough, merrily chomping down on his dinner.
Clara turned back to Evan, who was now carving meat into three plates. "Thanatos can change to appear like Ghost?"
Evan simply nodded, "Wing or a thigh?"
"I," the voice of angels resounded from the golden corridor, "crave
real
sustenance. Will you set out a hell beast for me while I wash up?" She hadn't heard him come in, but Thanatos stood at the opposite side of the room. The bag in his hand dripped blood on the ground. Evan glanced up and gave a brusque nod as he headed toward the fireplace and picked out a large animal that resembled a boar. He hefted the entire cargo onto a wooden platter and carried the beast to the table.
"Iíll eat quickly," Evan spoke to Thanatos, "Then go get Famine and the last member of our party. I'll need you to lend me Ghost again."
"Does that mean I get to spend a delightful evening with our lovely captive?" Thanatos spoke with a voice that lulled her, but gave her a smile that was all teeth and nastiness. Not waiting for an answer, he simply turned. Tossing his bag into the fire as he went.
"He didn't give me an answer, but at least he didn't outright object either," Evan grinned at her as he brought over her a plate full of meat, drizzled with preserved berries which had been stewing in a pot by the fire.
The two sat at the table, and Clara wearily put a forkful of meat and sauce to her mouth. The first bite was heaven, and she quickly shoveled in another mouthful.
As she became satiated, questions started bubbling in her head. "How did Thanatos get here faster than us, and manage to cook this feast? Did he just turn into Ghost and run himself here?"
Evan glanced at her and chewed thoughtfully before he answered her. "Thanatos is Death, and Death is swift. Death also has many f--"
"Telling the lady all my secrets I see." Thanatos was in the room again, Clara wasn't even sure when he had snuck back in. One moment he wasn't there, the next he was.
She quickly turned her head and watched as he stalked closer, carving knife in hand. He stopped at the end of the table where Evan had set the boar platter. He held the beast stable with one hand while he carved with the other. The meat was crispy, and crunched as the blade cut through the outer layer. He grabbed the plate Evan had neatly layered pheasant in, and topped it with chunks of boar.
"She'd have learned soon enough." Evan said lightheartedly.
"Oh really?" Thanatos interjected, "Will I have shown her? Should I divulge all of yours then?"
The two men glared at each other from across the table.
Thanatos felt a poke in his mind. He allowed the message.
You will tell her NOTHING of me, and I will extend you the same courtesy.
Evan spoke telepathically to him.
Done.
he answered.
Evan put down his fork when he finished eating, and wiped his mouth on the linen. "Famine is probably already waiting at the Docks for me. Itís past midnight. Weíll be back before dawn." With that, Evan stood abruptly and left.
Clara stared as Thanatos was helping himself to a second portion of the boar. He sat down next to her and stared at the plate. His jaw working as he chewed.
"Why are Famine and Evan going to the docks?" she asked.
"They're going to pick someone up."
"Who?"
"Someone who will help us get you out of Hell."
Clara paused at the thought... Was it even possible to escape from hell? Won't there be consequences? "What will happen to you guys if you get caught?"
His lips tilted in a slight smile. "Don't let it bother your pretty little head." When he finished eating, he moved over to a leather seat by the fireplace. She followed him over, taking the seat across from him.
"Why does it take Famine and Evan to pick this person up? Couldn't only one have gone?"
"Famine is just there to make sure the Trader doesnít leave. Evan is the one with the acquaintance. Why do you assume the last of our party is human?" Thanatos mused.
"It's not?"
"Most things in hell are not."
She contemplated the truth in that. "If you get me out of Hell, what will I do about the demon inside me?
Thanatos turned to her, "You host a demon?"
"Yes."
"Which one?"
"Excruciating pain."
"
Excruciating
pain, not just normal bouts of pain," he noted quietly. "Can you
die
during the process of feeling this pain?"
"That's usually what happens. I'm cursed to come back after each feeding. My body regenerates."
"Yes, I have heard of this curse." he murmured. "Each night you die, come back, and each time, it is rumored that you continue to possess a soul. I wonder..."
"Yes. Well..."
As she met his gaze, and was again, startled by the clarity of his eyes. The clear glacial blue turned white, peering into her, reading her, understanding her.
"Yes. There you are." He found a glimmer of what remained. His eyes flashed back to blue. Thanatos gave her a look that said
you have just become infinitely more interesting to me
.
He returned his stare to the fire that danced in the fireplace. "I knew you were on the rocks, but I figured you would be soulless. A mindless body, cursed to regenerate. I never knew you housed an immortal demon, and have been sane all this time. How your soul has not shattered, I do not know. What a pair we make." He stood, "the deathless."
"Come, I will show you to your room" he said as he waved a hand at the fireplace. Instantly, the flames stood still and the spittles with meat stopped spinning. Everything but the two of them was frozen in place. He noticed her shock. "Well, the others may want to eat when they get back, and having burnt hell beast wouldn't be very hospitable... Is it strange that I care?"
They headed back towards the golden corridor, and turned right to the west wing. Clara was making her way up a spiraling alabaster staircase, when the first wave of dizziness hit her. She braced her hands flat against the curved walls. Her body heaved forward a little. Thanatos turned his head a ways, and glanced down at her. "Something wrong?"
"Dizzy," she managed to get out. Bracing forward another step, her knees gave way and she sank to the steps. Thanatos knelt down on the staircase and gripped her arm. "Focus, look at me. I need you to describe what's happening."
She was sweating now. Perspiration beaded above her lip and her forehead. The second wave of pain hit and she clutched her head. "Pain. Everywhere. My head feels like it's going to explode." She laid her face on the cool ground. "What's happening" she gritted against the pain, "to me?"
"It has to be your demon. The Carrion kill you each night, causing the pain which fed the demon. So the demon never had to do anything more than sit back and enjoy. Tonight, you've managed to escaped ritual, but your demon still needs to feed, so it makes you suffer from within."
She braced her hands on the ground and raised her head up. Ripping the nails as she clawed her way up. "Not.... dying. Tonight. Never again. Keep, going..." She looked up at him and gestured one bloody hand up the stairs.
"You're not giving up?"
She shook her head in a single negation.
"It's easier to die and reawaken tomorrow."
"Too... Stubborn," she gritted out. "Have to fight... this." Pulling her arm out of his grasp, she sank to the same step he had been sitting on.
"How interesting you prove to be," his eyes sparkled with amusement. He picked her up and continued upwards. Clara felt her neck and back arch as the demon fought to destroy her inside out.
"I can help you," he said as he rested her atop a soft bed as she continued to writhe and contort. "But this won't be a permanent solution. I can make you sleep through the pain, but eventually you will be become desensitized to its effects." He wasn't sure if she heard him. She didn't agree to his offer, and instead, began clawing at her own skin, pulling rivulets of blood down her arms. He had to stop her. Ripping down the length of the sheets, he tied her hands behind her. Her feet kicked out at him, but he felt nothing.
The demon continued its assault. It had plenty of tricks. She was gasping for air. Choking. He tried sitting her up but her eyes were unfocused. She tried to scream, but only a wheeze came out. The foolish demon had closed down her throat, and was suffocating her. Once she lost consciousness though, he knew the demon too would become unconscious. When she finally quieted, he untied her hands. She had fought, instead of begging Death for mercy. "She who struggles to
live
, deserves a chance to be saved," he murmured.
Location:
The River Styx, Hellís Borders
Ethan Bartholemew Lisbet stood at the bow of the boat, as Charon steered the vessel down the river Styx. The ferryman wore a black cloak tonight, the cowl covered his face. He never spoke. Not in the seven centuries they had known each other. Ethan wasn't sure if the ferryman was mute, or simply had his tongue ripped out. He didn't care.
Ethan sighed in contentment. He never got tired of ferrying souls to hell. He watched as every once in a while, a silvery strand of a soul clung to the oar bars in hopes of escaping the Styx, only to dangle and be pulled back in by its counterparts in the water. They were a bitter and sentient bunch. Suffering together. None would get out.
Every three months or so, during the solstice and equinox of spring, summer, fall and winter, he would come down and check on his ward. He had ferried thousands now. Maybe even tens of thousands. Tonight however, would be a deviation from the norm. He had agreed to meet with Evan the previous equinox. This time, perhaps he would even be bringing a soul
back
from Hell. Interesting thought.
Clarity Anita Bennett, was one of the first innocents he had managed to capture for Hell. 368 years had passed, and she had hardly crossed his mind. He would bet that she had hated him for most of her days though. The thought elated him. To be the center of such a strong emotion. He wondered if she even had any recollection of what had happened the night she made the deal with the Devil. He doubted it. Her memories had been damaged, irrevocably. The only thing she would remember was that he, Ethan, was the cause of her being chained. How cruel it was of him to let her know who brought her to her demise, yet damaged all knowledge of what she had done to "deserve," her punishment. He smirked.
Up ahead, the boat neared the sandy docks. At the gateway demarcations, demons stood, waiting to take their charges to sentencing. The lighter offenses would be strewn back in the river Styx, like fishermen with bad catches of the day. The greater offenses would be categorized and punished accordingly. Every few years, new punishments would be developed and the imprisoned souls would switch to different areas, like a crop rotation. Wouldn't want anyone falling into a "comfort zone," now would we? Truly, this was the Devil's playground.
Everyone would be punished.
The more they struggled, cried, feared, bled... The greater the sustenance for the demons. What bounty.
The boat pulled into the pier and anchored down. The demon guards came aboard. They asked for Ethan's rank badge, which he handed to them. These badges were impossible to replicate, stylized and marked by the Devil himself. Each badge was unique and glowed ultraviolet lettering under the scanners.
There were three tiers of badges which allowed various access in, out, and within Hell. Tier-1 Royalty badges designated the oldest demonic lines and the Devil's own kin. Holders of these badges were allowed full access within the palace, all locations in Hell, and were permitted to exit Hell. Tier-2 Legislator allowed limited access within the Palace, full access within Hell, but no access outside of hell. The main priority of the Legislators was to determine and interpret rules regulating Hell, and create additional punishments. Lastly, there were Tier-3 Trader badges. These allowed Ethan access in and out of Hell, but limited access within Hell and the Palace. Those without badges, the denizens and Demons of Hell, all had identification cards with their location of permanent residence. They were mostly confined in the inner city. Returning his badge to him, "Trader Lisbet," the demon acknowledged, and continued on down the ship to where the cargo being held. He was left to his own devices.
Ethan headed down the plank. Already, he heard the -splish splash- sounds of souls being tossed into the river. Evan stood a few hundred feet away with another man. Two horses, one wispy and pale and one which seemed to be absorbing light, accompanied them. Intriguing.
As he got closer, Evan nodded in greeting. "Good Evening gentlemen," Ethan announced. "I will join you shortly, as soon as I procure a mode of transportation." The two men and the horses followed him down to the Tavern where he bartered for a winged raptor to ride. If the horses were what he suspected, he would need a speedy counterpart... not to mention something a bit more lethal.
Location:
Thanatosís Castle, Inner Sanctions of Hell
Clara awoke in the night. The room was dark, and her eyes were drawn to the left, where a reddish pre-dawn hue emitted from the window. Like the one downstairs, it was like a screen that allowed her to look out, but no one could look in. She pulled down her cover, and sat up. Down her arm, she felt scabbing. When had this happened? The last thing she remembered was getting dizzy on the stairwell. Heading to the door on her right, she pulled it open and looked down a lengthy hallway lit by torches. A single empty chair sat stationed to the left of her door.
"Thanatos?" she called.
No reply came. Returning to her room, she wrapped a thick blanket around her.
SQUAAAAAK
What was that? She looked around the spartan bedroom.
SQUuuuaaaaaaaaaak
The sound was coming from outside. She walked to her window, and peered down. An
enormous
scaled bird, stood atop the roof of the building across from her. It nestled its head between its shoulder blades, scraping its beak side to side against the scales of its back. Finally, it settled down into the downy undercoat for warmth. A milky second eyelid creeped downward, as if the creature were about to rest for the night. Clara ran toward her door. Turning left, she ran the length of the corridor and went down the west stairwell. At the entrance of the castle, she could hear several male voices talking in the dining area. Following the voices, she crept slowly down the north hall.
"Iím with Evan on this," one man said.
His voice imbued hatred in her. It can't be
him
she chanted in her mind.
Not Ethan
. Why would he be here? She clenched her fists and settled down closer to the doorway.
"The easiest way would be to give her one of your badges, then I take her across," the man continued.
"I don't like this. Someone will know one of the badges is missing," Thanatos interjected. "There are less than 50 of us down here who carry such. Obviously suspicion will arise, that the one missing the badge is the one who helped her escape."
"Not necessarily. The one who does it could claim it was stolen from him," the other man countered.
"What about you? Won't the guards at each border suspect something if you're accompanying her across?" Famine asked.
"No. Before we board and during the trip, we will pretend as if we know each other not-at-all. I will claim custody over her once we arrive."
"I know this isnít foolproof, but we only have two options. Either we take her back to Earth and help her flee Hell, or we make her stay here. Eventually the guards will search this castle and we'll have to move her. Down here, the guards have advantages and many more resources to track her with. If we return her to Earth, only Traders and Mongers will have the ability to find her. With Ethan's help, the other mongers wouldn't dare impeach on his territory. In time, they will forget about her. My badge will take her across."
Both horsemen let out cries of disbelief. "Better me, than you, my friends," Evan spoke.
"She can stay here. We will protect her Evan," Thanatos said.
"No Than. She's never belonged here, and it's time for her to go back. If we forced her to stay here, she would always be in hiding. What kind of life is that? To be hunted? I want her to see the -real- sun again. Be among her own kind. Feel the breath of humanity and see the good, after suffering through all the bad. She will make friends, fall in love with a humble man, have children, find something to be passionate about. I want her to
live
."
"I didn't think you were such a
good
man, Evan" Thanatos mused.
"If the color white defined the side of good, and black represented evil, I'm definitely the gray in-between."
"Gray... isn't that just another word for diluted black?" Thanatos joked. They laughed. "What's good and evil, but sides of the same coin? Good men do bad things, bad men do good things. It makes the things interesting," Thanatos remarked.
"My brother has derailed this entire conversation... Let's get back on track. What are you going to do Evan, if you're caught. How are you going to deny the accusations?" Famine asked.
"I don't think I will." Evan replied. "I'll let the punishment fall as it may. By the time the guards trace the badge back to me, it will mean she is already across. It will be too late for them to catch her. I will deny all three of your participation in her escape. Once she boards Charon's ferry, Thanatos and Famine, you are free to make your own choices. I am bound to you by debt, but you can fight with me, or go. Ethan is the only one who will promise me, that he will protect her on earth and not let her soul be captured, harmed, or destroyed."
"I have made this promise to you before Evan," Ethan replied, "So long as you keep up your end of the bargain."
Clara sat numb at the edge of the doorway. She was being expelled by the only people she had come to consider friends. Yes, she would be free to have a life on Earth... But she had to do so at the hands of her enemy, who would now be her caretaker. Did she have no say in any of this? Moreover, not only did Evan already owe two horsemen for helping her escape, he would now owe Ethan as well?
"I won't go," Clara said as she stood and braced hand on the entrance way. "I won't let you be indebted to
that monster
," she pointed at Ethan with her hand.
Ethan turned and shot her a charming smile. "Why Clara," he spoke, "I was wondering when you would stop eavesdropping."
"We knew you were there," Evan read her mind, "But you needed to hear this conversation and know what we planned."
"Yup," Thanotos agreed, "You know I could have froze you half-way down the stairs if I really wanted to." He winked.
"I can't go with him. I don't know what badges are or why they're important, but I can't take yours Evan. You don't know what will happen to you. I will hide. Don't do this," she pleaded.
"Evan can take care of himself Clara," Thanatos voiced. "You will go and stay with Ethan. I will check up on you, just canít stay too long..."
"Why not one of you come with me to Earth instead?"
Evan glanced at Thanatos and Famine. Both men gave a nod. "The horsemen's powers are contingent upon the level of their namesake in the location they are in. In Hell, death, war, famine and conquest are abundant. Everyone here is some caste of demon, is dead, or has died; internal and external wars are fought daily; the souls hunger for life; the demons hold the souls at bay. Here, the horsemen need to do very little to remain in full control. In the land of the living, if there is life, peace, and human growth, they would seek their darker natures: to cause death, war, famine, and the deterioration of mankind. In theory, releasing all four horsemen on Earth would lead to the Apocalypse and the ultimate fight between heaven and hell. The entire planet would probably be destroyed in the process. This hasn't happened yet. Not because the Devil doesn't relish Chaos, but because if all the humans are destroyed, no more souls would filter into hell. The reason is completely self-serving."
"Why not you then, Evan?"
"I can't give you my badge, and be present to use it at the same time. It would mean either Famine or Thanatos would have to give you his, and it would mean they take the punishment for our escape. I can't ask that of either of them. The blame will be on my shoulders. I believe
he
will be more lenient on me than those two anyways," his lips tilted in a wry, humorless smile.
"So Ethan will help me escape," Clara murmured.
"Ironic, isn't it," he chimed in.
"You couldn't have chosen another to take me back?"
"No others were willing to take the risk Clara. Either they would have been too weak to have protected you, or they were already too powerful to risk displeasing their master and losing their rank."
"So, what do you get out of it?" she glared at Ethan.
"Something I value more than my fear of the Devil," he smiled.
"I hope you are like Ouroboros, the serpent who swallows his own tail."
"You seek to see me self-sufficient and reliant on no one? How unlike your own predicament!"
"No, I hope to see you destroy yourself through the consumption of your own evil."
"Now, now children," Thanatos interjected, "Playtime later. We still have the matter of the
excruciate
demon inside Clara."
"Why don't we just let her die every night? It's what she's used to anyways," Ethan shrugged.
"You promised nothing would harm her soul. Letting her die like that would make it fracture," Evan yelled at him from across the table.
"Hasn't it already? Fractured that is. How can I stop her from harming herself when she probably can't even stop herself?" Ethan scoffed.
"Listen. Punk," Thanatos had been leaning back on the back two legs of his chair, and suddenly slammed back down, smashing his fists in the table. The thick wood let out a dulled boom and a creak at the impact. "The only reason I haven't killed you yet, is because you keep
her,
alive. I don't care how many souls you ferry for the Devil. If you betray Evan, and indirectly
me
, I will know, and I will snuff you out like you
never
existed. No parading around hell in your afterlife, pal.
Nothing.
"
Thanatos froze Ethan then. It was interesting to see the man stop moving completely. Not even a single inhale or exhale of breath.
"Can he hear us?" Clara asked, as she pulled over a leather chair and sat down.
"No."
"That's a neat trick," Evan agreed. "I didn't know you could do that."
Thanatos shrugged. "He doesn't need to hear this part of the conversation. The less he knows about us, the better."
"How can we help her Than? What did you have in mind?" Famine asked.
"There's two ways we could go. Either we exorcise her, or we let her stay immortal by letting the demon stay. In the latter situation, weíll need to find a way that pacifies its need to feed. Before we vote on extraction or not, I think Clara needs to understand what's inside her." She nodded, and he continued, "Basically, demons exist in two ways. Either they are spawned, or they take possession of a human or animal host. Spawned demons are not birthed. They do not have a mother or a father. They are simply created into existence by the Devil. Spawned demons are pretty self-explanatory. The second type of 'demon creation,' occurs through possession via demonic traits. Demonic traits do not begin as "demons" per se, so it's not one physical entity taking over that of another; nor is it like parasitic infection where one body steals from another. Rather, the demonic essence implants itself and becomes part of the human or animal host. A reciprocal dependency occurs. In Clara's case, she depends on the demon to stay immortal, and the demon depends on her to feed it. The need for pain is interwoven in her soul, and if we were to try and exorcise her, we would destroy the very thing we are trying to save."
"So what you're saying," Evan summed up, "Is that if we try to exorcise her, we risk ripping apart her soul and killing her while she's mortal"
"Yes."
"So I assume this means we're going with contingency Plan B: Placating her inner demon," Famine grinned.
"How much time do Famine and I have to work with her?" Thanatos asked.
"It depends on when Ethan returns." Evan replied. "It has to be during this visit, otherwise we'll have to wait another three months for the next equinox. The guards will come looking, and we simply do not have that much time."
Thanatos unfroze Ethan. "How long are your visits to Hell?"
Ethan looked out the window. "By the looks of it, dawn approaches. Charon's next ferry is 8pm tonight. My badge permits a visitation length of 24-hours. I must be back by then."
Thanatos looked at Evan, "You expect us to figure this out in the next 12-hours?"
Character art commissioned from
Burzum
Profile, Coding, and Story by
AeriaLure
Pet Treasure
Patchwork Aardvark Plushie
Hulking Candy Corn Beast
Magical Unicorn Balloon
Socktopus Plushie
Snowflaik
Halloeve
Jakyl
Patch
Oowel
Kawl
Snowbol
Slivyne
Eater
Brokenhearted Kitty
Morostide Patch Plushie
Pumpernickel
Chrust
Nacho Muerte Plushie
Chuckle Me Charlie
Rimpy
Funny-Looking Frontier Plushie
Raggedy Ahmastashoo Frog Plushie
Raggedy Ahmastashoo Pony Plushie
Raggedy Ahmastashoo Octopus Plushie
Raggedy Ahmastashoo Monkey Plushie
Raggedy Ahmastashoo Bunny Plushie
Raggedy Ahmastashoo Cat Plushie
Raggedy Ahmastashoo Spider Plushie
Raggedy Ahmastashoo Pig Plushie
Kitmonkey Beanbag
Kitmonkey Plushie
Kitmonkey
Kitmonkey Costume
Infected Kitmonkey
Infected Subeta
Infected Blob Kitty
Zemo
Zlomp! Sticker
Zombie Braaains Sticker
You Blow My Mind Sticker
BFF Sticker
Super Lamb Love Avenger
Kitty Love
Puppy Love
Froggy Love
Birdy Love
Dustbunny
Ebil Dust Bunny
Squishy Riisan Beanbag
Chibi Riisan Plushie
Chibi Maliss Plushie
Chibi Kitmonkey Plushie
Chibi Zombie Kitten Plushie
Chibi Blob Kitty Plushie
Chibi Baaaaaa Plushie
Chibi Ebil Bear Plushie
Chibi Honeybear Plushie
Chibi Rainbear Plushie
Draped Figure Plushie
Stone Winged Boar Plushie
Stone Amphisbaena Plushie
Stone Winged Ram Plushie
Stone Cerberus Plushie
Stone Chimaera Plushie
Stone Griffin Plushie
Stone Bovytaur Plushie
Happy Spider Leaf Bag
Surprised Spider Leaf Bag
Sad Spider Leaf Bag
Evil Spider Leaf Bag
Hairy Horror
Silly White Kitty Plushie
Silly Calico Kitty Plushie
Silly Tabby Kitty Plushie
Silly Black and White Kitty Plushie
Silly Black Kitty Plushie
Bebe Red Rreign
Wreathed Bebe Red Rreign
Fat Squishy Wreathed Red Rreign Beanbag
Crimson Fishy Plushie
Gold Fishy Plushie
Pink Fishy Plushie
Blue Fishy Plushie
Green Fishy Plushie
Purple Fishy Plushie
Black Fishy Plushie
Bettah Than You Fish
Balloon Fish
OHAI Pumpkin Sticker
Bunnion
Mr P
Cinnaman
Melix Flower
Bunana
Strawbunny
Rabish
Lucky Cherries
Pirate Watermelon Slice
Green Pirate Grapes
Pirate Banana
Magical Watermelon Seeds
Valiant Jelly Bean
Catfish Tales
Hungry Whale Sticker
Ghost Of Lumineve Present
Ghost Of Lumineve Past
Tarctic
Wutisthatsmell
Kora Plushie Prototype
I-Love-You Cupcake
Sceptre of Love
I-Love-You Donut
Vampire Bonbon
Batty Bonbon
Happy Subeta
Evil Pie Cookie
Evil Pie Beanbag
I Love Evil Pie Sticker
Liddolseel
Webster
Super-Deformed Hikei Doll
Super-Deformed Hikei Sticker
Super-Deformed Ruffie Sticker
Super-Deformed Chai Sticker
Super-Deformed Kanis Sticker
Super-Deformed Feli Sticker
Super-Deformed Harvester Sticker
Super-Deformed Tigrean Sticker
Super-Deformed Montre Sticker
Super-Deformed Kumos Sticker
Mini Tutani Beanbag
Mini Mortiking Beanbag
Mini Aeanoid Beanbag
Mini Legeica Beanbag
I-Love-You Rainbow
Squishy Grotesque Mister Grimsly Plushie
Book of Really Really Happy Rainbows
Special Coin
Reject Recycle Beast Plush Gift
Biquink
Zombee
Slow Movin Skinkabink Plushie
Cabana Boy Doll
Nico Beanbag
Well-Fed Yume Beanbag
Lambaaaargh
Wishbot
Tatikati
I-Love-You Sausage Ham and Mayo Sammich
Ugly Buddy Skoofalimp Plushie
I-Love-You Pizza Slice
I-Love-You Pumpkin
Suave Onion
Sunny Disposition Donadak Plush Toy
Tooter
Item Adder
Keetenzlai
King Content
Mirabun
Appli
I-Love-You Lamington
Space Ice Cream
Banana Split
Snowflaik Pie
Cute Kanis Pie
Kewt Koraberry Pie
Deluxe Sheeta Pie
Sad Egg
Pumpkin Guts Beast
Sad Toilet Paper
Axolotl Plushie
Malex
Smiley Cuppycake Plushie
Holiday Feline
Steampunk Skunk
Faaat Jaxon Skelly Beanbag
Skullion Plushie
Bat Blob Buddy
Sql
Morosql
Bitter Minotaur
Blotty Fruit
Bebe New Bear
Spongerob
Bumblephug
Ice King Bobblehead
Blar Pumpkin Morostide Card
Pet Friends