Information
Nelania has a minion!
Aerli
the
Folikit
Nelania
The
Reborn Jollin
Owner:
Alkuna
Age: 6 years, 4 months, 4 days
Born: January 15th, 2007
Adopted: 6 years, 4 months, 4 days ago (Legacy)
Adopted: January 15th, 2007 (Legacy)
Statistics
Level: 9
Strength: 23
Defense: 23
Speed: 23
Health: 24
HP: 24/24
Intelligence: 21
Books Read: 21
Food Eaten: 0
Job: Unemployed
Name: Nelania
Pronounced: Nell-ah-knee-ah
Alias: Lani
Meaning: Derived from Nalani; Hawaiian for ``The Heavens``
Height: 3`9`` at shoulder
Role: Masquerade Queen
Speaking Style: dulcet, slightly throaty
Best Qualities: graceful dancer, will dance even with the lonely sideliners
Worst Qualities: has trouble thinking in complete silence; almost constantly in motion
Hobbies: dancing, collecting masks
Fave Food: Crepes
Likes: dancing, masks
Dislikes: silence, lonliness
Element: Fire
Description: Nelania's love of dance shows in her magic: she invokes it using fluid gestures in time to a rhythm she follows in her head. Visualizing what she wants it to do, she can control the fire with a simple gesture.
Name: Aerli
Pronounced: ayer-lee
Species: Folikit
Gender: Female
Description: Playful and graceful at the same time, Aerli loves showing off and being the center of attention. Thus she shines best on the dance floor as an adorable and fascinating partner to Nelania's own dance moves. Her routines often get applause, and afterward it's off to begging scraps and getting well deserved pats from her adoring fans.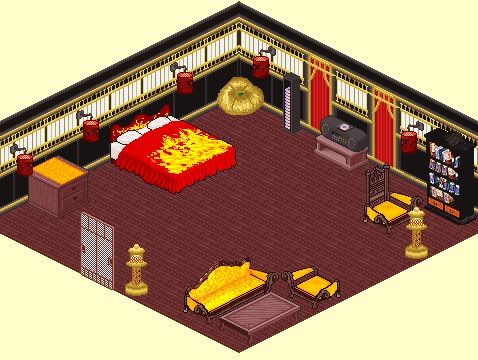 The room is light and airy with an eastern motif. The furniture is done up in dark wood and firey oranges, reds and yellows. To the left is a simple cabinet next to the bed. Paper lanters hang from the walls. A beanbag and a stack of music takes up the far left corner. A short table with a boom box is nestled between two curtained windows. To the far right and tucked away in the back corner is a bookshelf, an ornate lamp and a chair just perfect for sitting down and reading. Closer to the door and to the right a couch and a chair flank a long low table. The rest of the room, however, is sparse, leaving wide open empty space.
The reason for this is a Reborn Jollin, who happens to be practicing some very complicated dance moves by herself in the open space.
"So other than dancing, do you have any other passions?`` Flames trail from her tail and swirl around her body, leaving trails in your vision. Oddly, the flames don't seem to be actually burning everything. She finishes a graceful twirl, her tail training like a comet, and stops perfectly poised.
``Oh! I'm sorry! I didn't realize you were here already!`` She invites you in and gestures for you to have a seat on the comfortable couch.
``You're a beautiful dancer,`` you say, ``Are you a professional?"
``Feh, no. If it was professional, it'd be a job, and I'd lose my love for it.`` She hops into a chair made for pets and makes herself comfortable.
``So other than dancing, do you have any other passions?``
She brightens, ``Masks! Well made masks mind you, ones made with care and show the skill of the maker.`` Her collection is magnificent, ranging in just about every color and design.
``Seems like the two are related,`` you note, as many of the masks are specially designed for the Atebus masquerade.
She laughs, ``But of course! Masquerades are my favorite dances, and I love to attend them. There's magic in my dancing, you know.``
``Well, I kind of guessed that,`` you say, your gaze flicking to her tail, which is still merrily ablaze. The chair beneath her remains untouched by the flames.
``Silly you,`` she scolds, and flicks her tail across your lap. Instead of the hot burn of fire, you feel soft, feathery fur; ``I have complete control of my fire. That has nothing to do with my magic. No, I live for the joy of movement, the fluid poetry of each precise gesture of the body. Body language is more than just a phrase you know.``
``I see. And you figured out how to weave magic into that?``
``Exactly. If I want to wish you luck, I can dance a little circle around you. If I want to alleviate your pain, a quick dance will perk you right up for hours.`` She smiles warmly at you, ``I could even dance a rain cloud into existence to water the parched earth.``
There's a little twinge of unease in your mind. If she were angry, she could very well call down a monsoon that could kill many, many people. Changing the subject, you notice a picture of what must be a friend. ``So this is Leith? Is he your boyfriend?``
Her eyes sparkle with amusement, ``If you mean a male friend, then yes. If you mean someone I'm in a romantic relationship with, no.`` She tilts her head, ``He is a loyal friend, who's stuck up for my siblings quite often.``
``Does he dance with you?``
She grins mischievously, green eyes sparkling; ``Whenever I can rope him into it, yes.``
You chuckle. it is easy to envision the hapless Montre getting dragged onto the dance floor by this mischievous, high energy Jollin. ``Just to wrap this up, what's your favorite snack?``
``Crepes.`` Her tail wags enthusiastically, ``Strawberry with whipped cream and Nutella is heaven on earth!``
You thank her for her time and show yourself out, noting that she bounded up from her seat and resumed dancing before you were even out the door, following a rhythm in her own head.
Nelania loves masquerades; from little get-togethers to magnificent balls, she looks forward to each and every one. It is considered a minor honor to have her appear at the dances, as many believe dancing with her brings good fortune. To a degree, this is correct, but the good fortune is usually very subtle and the benefits seem to be coincidental.
Aside from dancing, she loves to go simply to admire the variety of masks and attire on display in both cases and on the guests at the party. If asked, she will offer advice to guests as to what they should wear for the ball; advice that does wonders for appearances to those who take it.
Do as you love,
Live as you cherish,
Befriend as you admire.
Life is worth living,
Dreams are worth achieving.
Dance for the joy of it
Delight in song.

The world does not arrange itself according to the village idiot.

Entry
by
Naff
Entry
by
Niko
Entry
by
Fijiguide
Entry
by
Cylum
Entry
by
Spiderish
Entry
by
Craft
Entry
by
wolvesinvade
Entry
by User not found (1): divincake
Entry
by User not found (1): ChocLiTJGrL_98
Entry
by
NyauNyau
Elissa - Mamboleo
Chorus
You spin me inside outside
And when you hold me so tight
We'll dance and party all night,
Mambo Mamboleo

So kiss me in the moonlight
You know it always feels right
We'll dance and party all night
Mambo Mamboleo

You're on my mind every day you are with me
And every night boy you dance in my dreams
We dance united together we are one
I'll take you there baby come go with me

Ahhhhh...
You spin me inside outside
And when you hold me so tight
We'll dance and party all night,
Mambo Mamboleo

So kiss me in the moonlight
You know it always feels right
We'll dance and party all night
Mambo Mamboleo

I fell in love with your voice and your laughter
And just one smile makes me believe
My destiny curious if you are mine
Oh won't you tell me you're willing to be
Ahhhhh...
You spin me inside outside
And when you hold me so tight
We'll dance and party all night,
Mambo Mamboleo

So kiss me in the moonlight
You know it always feels right
We'll dance and party all night
Mambo Mamboleo

Mambo Mamboleo, Mambo Mamboleo

When you dance with me boy, I know you feel my heat boy
When you dance with me boy, I know you feel my heat boy

Mambo Mamboleo, Mambo Mamboleo

You spin me inside outside
And when you hold me so tight
We'll dance and party all night,
Mambo Mamboleo

So kiss me in the moonlight
You know it always feels right
We'll dance and party all night
Mambo Mamboleo

la la la la la...

Backstreet Boys - Masquerade Lyrics

Backstreet
Listen up

This scene's so hypnotic
Smoke and mirrors, lights and magic
Paper faces in gold.
There's soldier boys, beauty queens,
everyone's a mystery
It's got me losing control.

Yearning, I'm yearning,
For the one to steal my eyes,
Wanna play in this game of disguise.

It's a masquerade, a love parade
So won't you stay,
And dance with me?
All through the night and day
My masquerade, I need you, baby
So stay with me tonight.

Masquerade, masquerade
Masquerade, masquerade
Masquerade, masquerade
Masquerade, masquerade

Just like a perfect dream,
I don't ever wanna leave
A thousand freaks in the show
One's a tiger, one's a lynx,
one's a king that's suffering
Rolling high, moving low

Burning, I'm burning,
can't you see it in my eyes?
Wanna play in this game of disguise.

It's a masquerade, a love parade
So won't you stay,
And dance with me
All through the night and day
My masquerade, I need you, baby
So stay with me tonight.

Masquerade, masquerade
Masquerade, masquerade
Masquerade, masquerade
Masquerade, masquerade

I gotta know the girl behind the mask
Let me in, where you've been?
Don't pretend
Dreamed I had her alone
Show your face to me
We could be everything

It's a masquerade, a love parade
So won't you stay and dance with me
All through the night and day?
My masquerade, I need you, baby
So stay with me tongiht.

It's a masquerade, a love parade
So won't you stay and dance with me
All through the night and day?
My masquerade, I need you, baby
So stay with me tongiht.

Masquerade, masquerade
Masquerade, masquerade
Masquerade, masquerade
Masquerade, masquerade
Pet Treasure
Handy Atlas
Chocolate Crepe
Breakfast Crepe
Strawberry Crepe
Blueberry Crepe
Big Purple Ribbon Masquerade Mask
Big Blue Ribbon Masquerade Mask
Big Brown Ribbon Masquerade Mask
Big Green Ribbon Masquerade Mask
Black Elegant Lion Mask
Blue Elegant Lion Mask
Burgundy Elegant Lion Mask
Black and White Harlequin Eye Mask
Black Deluxe Feathered Mask
Blue Deluxe Feathered Mask
Black and White Deluxe Feathered Mask
Brown Deluxe Feathered Mask
Black and Red Deluxe Feathered Mask
Arctic Frost Mask
Brown Eye Mask
Leather Domino Mask
Red Elephant Mask
Iron Pitted Masquerade Mask (Left Half)
White Ox Mask
Red Rreign Mask
Orange Red Rreign Mask
Purple Red Rreign Mask
Yellow Red Rreign Mask
Blue Red Rreign Mask
White Red Rreign Mask
Black Red Rreign Mask
Brown Red Rreign Mask
Wreathed Red Rreign Mask
Orange Wreathed Red Rreign Mask
Yellow Wreathed Red Rreign Mask
Green Wreathed Red Rreign Mask
Blue Wreathed Red Rreign Mask
Purple Wreathed Red Rreign Mask
White Wreathed Red Rreign Mask
Brown Wreathed Red Rreign Mask
Black Wreathed Red Rreign Mask