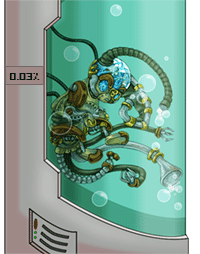 It is now the year 36012. I float here lost in my thoughts I continue to think about my past and my many owners.
Oh how I've been passed down to others.
I think about the few who I hold dear in my robotic heart. But how only one of those stand out the most.
You see I once was made of bones, skin, blood and even a nice fur coat. but now I am robotic- my veins filled with oil instead of blood and my memory is now implanted in a chip. But I remember with my dried up heart deep inside my chest. My Most special Riu. You see my battery has been charged so many times but only a few of my owners have given me knew batteries- ones that have worked for half my life time. For those I will never forget there faces there sweet smiles and the stories we shared and most of all the love they have given me. I may be old but despite my age I will never forget them. You might take my memory chip out, however, you may never erase my heart.
When I was a youth in the year 2003, Riu bottle fed me, she dressed me regardless of how much I hated it. she cared about me when my own mother abandoned me. she treated me as if I were a human myself. She promised me that I would live forever, that she would find a way. she even
Pinky Promised
which for small children was something that should never be broken. Riu grew older and older inventing new gadgets and trinkets trying to keep her promise. Years went by while I was getting older I remembered how she never changed. I always saw a light of hope in her eyes.
Before my animal passing she promised me one last time while she held my hand, that I would
live forever
.
At that time I never understood why she wanted me to go on so long when she would not but it was after all "love". An emotion that I didn't really understand until now. When I closed my eyes hours after her successful moments passed as my heart stopped pumping and my lungs stop working, and my brain to stop thinking,
however
I awoke 12 hours after my demise, to find I had been put on a mechanical looking object giving my support for my life, to my knowledge this was only going to be temporary, but alas each day Riu gave me a new parts, arms, legs and my tail, then my body was the most difficult, it took days on end to make all my objects work but in the end they did, my brain the most fragile was experimented on for years until the other scientist took all my memories and thoughts and put them on such a small object and somehow Riu gave me the knowledge to continue to learn, reason and
love
. Consumed in making me live forever, Riu with her last moments gave me the breathe of everlasting life.
As I am here waiting for someone to give me a new battery, that soon in fact will run out I am here in this tiny capsule as dust begins to fill upon the glass. I know I will be passed down soon so I await the day with so much joy so much anticipation. I know my next owner will love me just like the last ones. I know because I have faith in humans for they have always treated me well. They have preserved me and my inner parts and I have never changed, I have had many years of happiness relying on humans, and I give you my word that life without humans would sadden my heart deeply. My oily tears come down my robotic cheeks I begin to cry for my time with humans has showed me how special I am to them but also how special they are to me. Life may bring sadness at times, may make someone want to quit but alas there are people who will make you enjoy every minute of your life, I know because this is how I have felt for many many years and for many years to come I will forever keep these memories a treasure in my life.
As for now, their is no one, but I know there will be someone,
someone like Riu.
Adopted by User not found (1): Aryka
Profile by
Mandark
Profile Art by
monsters
Overlay by
Zelly