Information
Menma has a minion!
Menma
the
Mallow
Menma
The
Angel Kerubi
Owner:
Riu
Age: 5 years, 2 months
Born: March 23rd, 2008
Adopted: 6 months, 4 days ago
Adopted: November 18th, 2012
Statistics
Level: 3
Strength: 12
Defense: 11
Speed: 12
Health: 10
HP: 10/10
Intelligence: 1
Books Read: 1
Food Eaten: 0
Job: Unemployed
Forget Me Not
---
This has spoilers of the anime "anohana" if you have yet to watch and want no spoilers be on your way!
Ohayou Gozaimasu! My name is Menma!
The reason I am here is because I have unfinished business.
You see I made a promise that I needed to keep and until that is fulfilled I can't move on.
It all started at our secret base...Jinta, Me, Anaru, Yukiatsu, Tsuruko and Poppo.
We were all very close, closer than brothers.
Jintans mother was sick and well.. he didn't want to cry and always ran away.
So she told me to make a promise with her, that promise was.. to make him cry.
I know that it may seem such a weird promise, but I didn't want to leave until I saw it to the end.
But,,,. I didn't really want to go-you see I wanted to be with my friends, so I spent my days living as if I were alive, but I knew.. I knew I was
dead
. I just wanted to be with Jintan... I love Jinta with all my heart... So you see? that is why the promise was so important, for me and for him, and for his mother. Okaasan...
I know I was a burden to Jintan.. Because he was the only one who could see me, hear me, feel me. I wanted to hug everyone! I missed everyone! But growing up they all separated. Yukiatsu and Tsuruko didn't but they became mean.. Menma didn't want that! I wanted them together and happy again!
So I tried, I tried to talk to them, b-b-but nothing worked! Only Jintan could speak for me, but they all were mad at him, they didn't believe him... It made me really sad seeing Jintan like that.
He was alone..
I told Jintan about my "wish" so that I can pass on and some of our friends decided to help out! but in the end they all were upset... They tried to believe but couldn't! So.. they wanted to give up...Jinta still tried.. he really did but..Only Poppo believed.
Well that was until... I went to the secret base and found out I could use my diary to speak to them...
You see I had to do something to stop the fighting!
and well.. when they saw it-they knew I was there finally!
The next day at Jintans place I made muffins for everyone! They were scared but... they enjoyed them!
After all the fights were over they all tried to fulfill my wish! But everything they tried didn't work- you see I couldn't remember what the promise was myself.
It took several days to remember when Anaru and Tsuruko were fighting and Yukiatsu too.. They all were fighting again, wondering why I couldn't move on.. they admitted a lot of things.. Jealousy, love, selfishness, sadness. They were finally open to each other and they were together again.. I was happy for them. But I was quickly fading away..Because my promise was being fulfilled in front of me, so I decided to play one more game.. and disappear to be found...I knew it was my time to go.. I was sad but I promised to come back and be together again.
.... I promise Jinta I would come back.. and be his bride...
In the end I had to go.. I loved them all and they loved me too.. so I know.. I'll come back!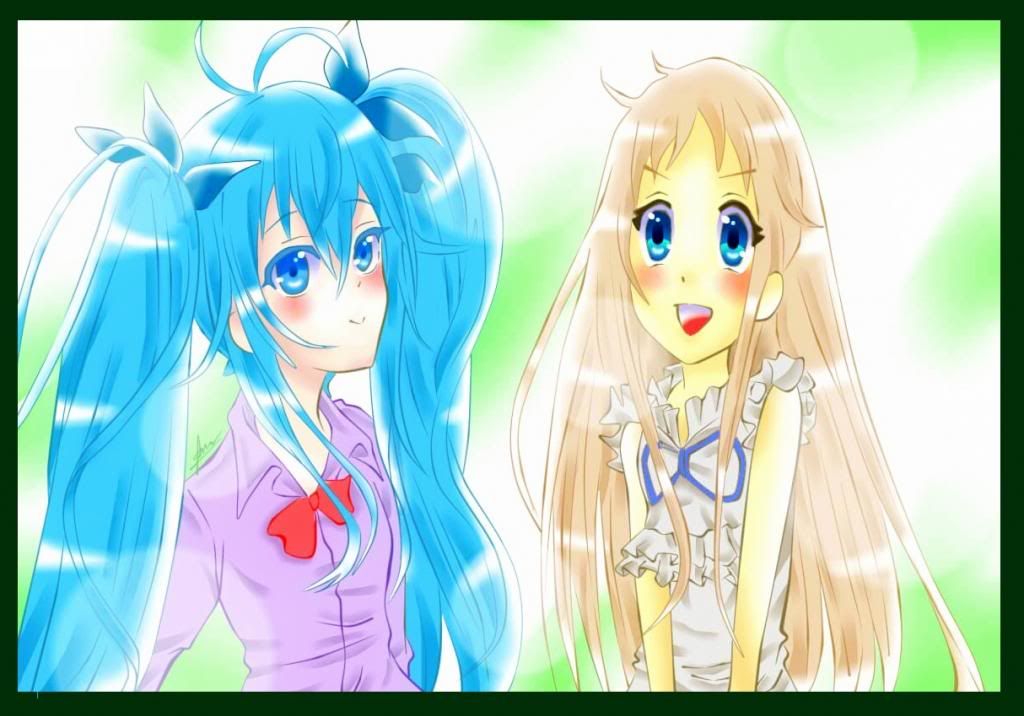 Song:
Secret Base-10 years after
Art by Deviants:
Tonitrua
pomelonian
reese-yamawe
MechanicMocha
Pet Treasure
Giselle Snowshoe Flower Accents
Angelic Notebook
Glittery Notebook
Extra Girly Diary
Sketch Book
Paper Scraps
Paper
Blue Pencil
Green Pencil
Yellow Pencil
Pink Eraser
Blue Eraser
J Sticker
I Sticker
N Sticker
T Sticker
A Sticker
Pet Friends