Information
Averey has a minion!
Lola
the
Begbones
Averey
The
BloodRed Feli
Owner:
Blir
Age: 3 years, 9 months, 2 weeks
Born: August 1st, 2009
Adopted: 3 years, 9 months, 2 weeks ago (Legacy)
Adopted: August 1st, 2009 (Legacy)
Statistics
Level: 35
Strength: 88
Defense: 86
Speed: 86
Health: 86
HP: 86/86
Intelligence: 0
Books Read: 0
Food Eaten: 4
Job: Unemployed
Despite his new-found love of drugs, cigarettes, and constant partying, Averey is still determined to become one hell of a tattoo artist. He claims the drugs help him to 'focus on his work', and who knows, based on the work he's putting out, his silly claims might just be true. All that matters to him is that he somehow must find a way to strike a balance between his work life and his social life after being thrust into the world of art, social-networking at parties, and the tattoo parlor.

Averey started out at the very bottom- while still young and struggling through Highschool he came up with designs and drew freelance for a profitless t-shirt company. The meager sales from the company didn't do his unique vintage-inspired pieces any justice (drawing old-school tattoo designs and pin-up girls are his specialty). But when the company decided to do a special promotion in their area, Averey hit a stroke of luck and was finally noticed. The owner of a popular tattoo parlor in the area came across Averey's artwork at the t-shirt company's art show event. He hesitated at first, but finally caved in and asked Averey if he'd be interested in a job at the parlor; it was a one in a million opportunity so of course Averey snatched it up.

As far as outward appearances are concerned, Averey's are a bit deceiving. Although his arms and chest are covered with tattoos and he's always clad in studded, black clothing, he's actually has a very soft and impressionable personality. At first this worked in his favor because he is a good, honest worker who is eager to please- but perhaps a little too eager. Along with a new job the tattoo parlor gave him a new group of friends who are leaving a strong impression on Averey- sucking him into the world of drugs, girls, and constant drinking.

When first hired at the parlor, Averey mostly did secretary-like work, setting up appointments for other artists. This job gave him plenty of time to not only doodle while sitting at his desk, but to observe the skills of those working around him. Soon ink and skin became his new mediums, and it didn't take long at all for him to get the hang of things and successfully reel in client after client. Averey is determined to make a name for himself in this industry and dreams of opening up a tattoo parlor of his own someday... unless the party scene and his new-found addictions find a way to destroy his career first.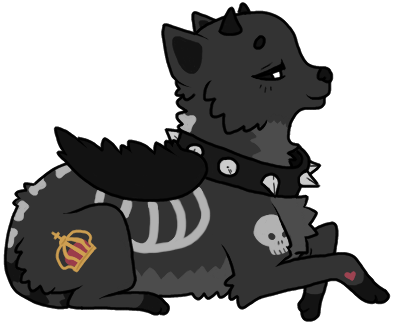 Art by
Blir

Pet Treasure
Smushed Paper Coffee Cup
Deep Red Head Bandana
Ribcage
Bloody Zombie Drool
Cranial Crustacean
Zombie Jaw
Stained and Torn Family Album
Gnawed Thigh Bone
Bonedancer
Boneyard Photo
Spurned Zombie Love
Scientists Torn Pants
Scientists Key Ring
Bone Handled Skinning Knife
Distilled Rum
Squishy Brain Plushie
Jar Of Zombie Drool
Dirty Martini
Alegarten Mug Plushie
Beer Flavored Ale
Infected Love Plushie
Zombunny
Homemade Dark Rum
Enchanting Dust
Strawberry Candy Razor Blades
Gris Gris Bag
Whiskey Decanter Set
Port Port
Butterfly Bruise Zombie Plushie
Scum Toilet
Virus Zombie Doll
Live Mealworm
Ale Flavored Beer
Zlomp! Sticker
Flesh Light
Ginger Beer
Rusted Milk Can
Smushed Paper Coffee Cup
Bulture
Mouldy Berry Trifle
Brown Broken Bottle
Used Cotton Swab
Brandy
Codfish Fritters
Fish Bones
Tankard Of Grog
Pet Friends