Information
Winter Frosty Ice has a minion!
Minion
the
Pair of Lovebirds
Winter Frosty Ice
The
Sweetheart Lain
Owner:
lightnight99
Age: 2 years, 10 months, 1 week
Born: July 15th, 2010
Adopted: 2 years, 10 months, 1 week ago
Adopted: July 15th, 2010
Statistics
Level: 69
Strength: 24
Defense: 66
Speed: 52
Health: 19
HP: 19/19
Intelligence: 158
Books Read: 156
Food Eaten: 30
Job: Stylist
I admired the view as I stood atop the mighty oak tree. The trees were mostly barren and all was white as far as my eyes could see. The cold winter breeze rustled through my hair daring me to follow. I spread my wings and let the breeze carry me with it higher and higher into the clouds. This was truly the greatest bliss, the wind under my wings and nothing above me but the great blue sky. Usually the forest was so busy with life but winter had replaced that with a serene silence, as if this entire forest belonged to me alone. The wind carried me with it to the eastern side of the forest where the lake was. The surface was already iced over; like a blank canvas, it practically begged for my frosty touch. I swooped down from the sky and skated on its surface creating fern-like patterns that followed in my walk. The cold breeze felt so refreshing against my face that I closed my eyes and was lost in my own world for a minute. The sound of hands clapping broke the spell and my eyes flew open! There by the edge of the lake stood a little boy, he had two buckets next to him. "Miss you're amazing! Are you a fairy?" I snorted at the thought! How could he have mistaken me for a fairy? My feathery wings were way prettier than any of those little wasps! "No I'm not! I'm a wind spirit." I spread my wings so he could see them properly before taking to the sky. The little boy was alarmed by my sudden departure that he yelled after me. "Wait Miss Spirit! Please don't go. Wait!" I giggled as I flew faster high up into the sky and away from the little child. Humans are such strange creatures. They look up at the sky and dream of flying. They choose to rely on machines that take away all the joys the wind brings you. Imagine being trapped inside a metal box and only peer through glass windows at the horizon rather than taking in the full thing! If they would only let go of all those "can't"s and "shouldn't"s they clutter their lives with they'd finally be free to fly as high as they wanted, To and dance among the clouds with the Eagles and Swallows from sunrise to nightfall. Oh well, their loss I suppose. Story by:
Hamda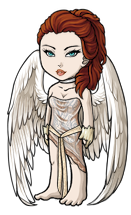 Also: she have white bird feet!
Pet Treasure
Spectrum Glass Windchime
Frozen Petal
Birdwing
Seashell Windchime
Regular Windchime
Pet Friends