Information
Linear has a minion!
X
the
Snoclowd
Linear
The
Glacier Feli
Owner:
Sarakins
Age: 2 years, 5 months, 4 weeks
Born: November 26th, 2010
Adopted: 2 years, 5 months, 4 weeks ago
Adopted: November 26th, 2010
Statistics
Level: 1
Strength: 10
Defense: 10
Speed: 10
Health: 10
HP: 10/10
Intelligence: 0
Books Read: 0
Food Eaten: 0
Job: Unemployed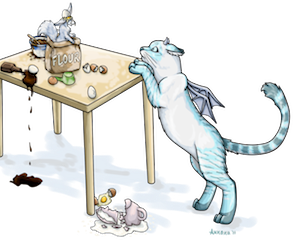 Linear paced up and down the aisle. The various squeaks and squawks were giving him a headache. The unwashed hands of the small children in the store made him shudder. The dust along the floorboards made his fur stand on end.
"The doctor said this would be good for you." He muttered to himself. His psychiatrist had in fact recommended he find a minion; something to take care of might ease some of his anxiety. The doctor had not taken into account Linear's obsessive-compulsive disorder...and the fact that he had to visit such a vile store in order to find a new companion.
Linear took a deep breath. He peered out from behind the display of anti-flea sprays into the plethora of kennels and cages. He gingerly put one paw in front of the other, praying there had been no messes in the area. First he came to the aquariums. No fish the doctor had ordered. It needed to be something that could return love, as he had put it. Linear cringed at the thought of the algae covered tanks and very willingly moved on.
Next he encountered the small animals: pucchas, blobs, and mice. There was no way those diseased animals would come into his immaculate home. Horrified, he saw one mouse sit in its food and defecate. He struggled to keep his breathing even; this was decidedly not the right choice.
Slowly he passed more cages. A buttwings fluttered out of an open cage; Linear barely dodged the chaos. A turvy ran across the floor, tripping on its ears. Linear felt the panic inside him rising. This was clearly not the right idea. As he turned to walk, no run, out of the pet store, Linear ran into a kindly looking old lady with large glasses and a poof of grey hair.
"Can I help you, sir?" She asked. Her voice was warm and comforting. "I'm Miss Maybel Plumley and I own this shop."
"I am looking for a ...companion," Linear stated, now sure the woman would instead push some vile minion for him to buy.
The woman looked him up and down. She seemed to note how uncomfortable he looked: his stiff pose and eyes flicking back and forth around the shop. "I have an idea for you...she just came in today. I'm quite sure you'll like her, son." She winked.
Linear begrudgingly followed her. It would be rude to turn tail and leave the shop now. He quietly counted his steps, stopping only when he reached a multiple of 5. The lady looked at him with little surprise, she seemed to have already figured out his strange tendencies. She set down the celovix that had taken up a perch on her shoulder and reached into a small kennel for a new minion.
The small snoclowd trotted to the front of the kennel. It rubbed against Miss Maybel's hand and then sat quietly after a small pet. Linear tried not to act too impressed. This was by far the calmest minion at the Minion Market. He inched closer to the kennel, shocked at the lack of a mess in the cage. She had a bed and a small litterbox; all of her waste was contained.
"She's quite a neat little girl! I had her sent in from a specialty shop in the Arctic Frost. Quiet and relatively low maintenance, this type." The gleam in Miss Maybel's eye was enough for Linear.
"I'll take her!"
Linear got the little snoclowd home without a hitch. She walked well on her leash, stayed on the sidewalk, and didn't make any noises. He had successfully set up all her accessories - a bed, a litterbox, and a few small toys. She had fallen asleep in her own bed, much to his own happiness. During her downtime, Linear decided to calm his shaken nerves from the store by doing a bit of baking. Counting out the exact measurements of ingredients always helped soothe him. He set out everything necessary for his recipe and left for a moment to let them reach room temperature.
As he read the morning paper - the first article had 47 "the's" alone! - he heard a crash in the kitchen. Nothing ever fell down in his house. Ever. He folded up the paper as fast as he could, then dashed into the kitchen.
To his complete horror, there was the little snoclowd, sitting amongst the scattered ingredients and shattered eggs. His heart stopped. Before he could even begin to berate the little fox, she jumped down and began to rub on his leg.
This was the final straw.
He hastily grabbed her, trying to ignore the coating of flour and egg white stuck to her fur. He also had to ignore the egg that was slowly dripping down his own leg.
"We've got to get in the bath, little one." He was surprised how calm his voice sounded. He felt no anger, only the deep desire to clean off everything and anything the mess had touched. He set her down gingerly in the tub and started to run the water. As the soap bubbled up and the water ran, he too ran and tried to sop up the trail of footprints and drips they had left on the way to the bath.
"We'll get this clean in no time, no time at all, none," he chanted, more to calm the thoughts racing through his head than to reaffirm the cleanliness of the house. When he reentered the bathroom, his new pet was floating on her back in the rising water, clearly enjoying herself. She even had a beard of soap bubbles. Linear couldn't help but laugh - the little snoclowd also enjoyed being clean! At least that's what he would pretend as he helped get the gooey mess out of her soft fur.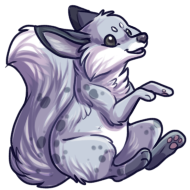 Profile Image by
fee
Profile by User not found (1): Meltdown
Image by
Ankoku
CI by
Plipkat
CI by
Keshi
Pet Treasure
Rubber Duck
My First Pet Kit
Pet Bed
Clean Minion Litter Box
Pink Soap
Purple Soap
Green Soap
Blue Soap
Pet Friends