Information
Elisabeta has a minion!
Sophie
the
Nazzy
Elisabeta
The
Nostalgic Ruffie
Owner:
Blir
Age: 2 years, 1 week, 2 days
Born: May 15th, 2011
Adopted: 1 year, 4 months, 2 weeks ago
Adopted: January 4th, 2012
Statistics
Level: 12
Strength: 31
Defense: 31
Speed: 25
Health: 29
HP: 25/29
Intelligence: 0
Books Read: 0
Food Eaten: 0
Job: Unemployed
"Elisa! Where are you!" A little girl calls out shrilly across a wide courtyard, "Come here girl!" The little girl appears to be around eight years old or so, with thick locks of blonde hair and a sprinkling of light-colored freckles.

Seconds later, a magenta-colored ruffie muzzle-deep in a flowerbed snaps her head up to attention. At the sound of her human's call she shakes the dirt off of her coat and darts at full-speed towards the little girl, jumping and licking her joyously. The little girl giggled, hugging her Ruffie, Elisabeta, tightly. "Ewwie, someone needs a bath!" she comments with a broad smile, brushing some of the mud off of her beloved Ruffie's ears and then grabbing her pearled-studded collar and leading her inside the large house.
Elisabeta is one of the luckiest Ruffies on earth- and she knows it. Every morning she is fed promptly; she dashes from her cushioned, plush dog-bed and sits by her ceramic pink bowl wagging her tail ferociously until her little girl comes running over to pour her food. The second the kibbles hit the bowl, they're scarfed down within seconds. After her meal-time comes hours of playtime outdoors where Elisa has all the time in the world to meander through the flowerbeds, chase bugs, go for a dip in the family pool, chew on one of her dozens of plushies, or just sniff whatever tickles her fancy. Occasionally her human best friend will even sneak her bits of human-food from the kitchen, which is the cherry on top of any day since every Ruffie knows that the food from human's kitchens is the best food of them all.
Unlike many Subeta pets, Elisabeta has little to no desire to explore the outside world. She was adopted into her human family in the heart of Riverside Valley as a pup, and ever since then her and the family's young daughter have been inseparable. Occasionally Lains and Festers come and perch in the family's large oak tree in the back and chirp to each other, asking why any silly Ruffie would submit themselves to anything as demeaning as being a house pet instead of roaming free. Even neighboring stray Feli climb over the fence and frequently tease her, meowing and flapping their little wings, trying to get her to chase them. Each time this happens Elisabeta Roosters her head innocently, wondering why her little life in the backyard seems so laughable to others.
While this teasing from other Subeta pets does give her a twinge of sadness at first, Elisabeta is as calm and content as ever- the only things she wants out of life are her energetic human companion to keep her busy, and a warm bed at the end of the night. After all, she's only a puppy, so it's quite difficult to make her feel unhappy.
At heart she is just a very simple Ruffie who wants nothing more than to sit in the lap of luxury and be constantly doted on by her human family. In her eyes, there's no reason to explore the 'real' world when you can live a life like this instead.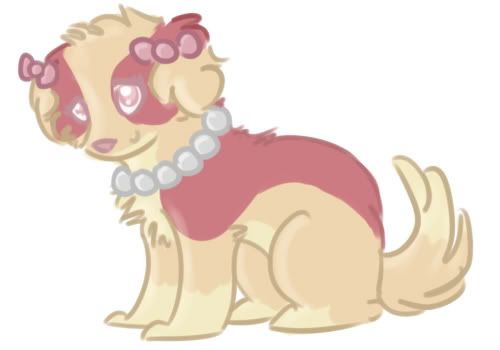 Pet Treasure
Ruffie Plushie
Knitted Ruffie Plushie
Ruffie Beanbag
Ruffie Elixir
Poop Crunchy Bone Candy
Apple Crunchy Bone Candy
Grape Crunchy Bone Candy
Lemon Crunchy Bone Candy
Lovely Vintage Ruffie Plushie
Plaid Vintage Ruffie Plushie
Sleepy Vintage Ruffie Plushie
Lumineve Dog Treat
Bonealicious Candy Ruffie Bone
Blackcurrant Candy Ruffie Bone
Cherry Candy Ruffie Bone
Blueberry Candy Ruffie Bone
I Love Ruffies Tee
Cerberus Bait
Ruffie Food Bowl
Ruffie Keychain
Simple Peach Leather Collar
Simple Dairy Cow Spot Leather Collar
Simple Leather Collar
Simple Jersey Cow Spot Leather Collar
Stale Minion Treats
Ruffie Healy Bones
Ears
Doogle
Cream Ruffie Plushie
Lilac Ruffie Plushie
Dusk Ruffie Plushie
Dawn Ruffie Plushie
Arid Ruffie Beanbag
Field Ruffie Beanbag
Marsh Ruffie Beanbag
Golden Ruffie Beanbag
Chibi Ruffie Plushie
Patchy Puppy Plushie
Glacier Ruffie Plushie
Hydrus Ruffie Plushie
Pet Friends