HI WORK IN PROGRESS DON'T READ
Bettie was plain. Normal, average, vanilla; just a simple country girl. And that was just fine.
Her day always starts the same. The sweet serenity of daybreak is broken when Jack, the lone rooster, will jump on the roof of the barn and squawk at the rising sun. Bettie hops out of her rickety, wooden bed, slips on her knit slippers and runs downstairs.
"Morning, munchkin."
Her mother hands Bettie her favourite apron as she skips through the kitchen.
"Don't forget the petunias today, hun. You know they don't do well in this heat."
Grabbing her pitcher, she hops out the kitchen door when she spies her father out of the corner of her eye.
"TARA. Tara it happened again."
The concern in her father's voice stops Bettie dead in her tracks. She swings around and crouches outside the kitchen window.
"Again? Who was it this time?"
Again? Bettie Roosters her head.
"Marilyn."
Her eyes widen.
"God, not Marilyn. She was one of our top producers. And the kids just loved her. What happened?"

"I.....I don't know. I just walked in the barn and she was.....there was blood everywhere."
Clearly shaken, he reaches towards the chair for support.
"Each time is more gruesome than the last. And this time...god Tara...I don't know what kind of sick love could do this."
In shock, she begins to back away when
SNAP
.
With the snap of the twig the young couple are alerted of their daughter's presence.
"BETTIE, HONEY, NO."
Her parents run to console their clearly horrified daughter but Bettie is quickly hidden deep within the corn fields.
Yes, Bettie is just a simple,
country
girl.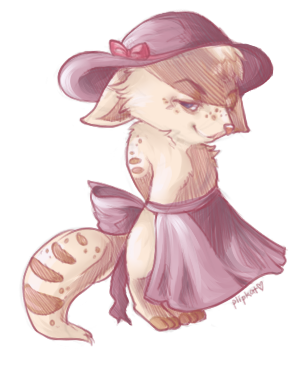 ♥
by
hearts
♥
by
aita
♥
sketch by
Plipkat
coloured by
fee
♥
♥
by
ShadowHoundoom
Profile by
Jodie
Thank you
Thursday
for adopting Bettie to me