Information
Zandra has a minion!
Jun
the
Zodiac Horse Spirit
Zandra
The
Reborn Feli
Owner:
Hope
Age: 4 years, 2 months
Born: October 6th, 2009
Adopted: 3 years, 8 months, 1 week ago
Adopted: March 24th, 2010
Statistics
Level: 22
Strength: 15
Defense: 10
Speed: 10
Health: 12
HP: 12/12
Intelligence: 0
Books Read: 0
Food Eaten: 0
Job: Store Clerk


Zoom in over New York City. Go to the east of Central Park, down, down, through the Upper East Side, through Midtown, down past Gramercy and the East Village and Little Italy, until you make your way to that place between the very tip of Manhattan and the East River. That, my friend, is Chinatown, and it is there that you will find a most remarkable girl. Her name is Zandra, and no matter what the weather is, you can probably find her with flute case in hand at the Chinatown Ice Cream Factory, ordering her favorite Black Sesame ice cream, unless they've run out again, in which case she'll take the Taro, thanks. Once she's got her dish full of ice cream, she'll probably take a left out of the shop and go on for about a block and a half, until she reaches Columbus Park. She'll walk past the men playing checkers and the women playing Mah-jongg until she finds an empty bench for her to sit and eat. If she's lucky, she'll find a bench facing the pavilion, where there may be a tai chi demonstration, or maybe just a group of young kids dressed in traditional Chinese outfits, ready to put on a dance. Maybe there won't be anything at all. She can always just people-watch, and curse at herself again for not bringing her old 35mm. Sometimes I'll go with her, and I'll bring my DSLR, and we'll take turns snapping photos from crazy angles. Then we'll turn the camera around and shoot ourselves with our faces scrunched up next to each other, with her fingers in a V brought right up to her cheek. Our cheesy Asian poses just make us laugh all the more.
On the quiet days, she'll sit there and think about her life. It's hard for her to believe sometimes that she's really here, sitting at the edge of her favorite city in the world, knowing that she can just walk a few blocks back to her very own dorm, part of the great university she's had her heart set on since middle school. Part of her is more content than she's ever known...but part of her worries.
Am I here for the right reasons?
she wonders. She's studying music business as a compromise; her passion for music had to be tempered by her family's desire to see her in a major that might actually lead somewhere. But she's not business-minded; she has no real skill or talent with numbers or figures or calculations. She doesn't care about money; she cares about spreading love and joy and life. That's truly what she said to me once: "My one ambition in life is to help others. That's all I want."
Recently I brought up the idea of music therapy. She could combine her musical talents with her nurturing habits, and truly make a difference. It might not be the most lucrative position out there, but it was still a steady job prospect. So today she sits there with her flute case on a bench in Columbus Park, eating her Black Sesame ice cream and filling out an application for a volunteer position at the hospital. She glances up from her paper just in time to see a long red dragon walk up the stairs of the pavilion, and it is then that she remembers: tomorrow is Chinese New Year.
adopted from User not found (1): Cootie_Queen
drop-dead gorgeous overlay by
Tiki
lavishly elegant profile by
Pinto
minion overlay by
ANIMAL
maneki neko CIs by
LadySlayer and User not found (1): kyradriel
ART
Z
by
Tethys
A
by
tusk
N
by
aita
D
by
Sugar
R
by
Boofrickityhoo
A
by
Shur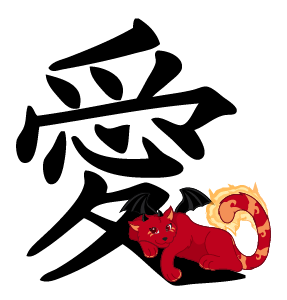 by
NikonD40
Pet Treasure
White Chocolate Dipped Fortune Cookie
Chocolate Dipped Fortune Cookie
Mei Paper Lantern
Heavy Hand Held Firework Launching Tube
Zodiac Rat Spirit
Zodiac Ox Spirit
Zodiac Tiger Spirit
Zodiac Rabbit Spirit
Zodiac Dragon Spirit
Zodiac Snake Spirit
Zodiac Horse Spirit
Zodiac Sheep Spirit
Zodiac Monkey Spirit
Zodiac Rooster Spirit
Zodiac Dog Spirit
Zodiac Pig Spirit
Fu Accordion Paper Lantern
Lu Accordion Paper Lantern
Cai Accordion Paper Lantern
Ji Paper Lantern
Shou Paper Lantern
Lu Paper Lantern
Xi Paper Lantern
Cai Paper Lantern
Ai Paper Lantern
De Paper Lantern
Chinese Fortune God Doll
Red Envelope
The Happy Fortune Cult
Chinese Textbook
Maneki Neko
Beige Red Rreign Shooty Firework
Orange Red Rreign Shooty Firework
Purple Red Rreign Shooty Firework
Yellow Red Rreign Shooty Firework
Fireside Purple Chaser Firework
Fireside Orange Chaser Firework
Fireside Burgundy Chaser Firework
Fireside Red Chaser Firework
Medium Red Bonfire Fountain Firework
Medium Burgundy Bonfire Fountain Firework
Lunar New Year Firecracker
Used Firework
Plain Chopsticks
Decorative Chopsticks
Turnip Cake
Citrus Carp Dish
Steamed Rice
Ramen
Sweet And Sour Sauce
Tang Yuan
Pork Bao
Tofu Bao
Leek Bao
Chicken Bao
Beef Bao
Red Bean Mochi Ice Cream
Green Tea Mochi Ice Cream
Mango Mochi Ice Cream
Chocolate Mochi Ice Cream
Ice Cream
Red New Years Bird
Pet Friends