TO THOSE I OWE ART TO FROM THE MASQUERADE!
The thread I had up I can no longer see.
If I owe you art from the event please send me a PM. I am so sorry about all of this but I can't remember everyone that I owe art to.
So I'm posting this on my profile for you guys to see. I tried looking at my past posts but I couldn't see all of the names.
Again I'm sorry about this guys. Just please PM me references and if it was a headshot, waist shot, full body.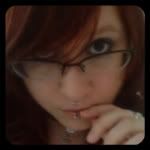 Name:
Lydia
Nicknames:
Morphine, Ceres, Lillith, Cheshire cat, Pika.
Age:
23
B-day:
Nov. 25 Hair:
Dark auburn
Eyes:
Blue and gray
Height:
5'2
Sexual preference:
Straight
Zodiac:
Sagittarius and snake
Stereotype:
An Industrial Zombie Punk Artist
Occupation:
Artist, writer, unofficial counselor, Gives Hardcore Critiques.
Music genres:

Smokes:
Djarums, Camels, New York Cuts, Davidoffs, Dreamz, Marlboros, and others that fancy my taste.
Art: http://taulha.deviantart.com/