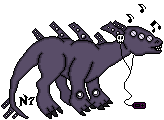 Well hello there.
*stupidly waves at her screen*
My real name is Crystal.
I'm in my 30's.
And married to a man just as strange as I am.
I own 2 cats, 31 chickens (& counting), love music, reading, gardening, & chicken keeping.
I play RPGs, watch anime, make graphics,
ceramics, jewelry, candles, soap, and play with sculpey a lot. I'm a pretty artistic person.
A real jack of a lot of trades, yet master of none.

I am a very random person..
You are liable to see me pop up anywhere at anytime.
I am a insomniac, utterly eccentric, and some what insane.

Core CSS code was gave to me by
risika87