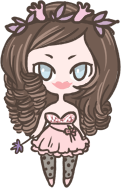 ♥♥♥Notice 05/13/13!♥♥♥

My buds have probably noticed that I've not been around at ALL in the past several weeks, and unfortunately that trend will have to continue.
I will be on longterm hiatus for the forseeable future. I will try to check in once a week or so to make sure no important smails are being ignored, but I will be pretty much inactive. Subeta is super fun and I will miss being around! I hope one day when my RL workload is under control and I have managed to get past some major deadlines that I will be able to come back and play again. Thank you to all my friends and commissioners, and especially everyone that's dealt with my spotty schedule the past few months!