This pet belongs to an inactive account! You can create a new pet, or change a pet name to this name!
Information
Llynyah has a minion!
-chirp-
the
LuiLui
Llynyah
The
Glade Kerubi
Owner:
Lux_227
Age: 10 years, 5 months, 6 days
Born: November 13th, 2007
Adopted: 10 years, 5 months, 6 days ago (Legacy)
Adopted: November 13th, 2007 (Legacy)
Statistics
Level: 4
Strength: 11
Defense: 11
Speed: 11
Health: 11
HP: 11/11
Intelligence: 0
Books Read: 0
Food Eaten: 0
Job: Unemployed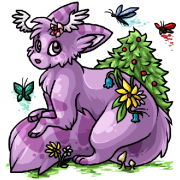 Name: Llynyah
Nicknames: None
Gender: Female
Age: Young Adult
Occupation: Gatherer
Orientation: Straight
Status: Single
Fur: Light and dark
berry purples, often
adorned with flowers.
Eyes: Bright berry purple.


Llynyah is a kind, playful soul without a care in the world, who's short attention span, and excessive curiosity often gets her into trouble. She constantly shows signs of impatience and strives to poke her nose into others' business. Despite first impressions, Llynyah is an extremely loyal friend and companion. Her best friend, and 'glade sister' is Illyriah, with whom she has the closest relationship, and spends the most time with. Llynyah doesn't ever speak, instead she communicates with chirps, purrs, growls and other sounds. Llynyah is sometimes described as a bottomless pit, for her extreme love of berries and fruits. She's almost always eating forest foods, or on the look for some.


Very little is known about Llynyah's past, due to the fact that she doesn't speak. If you speak with Llynyah's friends you don't find out much either. Illyriah, the fanciful sprite, says that Llynyah has been her friend forever, and that Llynyah 'was born of the berry thicket' along the southern border of their glade.


Profile coding and design by me,
lux.
Pet art by the wonderful
Tiki

Art
☼ ☼ -
carbon
☼ -
Tiki
☼ - User not found: Lin
☼ -
FiendishThingie
☼ - User not found: Agos
☼ - User not found: uff



Pet Treasure
Blackberries
Raspberries
Blackcurrant
Strawberry
Cherry
Blueberries
Gooseberries
Guava
Cranberries
Mysterious Eggplant
Pear
Red Apple
Plump Yellow Apple
Kiwifruit
Papaya
Orange
Lime
Lemon
Fake Grapes
Mandarin Oranges
Peach
Tomato
Fresh Yellow Tomato
Square Watermelon
Orange Bell Pepper
Yellow Bell Pepper
Watermelon
Durian
Mango
Radish
Jack-B-Little Pumpkins
Carving Pumpkin
Fresh Pumpkin
Frosted Luminaire Berries
Nontoxic Snowberries
Jungle Damsel Useful Berries
Sour Grapes
Orange Grapes
Bitten Apple
Blue Apple
Purple Pear
Green Orange
Pitcher Plant
Glowing Pump-Pop
Feduit Fruit
Carambola
Priberries
Yoogly Fruit
Lubbery Fruit
Pimbiberry
Fuzz Berry
Wallop Fruit
Button Berries
Tepper Fruit
Torra Fruit
Green Orange
Blotty Fruit
Lonjitan Fruit
Plump Lump Fruit
Fire Pepper
Marsh Fruit
Fruit of Passion
Fruit of Deception
Globe Fruit
Starfruit
Lant Fruit
Purple Pus Fruit
Dinkle Berries
Flubkin Fruit
Oofa Fruit
Slugg Fruit
Moony Fruit
Gloomy Fruit
Spiny Gelatin Fruit
Pumpkin Fruit
Long Vined Pumpkin
Red Tomato Plant
Yellow Tomato Plant
Magical Lemon Tree
Magical Orange Tree
Strawbunny
Pet Friends