Information
Yumichika has a minion!
Kujaku
the
Alien Plant
Yumichika
Legacy Name: Yumichika
The
Angel Lain
Owner:
Toushiro
Age: 14 years, 2 months, 3 weeks
Born: December 9th, 2006
Adopted: 9 years, 7 months, 3 weeks ago
Adopted: July 11th, 2011
Statistics
Level: 12
Strength: 12
Defense: 9
Speed: 13
Health: 10
HP: 10/10
Intelligence: 15
Books Read: 19
Food Eaten: 0
Job: Sales Associate

umichika was almost certain that he couldn't get into trouble for destroying a peacock. He was running late for the ceremony and
of course
this had to be the day where he was in charge of bringing the camera. Yumichika was given the duty to document the entire event as he was known for having a great eye for this type of thing. Now he was a bit disappointed that
Ikkaku
hadn't come with him. The higher ups in Soul Society practically expected destruction from Ikkaku.
Well, it didn't count as destruction if no one found out about it. Soul Society wasn't much in the habit of handing out reprimands for blowing up birds. Unless they were endangered, perhaps. Were peacocks endangered? It didn't matter.
The peacock preened, swishing its tail experimentally side to side. It was getting in Yumichika's way. Constantly. It seemed to be doing its best to show off its tail feathers.
"I should be allowed to do something to it,"
Yumichika thought.
"Perhaps this could be considered an obstruction to my duties or something."
It wouldn't even be difficult for Yumichika to destroy the bird. With his level of skills he could take care of it quickly with only a slight burn on the pavement. Of course, destroying something so beautiful would be a shame. And Yumichika had just gotten his nails done. He didn't want to risk the chance of burning the top coat of his nail polish. A quick snap of a photo could probably do the trick! If he could just blind the peacock shortly from the flash, perhaps that would be enough time to get away.
He tapped a finger on his chin thoughtfully as the peacock cawed at his feet. Yumichika's mind drifted as he continued to imagine different scenarios. He could probably arrest the peacock instead, then he could let it go when he finished his task. Yumichika chuckled to himself for thinking up something so silly.
Seeming to sense the man's waning interest, the peacock called at Yumichika irritably and
pecked his foot. Hard. As Yumichika took a step backwards in pain, the camera fell to the floor. A seemingly slow motioned moment went by of the camera tumbling and smashing against the pavement...
CRACK.
Yumichika took a deep long breath while he reconsidered blasting the damn bird. He had a feeling that
Yachiru
and
Kenpachi
wouldn't mind some roasted fowl anyway.
Yumichika © Kubo Tite
story by
AuburnNight
editted for non-Bleach fans by
Toushiro
pet overlay, art buttons, and treasure chest by
wawa
pet profile made and coded by
KiwiWorks.
stock by xxdigipxx
footer flower art by
Toushiro
Please do not steal
To-do:
[o] - make profile
[o] - design & get overlay
[o] - buy or receive at least a small list of artwork
[o] - story or description
[o] - add themed treasure chest
[o] - win spotlight



News
Search Shops
Search
Help

Games
Main Shops
Cash Shop
Explore
Trade
Auction
Cults
Journals
Subetapedia
Friend Feed
Pets
Inventory
Vault
Mail
Wardrobe
Your Shops
Achievements
Profile Comments
Wishlists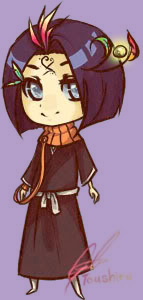 by toushiro
by Aluox

by aeiou
by Bocchan
by _Rawr_

by megbutt
by ROOSTER

by AuburnNight
by sheimi
Pet Treasure
Couatl Feather
Vintage Experiment 2759 Plushie
Bronze Quill
Gizmo Feather
Peacock Fungus Pet
Silken Peacock Fabric
Peacock Feather Quill Pen
Monocle-Wearing Peacock Plushie
Splendorous Peacock
Decorative Peacock Teapot
Peacock Feather
Silken Emerald Fabric
Green Long Feather
Remarkably Well-Preserved Hair Pins
Spring Feathers
Pet Friends