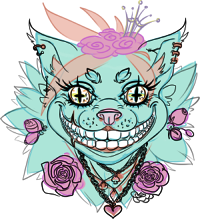 ♥️HA♥️
H
ello! I'm a 34 year old casual role player who likes to listen to music and draw things. They/Them. Kinda shy, but if you wana chat feel free to drop me a line. Very interested in art, cozy video games, DnD, DICE, and creativity in all its forms. Talk to me about your OCs. Feel free to tell me to shut up about mine. Currently obsessing with Critical Role/Dimension 20 /and/ Elden Ring.
Embarking on a legendary mission impossible.
&
Workin on my pets slowly, oh so slowly.
-DEVIANTART-
||
-TUMBLR-
[buy me a coffee]
wishlist
×
gallery
stickers
×
plushies
×
beanbags