Information
-River- has a minion!
Wibblewash
the
Wittlebebestah
-River-
The
Glacier Kanis
Owner:
Zelly
Age: 9 years
Born: October 18th, 2010
Adopted: 9 years ago
Adopted: October 18th, 2010
Statistics
Level: 12
Strength: 25
Defense: 28
Speed: 17
Health: 28
HP: 28/28
Intelligence: 5
Books Read: 5
Food Eaten: 1
Job: Unemployed
THIS IS A TEST. IT IS ONLY A TEST. IF IT WAS A REAL PROFILE YOU WOULD SEE A REAL DESCRIPTION IN THIS AREA.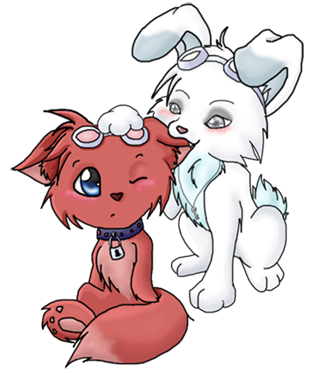 Pet Treasure
Spectrum Deck Box
Clivey
Curious Hand Woven Afghan
Bright Hand Woven Afghan
Ace of Spades Sticker
Ace of Hearts Sticker
Ace of Diamonds Sticker
Ace of Clubs Sticker
Dawn Sand Castle
Psychic Bubbles
One Sticker
Nine Sticker
Fruit of Passion
Snowshoe
Love Soul Stone
Chibi Torrey Plushie
Heart Piece
True Love
Glacier Kanis Plushie
Chocolate Torrey Pudding
Blue Decorating Frosting
Dawn Torrey Beanbag
Marshmallow Spread
Adorable Blueberry Vesnali Cupcake
Blue Raspberry Glam Cupcake
Chatspeak Love Candy Heart
Too Cute Candy Heart
R Sticker
Blue Hearty Sticker
M Sticker
Lovely Smiley Sticker
Target Sticker
Kiss Me? Candy Heart
I Love You Candy Heart
Lock
Giselle Kinkylove Short Leash
Magical Key
Heart Plushie
Extract of Loveberry
Kissing Bear Plushies
Sack of Love
I Sticker
L Sticker
O Sticker
V Sticker
E Sticker
Y Sticker
O Sticker
U Sticker
Hyperactive Loveheart Sticker
M Sticker
A Sticker
R Sticker
K Sticker
U Sticker
S Sticker
Hyperactive Loveheart Sticker
Folibun
Folikit
Card Love Sticker
Giapa Companion
Baby Polar Bear
Nanamo
Moondream
Yume Costume
Bubblepop Goggles
All I Want For Luminaire Is Yume
Yume in a Kumos Costume
Green Pajama Hat
Sleeptight Plushie
Blue Duckie Footie Pajamas
Arid Kanis Slippers
White Sushi Pajama Top
White Sushi Pajama Bottoms
Green Sushi Pajama Bottoms
Green Sushi Pajama Top
Chibi Kanis Plushie
Common Kanis Beanbag
Knitted Kanis Plushie
Knitted Ruffie Plushie
Knitted Feli Plushie
Feli Voodoo Plushie
Log Cabin Quilt
Overstuffed Mouse Plushie
Barely Plushie
Muffin Man Plushie
Laginator
Fleece Leopard Throw
Snowbunnies
Chilly Teddy in a Double-Breasted Coat Plushie
Chilly Teddy in a Fur-Hooded Coat Plushie
Chilly Teddy in a Shearling Coat Plushie
Chilly Teddy in a Duffle Coat Plushie
Chilly Teddy in a Puffer Coat Plushie
White Knitted Bunny Plushie
Spectrabunny
Atomic Marshmallow Bunny
Dustbunny
Punni
Snobun Figurine
Bunuki Plushie
Bunuki
Flaopy
Constellation
Tribbun
Flaopy Plushie
Esther Bunny Beanbag
Gentleman Vintage Kanis Plushie
Gingham Vintage Kanis Plushie
Hoppster
Ilovesweeties
Emolop
Red Purdeflowr Plushie
Bun Bunny
Albie
Lapine
Lilapin
Wibblebun
Pumpin
Pleeez
Flaffert
Bunny Morostide Plushie
Jack Rabbit
Alien Bunny
Glade Bunny
BunBun
Prince of Many Enemies
Old Bunny Plushie
Yellow Bunnybuttons Beanbag
Purple Bunnybuttons Beanbag
Pink Bunnybuttons Beanbag
Green Bunnybuttons Beanbag
Orange Bunnybuttons Beanbag
White Lazy Buns Beanbag
Blue Lazy Buns Beanbag
Brown Lazy Buns Beanbag
Black Lazy Buns Beanbag
Green Lazy Buns Beanbag
Orange Lazy Buns Beanbag
Pink Lazy Buns Beanbag
Purple Lazy Buns Beanbag
Yellow Lazy Buns Beanbag
Bungly
Gray Purdeflowr Plushie
Blue Purdeflowr Plushie
Blue BunBunnay Beanbag
Kanis Springy Toy
Well-Fed Yume Beanbag
Blue Bunny Keychain
Bunigiri
Nico Bobblehead
A Postcard from Insanity
Book of Love
Gabriel Plushie
Morostide Womba Plushie
Cousin Beast
Fuzzy of Doom
Psychic Chameleon Plushie
Bottled Bunny Pixi
Lord Batpigg de Wobblesteine
Pooka
Super-Pie Plushie
Mister Giggle-Pants
Gleeyore
Squisher
Repair Bot
Robot Candy
M4-L155 Head
Lovetron 3000
Lollerbot
Clockwork Robo-Blob Kitty
Hunter
Killbot
Tin Crowley Wind-Up Toy
Drone 800
Wind SubetaBall
Flaming SubetaBall
Twilight Gamepet
Detrix Gamepet Game
Illegible Detrix Instructions
Blue Puzzle Cube
Chick Hand Puppet
Bunny Hand Puppet
Lamb Hand Puppet
Sockimi Plushie
Brown Angel Hand Puppet
Blue Angel Hand Puppet
Green Angel Hand Puppet
Red Angel Hand Puppet
Purple Angel Hand Puppet
Pink Angel Hand Puppet
Budget TV
Obnoxious Orange Finger Puppet Monster
Obnoxious Green Finger Puppet Monster
Obnoxious Blue Finger Puppet Monster
Yellow Sock Puppet
Blue Sock Puppet
Red Sock Puppet
Green Sock Puppet
Sock Puppet of Rage
Sheeta Finger Puppet
Hipottu Finger Puppet
Sun Irion Hand Puppet
Common Irion Hand Puppet
Dusk Irion Hand Puppet
Dawn Irion Hand Puppet
Nuclear Irion Hand Puppet
Sun Paralix Hand Puppet
Twilight Irion Hand Puppet
Arid Paralix Hand Puppet
Dusk Swampie Hand Puppet
Swampie Hand Puppet
Twilight Swampie Hand Puppet
Dawn Swampie Hand Puppet
Gate Keeper Hand Puppet
Irion Finger Puppet
Dragarth Finger Puppet
Ghostly Finger Puppet
Fester Hand Puppet
Angelic Fester Hand Puppet
Green Parrot Puppet
Blue Parrot Puppet
Red Parrot Puppet
Birdie Puppet
Rreign Marionette
Aeanoid Marionette
Super-Deformed Cadogre Doll
Antique Spinning Top
I Detrix Piece Plushie
O Detrix Piece Plushie
Z Detrix Piece Plushie
J Detrix Piece Plushie
S Detrix Piece Plushie
T Detrix Piece Plushie
L Detrix Piece Plushie
Zoogle
Chess Set
Backgammon Set
Checkers Set
Delish Decked Out Playing Cards
Puzzled Mug
Random Dice
Lucky Die
Death Dice
Dark Matter Dice
Love Dice
Random Fluffy Dice
Dice Plushie
Explosive Dark Matter Die
Pink Dangle Dice
Green Dangle Dice
Blue Dangle Dice
Mauve Dangle Dice
White Dangle Dice
Blue Ten-sided Dice
Blue Topaz Twenty-sided Die
Emerald Twenty-sided Die
Onyx Twenty-sided Die
Pink Ten-sided Dice
Toy Collector Trading Card
Snowy Village Train Engine
Love Truck
Bastille Playset
Delphi Carnival Playset
Inflatable Castle
Twilight Sand Castle
Dusk Sand Castle
Field Sand Castle
Tree Plushie
Melix Flower
Block Dragon
Jack-in-the-Box
Nanadon
Happy Bendy Banana Toy
Grumpy Bendy Banana Toy
Celestial Balloon Bouquet
Galaxy Orb
Gold Sun Relic
Gold Crescent Moon Relic
Gold Moon Relic
Yellow Man in the Moon Plushie
Orange Man in the Moon Plushie
Teal Man in the Moon Plushie
Green Man in the Moon Plushie
Purple Man in the Moon Plushie
Blue Man in the Moon Plushie
Plump Moon Beanbag
Bottled Moon
Moon Mosaic Tile
Star Mosaic Tile
Bottled Star
Mystic Star Plushie
Orange Star Plushie
Blue Star Plushie
Purple Star Plushie
Atebus Plushie
Sugar Coated Blueberry Star
Banshee Sleepless Night
White Happy Planet Plushie
Red Happy Planet Plushie
Orange Happy Planet Plushie
Brown Happy Planet Plushie
Green Happy Planet Plushie
Blue Happy Planet Plushie
Purple Happy Planet Plushie
Pink Happy Planet Plushie
Black Happy Planet Plushie
Green Star Beanbag
Orange Star Beanbag
Blue Star Beanbag
Professor Spaceman Action Companion
Purple Space Bunny Plushie
Cloud Beanbag
Asteroid
Fallen Stars
Cutesy Shooting Star Sticker
Night Sky Print Bookmark
Rocket Surgery
Bottled Spaceship
Bottled Alien
Asteroid
Shoulder Rest
Prima Violin
Student Violin Case
Violet Viola
Duckie Pitcher
Peeka
Eikcud
Rubber Duck
Purple Jester Mardi Gras Rubber Ducky
Angelic Rubber Duck
Wind-up Duck Toy
Wind-Up Sheeta
Blanoir
Pandkin
Broken Beaded Bunny Keychain
Blue Lambuttons Beanbag
Blue Chickybuttons Beanbag
Carnihorse
Carnival Jelly Bean Mix
Candy Hearts
I Heart U Candy Heart
You=Pretty Candy Heart
You Have Beautiful Eyes Candy Heart
I Want You Candy Heart
Be Mine Candy Heart
Be My Love Rocket Candy Heart
Candy Hearts Box
White Rocking Horse
Black Rocking Horse
Speckled Rocking Horse
Upset Marshmallow
Kanis Cookie Cutter
Brown Bunny Sticker
Blue Bunny Sticker
Black Bunny Sticker
Bunny Gumballs
Candy Necklace
Pretty Straws
Twilight Fish Straw
Lilac Fish Straw
Field Fish Straw
Field Fish Straw
Dusk Fish Straw
Arid Fish Straw
Dawn Fish Straw
Sun Fish Straw
Stained Glass Marbles
Baseball Bat
Waitress Miniature
Cupcake Sticker
Cupcake with Extra Frosting
Blue 2009 New Years Cupcake
Diary of a Panda
The Tiniest Shooting Star
Bubbling Bubble Bubbles
How to Draw Vesnali Bunnies
Wooden Art Kit
Box of Crayons
Purple Huggable Clownfish
Broken Ornamented Mirror
Psychic Bubbles