To Whom it May Concern:
I had to make the tough decision to put Ghostly Adam down at 12pm 24 August 2022. He was a strong boy up until the end, but he was suffering tremendously and I couldn't put him thru that anymore. Give thoughts and prayers to Thief Jippa; the two of them have been together since they were babies and have only spent one day apart from each other. I will definitely be here for Morostide, but until then I will be giving Jippa extra attention to keep her from getting depressed.

Six years was not long enough. Rest in peace my lil man. <3



She/Her - 31


My name is Jennifer; you can call me whatever nickname you like based on how you met me! I work third shift on Subeta time, so my times online are a little strange. As of late I've been doing a lot of personal work and it has revitalized a lot of interests of mine as well as helped me to improve overall. I'm still very anxious and I assure you that I am more afraid of you than you are of me.

Unfortunately my pets are fairly barren due to allowing my mental health to get in the way of things. I will sporadically update them whether it's a TC or adding to my collection. I love words--particularly M words--, so expect to see more added to my collection. I love Antlephores, Velosotors, and Yaherras the most and my favorite colors are Dark Matter, Harvest, Nightmare, Riftborn, and Sweetheart. To be honest I want to fill up my pet slots again, but I also want to finish the TCs of some pets who are nearly completed. Some blurbs on profiles are old and outdated; either ignore them or laugh at my unfulfilled promises. The choice is ultimately yours.

Interests include but are not limited to: animals, games, music, writing, drawing, collecting, outdoors, autumn, religion and mythology, fantasy

My favorite PoKéMoN is actually Nidoking, however I do have tattoos of both Nidoking (left shoulder) and Nidoqueen (right shoulder). I'm pretty long-winded, but if you want to send a sMail, feel free! I only bite during Survival.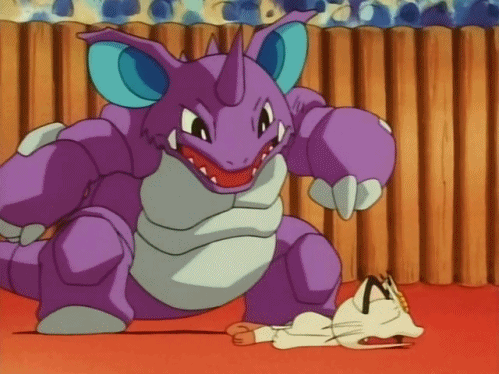 Goals as of 14 January 2022:
[x] Train Crowbar to even 1400's
[ ] Train Crowbar to even 1500's
[ ] Promote Crowbar at job
[x] Crowbar WL to 900
[ ] Crowbar WL to 850
[x] Train Behind to even 888's
[x] Feed Deku Baba 5000 Foods
[x] Feed Deku Baba 5250 Foods
[ ] Feed Deku Baba 5500 Foods
[ ] Feed Deku Baba 5750 Foods
[x] Finish Gordon Freeman's TC WL
[ ] Redo ilu's TC probably
[x] Finish Neko-chan's TC WL
[x] Finish Gypheous' Profile
[ ] Michelangelo's Overlay
[x] Complete 250 Shinwa Quests
[ ] Feed 2500 Minions
[ ] Feed 5000 Minions
[ ] Feed 6000 Minions
[x] Wearables WL to 75
[ ] Wearables WL to 50
[ ] Wearables WL to 25
[ ] Finish Wearables WL
[x] 2625 Beanbags
[x] 2635 Beanbags
[x] 2645 Beanbags
[x] 2655 Beanbags
[ ] Finish Beanbag Collection
[ ] 1550 Achievements
[ ] 1575 Achievements
[ ] 1600 Achievements

Profile Credits:
Background image is a screenshot from PoKéMoN Origins (from a Reddit user).
Nidoqueen Gen V Battle Sprite is from Pokencyclopedia.info
Nidoking GIF was found via Google image search.
All coding was done by me via inspect element, old coding skills, and newfound skills thru guides found on Google searches or asking general advice on Subeta.
Color matches done via the ColorPick addon for Google Chrome.