Information
Leihlani has a minion!
Mahalo
the
Zephyr
Leihlani
Legacy Name: Leihlani
The
Chibi Montre
Owner:
StripeyKneeSocks
Age: 15 years, 11 months, 1 week
Born: July 28th, 2006
Adopted: 15 years, 11 months, 1 week ago (Legacy)
Adopted: July 28th, 2006 (Legacy)
Statistics
Level: 32
Strength: 78
Defense: 76
Speed: 74
Health: 75
HP: 75/75
Intelligence: 26
Books Read: 25
Food Eaten: 0
Job: Weapons Expert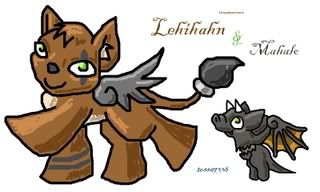 So, You may have noticed that I have been through quite a few changes. It is because it took my mom so long to decide what kind of Chibi pet to make me. I won\'t complain though, I enjoyed being quite a few different species and colors. Although, Being switched back and forth from a swampie to a darkonite would not be my choice at all.
So I am now a Chibi Montre and I love it. It fits me perfectly.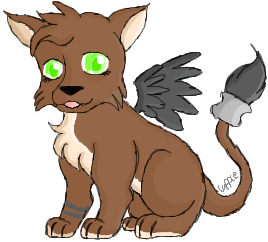 Pet Treasure
Green Lace Panties
Delphi Carnival Playset
Miniature Ferris Wheel
Birdie Puppet
Unlucky Rag Doll
Gabriel Plushie
Sarah Bobblehead
Charity Bobblehead
Anabelle Bobblehead
Adriette Bobblehead
Titania Bobblehead
Love Bug Bobblehead
Boobitis Bobblehead
Rita Bobblehead
Dirty Matty Bobblehead
Angrybeard Bobblehead
Kohia Bobblehead
Temictzin Bobblehead
Songaa Bobblehead
Garret Bobblehead
Leviathan Bobblehead
Chibi Merana Bobblehead Doll
Super-Deformed Kumos Doll
Super-Deformed Hikei Doll
Super-Deformed Feli Doll
Super-Deformed Cadogre Doll
Super-Deformed Devonti Doll
Super-Deformed Kanis Doll
Super-Deformed Paralix Doll
Super-Deformed Irion Doll
Super-Deformed Bovyne Doll
Super-Deformed Harvester Doll
Super-Deformed Chai Doll
Super-Deformed Serpenth Doll
Super-Deformed Fester Doll
Super-Deformed Magnus Doll
Super-Deformed Kora Doll
Super-Deformed Swampie Doll
Super-Deformed Tutani Doll
Toy Chibi Reborn Potion
Toy Chibi Bloodred Potion
Toy Chibi Graveyard Potion
Torrent Marionette
Ghostly Marionette
Paralix Marionette
Endeavor Marionette
Rreign Marionette
Dragarth Marionette
Tutani Marionette
Aeanoid Marionette
Pet Friends