This pet belongs to an inactive account! You can create a new pet, or change a pet name to this name!
Information
Nea_613 has a minion!
Nione
the
Brocodon
Nea_613
The
Twilight Priggle
Owner:
Alpes
Age: 13 years, 3 months, 1 week
Born: October 9th, 2006
Adopted: 13 years, 3 months, 1 week ago (Legacy)
Adopted: October 9th, 2006 (Legacy)
Statistics
Level: 12
Strength: 19
Defense: 17
Speed: 18
Health: 13
HP: 13/13
Intelligence: 0
Books Read: 0
Food Eaten: 0
Job: Unemployed
Not many are aware of existence of these midnight creatures. They are stuff of Myths. One of these is Nea. Still little being usually standing silent on highest branches of tall trees - eyes firmly fixed at moonless night sky.
»
Alpea
Morphed into a kerubi and given dark matter potion on October 16th '06. After dark matter kerubi revamp, which didn't sit well with me, became a regular visitor to zappers until a new suitable colour is found.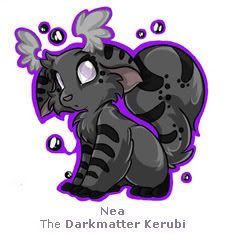 Pet Treasure
Harpier
Purpure Butterfly
Sang
Bwak
Bartholomew
Hugin
Pet Friends