Information
Baron Samedi has a minion!
Ghede
the
Skelli-Butt
Baron Samedi
Legacy Name: Baron Samedi
The
Graveyard Manchu
Owner:
Moran
Age: 8 years, 9 months, 1 week
Born: October 27th, 2013
Adopted: 8 years, 9 months, 1 week ago
Adopted: October 27th, 2013
Statistics
Level: 1
Strength: 11
Defense: 10
Speed: 10
Health: 10
HP: 10/10
Intelligence: 3
Books Read: 2
Food Eaten: 0
Job: Patty Flipper
The Baron is dark skinned, wearing sunglasses and a top hat, purple and white suit fitting him perfectly with his shirt hanging open. His face is skeletal, the skin taut against the bone.
His voice is nasally with a Haitian accent to it as he addresses you:
"Ki le li ye? You want something yeah? Ya got ta speak up, li' papa, ain't got all day"
(Invalid img)
art@ User not found: seny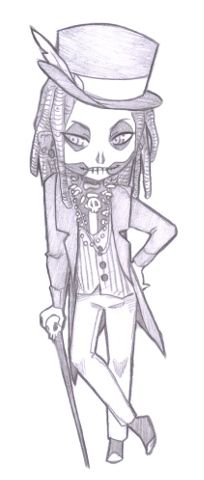 art @
Teags
A BIG THANK YOU TO THE AWESOME ZAWMBI FOR ALL HER HELP AND GENEROSITY!
Pet Treasure
Jabbering Skull
Bates
Gourd Witch Small Skulls
Wilkes
Myers
Spooky Pipe Organ
King Cake
Cursed Mini-Skull Stickers
El Muerto
Skull
White Skull Votive Candle
White Candy Skull Beanbag
Walnut Sugar Skull
Missus Sugar Skull
Mister Sugar Skull
Sad Skull Bead
Angry Skull Bead
Happy Skull Bead
Skeletal Bear Plushie
Preserved Snake in a Jar
Preserved Eyeball in a Jar
Preserved Spider in a Jar
Ghede Mask
Headdress of the Vodoo Priest
Voodou LaMoure Top Hat
Calaca Groom Top Hat
Black Cream Satin Floating Top Hat
Cream Black Satin Floating Top Hat
Lich Lord Conjuration Ring
Wood Carved Skeleton Cane
Ghede Cane Pieces
Diamond-Topped Cane
Emerald-Topped Cane
Garnet-Topped Cane
Sapphire-Topped Cane
Amber-Topped Cane
Purple Frayed Laces
Salvaged Purple Buttons
Bloodied Purple Handkerchief
Amethyst Sequin Party Jacket
Purple Brocade Vest
Dressed to the Nines Black Attire
Embroidered Dressed to the Nines Pants
Survivors Last Cigar
Homemade Dark Rum
Ginger Rum
Omen Red-Eye
The Smoker
Black Bear
White Bear
Bahama Mama
Zombie
Horchata
Festive Mardi Gras Drink
Dainty Drinking Flask
Elmos Flask
Belted Glass Drinking Flask
Gilded Drinking Flask
Green Chili Pepper
Hot Chili Peppers
Jalapeno Pepper
Classic Coffee
Special Dark Ground Coffee
Coconut Creme Ground Coffee
Almond Butter Ground Coffee
Caramel Nut Ground Coffee
Coffee Cake and Ice Cream
Pan de Muerto
Artisan Whole Grain Bread
Artisan Ciabatta Bread
Artisan Sourdough Bread
Artisan Focaccia Bread
Roasted Peanuts
Buttercream Rose Vanilla Cake
Classic Box of Macarons
Gris Gris Bag
Bones
Stolen Pieces of Bone
Harvested Heart
Harvested Congealed Blood
Who Dat Tombstone Plushie
Tombstone Beanbag
Tombstone Eraser
Stone Casket
Bone Orchard Marker
Newly Dug Grave Beanbag
Grave Digging Sticker
Cross Tombstone
You Blow My Mind Sticker
Zlomp! Sticker
Zombie Braaains Sticker
Voodoo Plushie
Deranged Reject Voodoo Plushie
Cursed Voodoo Doll
Iggi
Death Knight Legeica Figurine
Morosteed
Apothecary Supplies
Box of Souls
Phallaticus
Hot Mozzarella Cheese Balls
Mountain Oysters