Information
Duliaz has a minion!
LordAlatariel
the
Emotion
Duliaz
Legacy Name: Duliaz
The
Nightmare Cadogre
Owner:
BoaConstrictor
Age: 16 years, 3 months, 1 week
Born: February 19th, 2007
Adopted: 16 years, 3 months, 1 week ago (Legacy)
Adopted: February 19th, 2007 (Legacy)
Statistics
Level: 4,819
Strength: 6,891
Defense: 5,918
Speed: 5,172
Health: 17,018
HP: 17,018/17,018
Intelligence: 4,842
Books Read: 1508
Food Eaten: 25
Job: Director of SAI
Born? I ... don't remember! My creator had abandoned me uneducated, unprepared and helpless. Boa rescued me from the pound on March 11th, I was her first pet!I've been training to become a strong fighter from beginning on, so she would be proud of me and never regret her decision! I have high hopes, that the powers that be, will some day release a proper colour for my species!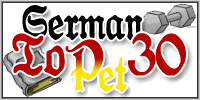 Pet Rank:14
Pet Treasure
Kismets Cosmic Wand of Annihilation
Powerful Magician Sword
Fiery Staff of the Corrupted One
Tornado Blade
Cat Katana
Double Lance
Electric Hikei Sword
Blackheart Blade
Blade of Sacrifice
Pink Crystal Sword
Dillo Staff
Eventide Chakram
Escalade Balance Blade
Bonfire Stoker
Demonic Blade
Crystal Dagger
Eternal
2005 New Years Sword
Elegant Opal Rapier
Crescent Fishtail Blades
Twisted Pearl Dagger
Fairy Lance
Massaquerade
Twilight Blade
Possessed Blade of Doom
Morostide Bloodred Saber
Descimatii
Avrils Dagger
Aquamarine Encrusted Gunblade (Right Hand)
Sapphire Encrusted Virgo Blade
Sword of Juno
Blade of Myths and Legends
Sword of Two Sides
Slayer of Souls
Gold Plated Crystal Sword
Goldbrand
Sword of Autumn
Heated Short Sword
Blackest Sword of Darkest Death
Cursed Demon Sword
Light Blade
Libra Sword of Balance
Sword of Evil
Pearl Flat Sword
Feli Wand
Garnet Capricorn Staff
Prodigy Staff
Holly Tree Staff
Demonic Montre Wand
Anima Staff
Cursed Gemsword
Galaxy Staff
Angelic Rod
Joker Staff
Amethyst Mace
Ninja Katana
Cosmic Scimitar
Shinigami
Luminous Peridot Scythe
Firesprite Axe
Pylot War Hammer
Blackmoon Hand Blaster
Heavy Hand Held Firework Launching Tube
Elegant Gunblade
Archans Roar
Blunderbuss
Hearts Revenge Gunblade
Plasma Cannon Fourth Edition
Rocket Launcher
Electrifying Goo Net-spitting Honeysuckle Cannon
Sludge Avengers Slingshot
Seed Pod Slingshot
Hydrus Lantern of Death
Jackal Lantern
The Illuminator
Delish Straightforward Quiver
Azathoth Curled Bow
Diamond Encrusted Bow
Plum Blossom Bow
Cursed Bow
Sniping Bow of Doom and Demise
Sagittarius Crossbow
Aemis
Lucent
Mystical Star Shuriken
Dual Cancer Claw Daggers
Item Hunters Cane-Concealed Dagger
Ruby Dagger
Dark Dagger
Large Gutting Knife
Wavy Athame
Scalpel of Love
Engraved Flint Lock Katar
Heartrend
Spear of Everhearts
Claw of Everhearts
Peridot Dagger
Peridot Shield
Emerald Lance
Solid Emerald Katars
Crystal Cadogre Boomerang
Cadogre Sword of Dreaming
Amulet of Life
Hunters Ring of Stars
Deadaim Ring
Shrine of Apollonia
Piraticorian Sword
Piraticorian Anchor
Quill of Serenity
Mystical Orb of the Gods
Luminous Saber
Almighty Pen
Cuirass of the Literati
Heartshield Platemail
Chimerical Cloak
Lightly Embossed Breastplate of Clarity
Super Shield
Exploding Encyclopedia of Sparklies
Item Hunters Bomb
Teeny Pie Minion Disguised Bomb
Snow Grenade
Vial of Dark Water
Deceiving Orb
Death Soul Stone
Malevolent Grimfruit
Mystical Pie Amulet
UltimaPlus Tag
Black Hole
Shrine of Wokam
Upside Down Chemical Spiller 5000
Pet Friends