Bold
italic text
underline text
.
A spirit of purity. I LOVE HER SO MUCH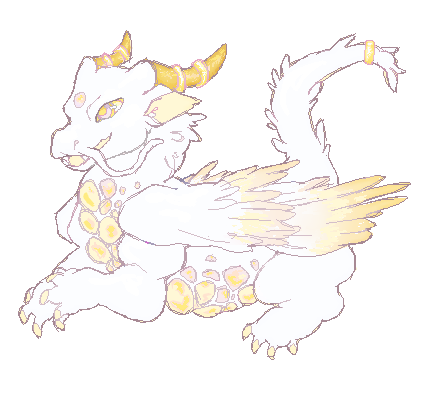 continuing scuffs story, floss finds the dragon exhausted on the shore.
The tide ebbed away from the shore as the moon sank down past the horizon to the south. The warn glow of dawn breaking battled the remnants of the night to the North. Among the tide pools of the freshly exposed beach, large pads carefully clomped along. Blue eyes glanced down at the pools with little interest as creatures trapped within settled down for the day or struggled fruitlessly in panic to get back to the ocean. Either way, the meal that could have been was passed up as the large Dragon made her way past.
Turning sharply at the start of Sea Stack Coast, she headed inland towards the Low Lands, a floodplain for ocean storms and the two rivers that weave their way between the stacks. Her large pads balanced her as the slurp of the wet sand and grass tried to keep her stuck in the sticky mud. Birds sang as they awoke, a snake hissed slithering out of her way and into the long grass concealing the dip of the river no more than a trickle at this time of year.
Stepping down onto the river bed, she eyed the small minnows swimming along with disinterest. Once up on the other side of the river the ground took on a more firm base underneath the lush grass. Sloping upwards she had to do a small hop/leap up a rocky ledge. Turning she glanced at the sea stacks three miles away; she nodded in satisfaction. She missed the waking of the sea birds now launching themselves down off the towering rocks and attacking the tidepools. Turning around, she tredged onwards.
The forest loomed before her as she settled down in a small clearing made by down trees from one of many coastal storms. Here she waited, as she had for weeks thus far. She waited for him.


Credits
Profile code by
Paula
Profile edit by
you