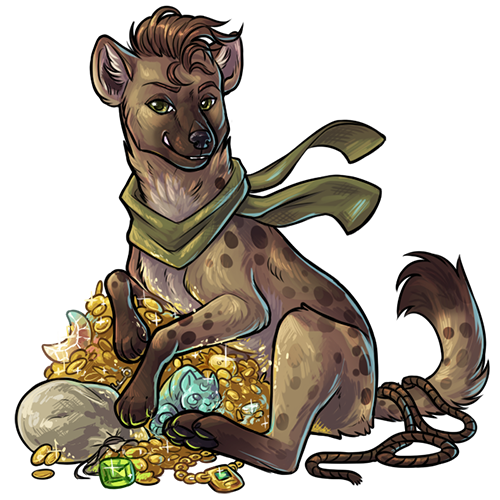 "There he goes!"

"Don't let him escape, damnit!"
Heart thumping, blood pumping as I sprint through the dilapidated cavern paths, I run from my pursuers. A quick glance back.
'Damn, they're fast! I didn't anticipate anyone being down here… not this late at night, anyway. How did they kn--'
"Oof!"
I trip over a piece of crumbled stone.
'Shit! Rubble is everywhere in here! I need to watch where I'm going…'
Scrambling to my feet, I have no time to waste. I have to get out of here. And the footfalls behind me are only getting closer. The weight of the stolen goods in my satchel are a firm reminder that I can't let them catch me… I just can't!
"He's getting away!"
Winding tunnels… I don't even remember the way out. I just hope the light at the preverbal tunnel is getting lighter. Or… maybe literally? Is that light I see? The scent of night air washes over me and I know, this is the right way.
Renewed by the thought of escaping, my legs work harder to get me out, ducking quickly to miss the low doorframe.
I'm going to make it! I'm going to make it out alive!'
The night greets me with a cool slap to the face and the song of crickets. My legs don't slow. I know if I do, my followers will certainly catch me. The soft ground makes it hard to keep up speed, but just a little further and my escape vehicle will whisk me away from here. The squishing noises behind me let me know my would-be captors haven't given up… not yet.
Plunging my hand into my pocket, I fish out the key to my salvation, teeth flashing as I catch sight of my chariot; a Behemoth CX 5000. No expense spared, and for good reason. Straddling the seat, the key is already in the ignition before I have to think, turning the engine over. It roars to life, the sound echoing in the small clearing.
"Stop! Stop, or we shoot!"
Ignoring their calls, I kick the cycle into gear, the tires spinning, spitting up mud and struggling to gain purchase. The cycle jerks suddenly.
Bzzzzz!
A bullet narrowly misses the gas tank.
'That was close!'
Winding between the trees, I just barely escape my pursuers and into the safe embrace of the night. I trek through the woods, making my way back to my safe haven, at least my temporary one.
A soft light glows ahead, the coals of the fire just barely alive as I approach. Killing the engine and unsaddling the motorcycle, my hands itch to take a closer look at my take. Gathering firewood and some dry brush from nearby, I toss it on the smoldering coals.
Stoking the fire just enough to restore light enough to pierce the black of night, I sit near the fire and pull out the items from my satchel. The light catches the gems, glinting softly off the pearlescent material. Ah, this will fetch a nice price… enough to keep me off the radar for a few more years.
It only captures my attention for a moment before the parchment takes it away. Fishing it out, a small leather rope stands between me and its secrets. Quickly it unravels, my fingers unrolling the obviously ancient text. A map. A treasure map, to be sure. Near the top, it looks as though someone once wrote 'Pandora's Box'. The language scrawled at the bottom is not one I can read… but that won't stop me. This is surely my next adventure staring back at me.
A familiar grin stretches across my face. A challenge. I always do love a challenge.
Credits
♥️ Profile Art by
GlaceLeau
♥️ Overlay Art by
Keshi
♥️ Character, story and coding by
Celestial
♥️ BG image found here
♥️ Maps found here, here and here
♥️ Font from DaFont
♥️ Images and story not for reproduction or reuse
♥️ Thank you
Clopin for letting me adopt him!