Information
Aisek has a minion!
Mathias
the
Buddon
Aisek
Legacy Name: Aisek
The
Cream Legeica
Owner:
Seerow
Age: 14 years, 10 months, 1 week
Born: July 16th, 2007
Adopted: 14 years, 10 months, 1 week ago (Legacy)
Adopted: July 16th, 2007 (Legacy)
Statistics
Level: 6
Strength: 14
Defense: 10
Speed: 11
Health: 10
HP: 10/10
Intelligence: 1
Books Read: 0
Food Eaten: 0
Job: Unemployed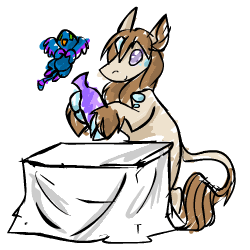 Art by GoldenChaos

More art can be seen by clicking the following links:
Bukin, Vivid, Voodu, Rajani, Selkii, Krankhaus, Hint, Twilit.Mineut

Aisek, the Merchant

Meet Aisek and Mathias, Merchant Extraordinaires! Deserts, vast sheets of ice, or lovely plains are no match for this team to tackle to bring you, the dearly beloved costumer, top notch products at affordable prices.

The pair, with their trusty colorful wagon, travel the vast terrain of Subeta in order to find the hard to get spell ingredients from the Sacred Lands or the strange and exquisite artifacts from Darkside.

While Aisek may be the charming sales representative, it is Mathias who is the brains behind the operation. He has a knack of being able to identify what items might be worth a pretty penny or what may just be junk. He specializes in the more exotic merchandise and is also excellent at separating the real artifact from the fakes out there. He has a more gruff to-the-point attitude and as such is rarely seen by the customers, least he scare them off.

Mathias, the Money Monger

Art Details

Overview: Aisek is a very successful merchant, traveling the lands with his partner Mathias. Aisek is the charming sales rep, but Mathias is the brains. Mathias manages the money and makes sure they turn a profit on everything they sell. He can be quite brash so he stays hidden in the wagon when customers are about.

Design Key Points:
- Standard Cream Legeica in design.
- Aisek hauls a colorful gypsy style wagon around with him that houses his wares. While it looks decorative it is very sturdy and has survived many trips around Subeta.
Pet Treasure
Wine Saheric Teardrop-Shaped Lantern
Souvenir Tile
Filled Dimpled Beer Stein
Trio of Golden Statues
Casket of Luxury Fabric
Bronze Summit Key
Iron Summit Key
Gold Summit Key
Cozcoatl Feather Adornment
Underground Vault Key
Plundered Omen Islands Bronze Disc
Team Gold Caravan
Liqui Fruit
Ornate Floral Pitcher
Kora Magic Powder
Analeptic Alzebo
Sacred Lands Jeweled Egg
Traditional Clay Diya
Shabby Chest
Silver Laurel
Lizard Skin
Rugged Leather
Serpent Leather
Silver Ore
Lamouracillin
Rainbow Powder
Rainbow Essence
Amethyst Stone
Ancient Terracotta Pot
Antique Potters Wheel
Wolf Tooth
Vesnali Coin
Vial of Dark Water
Wavy Athame
Waxy Claw
Tribal Rhino Necklace
Twisted Pearl Dagger
Unicorn Horn
Stone Sword Mold
Soul Stone
Minion Matryoshka Dolls
Strange Animal Figurine
Small Colcannon King Piece
Small Colcannon Petal Piece
Small Colcannon Shield Piece
Small Colcannon Sun Piece
Small Colcannon Crown Piece
Small Colcannon Cross Piece
Small Colcannon Clover Piece