Information
Illyriah_779 has a minion!
Jeryn
the
Prismi
Illyriah_779
Legacy Name: Illyriah_779
The
Glade Celinox
Owner:
Lux_227
Age: 13 years, 9 months, 3 weeks
Born: September 4th, 2007
Adopted: 13 years, 9 months, 3 weeks ago (Legacy)
Adopted: September 4th, 2007 (Legacy)
Statistics
Level: 7
Strength: 18
Defense: 12
Speed: 15
Health: 11
HP: 11/11
Intelligence: 7
Books Read: 0
Food Eaten: 0
Job: Unemployed
The cowslips tall her pensioners be:
In their gold coats spots you see;
Those be rubies, fairy favours,
In those freckles live their savours:
I must go seek some dewdrops here
And hang a pearl in every cowslip's ear.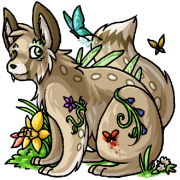 Name: Illyriah
Nicknames: Sprite
Gender: Female
Age: Young Adult
Occupation: None
Orientation: Straight
Status: Single
Fur: Light brown and
adorned with flowers,
vines, leaves, and twigs.
Eyes: Leaf green


Nicknamed 'Sprite' by those close to her, Illyriah is spunky, rebellious, impatient, impulsive, determined, persistent, temperamental... yet still charming and lovable. She says that the flowers and trees can talk to her, whether it's the truth, no one but she really knows.. She wears flowers, twigs and leaves from her grove in her fur so that other plants 'know who she is'.
Beauty, laughter, life, magic...that's what Illyriah is all about. She is refreshingly innocent and happy with her life of purity and play. Life's a game and it's a good one. In her eyes there's no way to lose! This sprite can be very mischievous and has been known to cause trouble, but it's all in the name of fun and not meant to really harm anyone. Though she can be childish, naive, stubborn, and self-absorbed, one thing is certain - life with this Fanciful Sprite could never be boring!
Though she loves to have fun, she also is kind and thoughtful, and has great wisdom of the heart. At times, she can say some of the most profound and insightful things you've ever heard, and it almost makes you wonder if she really can speak with the flowers...


Not much is known about this Fanciful Sprite's past. She speaks as though she were born and raised by nature itself, "I was raised by the song of the murmuring grove, and loving I learned among flowers." But, surely this isn't the case. Or is it?


Profile coding and design by me,
lux.
Pet art by the wonderful
Tiki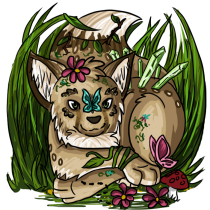 Art
☼ ☼ -
carbon
☼ - User not found: simplicityorange
☼ -
Tiki
☼ - User not found: uff
☼ -
FiendishThingie
☼ -
Ijin



Pet Treasure
Special Surprise Sunflower
Mountain Laurel
Blush Plum Blossom Sprig
Small Strand of Pink Flowers Barrette
Cherry Blossoms
Stargazer Lily Patterned Top
Vanilla Chrysanthemum Candle
Peach Bearded Iris
Pale Coral Periwinkle
White Freesia Sprig
White Periwinkle
Calaca Groom Boutonniere
Bara
Pink Calla Lily
Giselle Snowshoe Flower Accents
Pink Peony
Pink Roseband
Faded Pink Rose
Giselle Under My Frog Umbrella Headpiece
Purple Freesia Sprig
Pink Hibiscus
Pink Pinwheel Flower
Survival Pink Paper Flower
Pink Begonia
Pink Bellflowers
Pink Roe Flower
Pink Nott Flower
Plum Chrysanthemum Candle
Pink Split Bellflower
Elegant Stray Blossoms of Legend
Plum Blossoms
Dawn Chai Flower
Coral Dahlia
Peach and White Gladiola
Pink Vesnali Rose
Pink Snapdragon
Pink Oleander
Pink and White Gladiola
Pink Lachenalia
Pink Lotus
Prettily Presented Pink Flower
Pink Foxglove
Pink Freesia Sprig
Pink Floral Hair Piece
Lily
Dawn Jollinear
Giant Cosmos Beanbag
Pink Hibiscus Barrette
Magenta Oleander
Pink Tulip
Ganguro Flower Hairclip
Settia
Pink Poppies
Dawn Flower
Simple Flower
Pink Plum Blossom Sprig
Red Lachenalia
Peach Gladiola
Red Floral Hair Piece
Survival Red Paper Flower
Pink Massive Rose Throne
Pink Zinnia
Large Pink Gerbera Ring
Pink Chrysanthemum
White Wine Columbine
Strawberry Chrysanthemum Candle
Magenta Periwinkle
Pink Gladiola
Pink Hyacinth
Pink Carnation
Coral Thistle
Hot Pink Zinnia
Deep Pink Peony
Red Periwinkle
Red Roseband
Survival Red Calla Lilies
Ornate Red Flower Hair Clip
Phallaticus
Red Poppies
Pink Babble Flower
Poinsettia
Apple Custard Columbine
Red Snapdragon
Red Hibiscus
Red Begonia
Sun Flower
Red Zinnia
Red Roe Flower
Red Oleander
Red Plum Blossom Sprig
Poppy Pin
Crimson Tulip
Shinwas Rose
Red Blossoming Tribal Bud
Chipper Rose Gift
Rose Hair Pins
Red Giant Rose Corsage
Red Flame Rose
Butlers Rose
Rose
Survival Red Mystery Flower
Survival Crooked Red Flower
Red Freesia Sprig
Red Bellflowers
Red Chrysanthemum
Red Lotus
Red Babble Flower
Burgundy Calla Lily
Red Peony
Large Red Gerbera Ring
Red Split Bellflower
Red Dahlia
Red Vesnali Rose
Deep Red Giant Rose Corsage
Crimson Cream Bearded Iris
Red Carnation
Black Sunflower
Burgundy Zinnia
Red Moth Orchid Stem
Massive Rose Throne
Flamenco Bearded Iris
Peach Foxglove
Peacherine Gladiola
Yellow Foxglove
Survival Orange Memory Flower
Survival Orange Lovely Flower
Orange Poppies
Scarlet Pimpernel
Orange Tulip
Orange Moth Orchid Stem
Red Gladiola
Sun Jollinear
Orange Oleander
Orange Zinnia
Orange Calla Lily
Flower
Ornate Orange Flower Hair Clip
Orange Bellflowers
Survival Crooked Orange Flower
Coral Pinwheel Flower
Rainyday Tropical Flower
Orange Dahlia
Orange Freesia Sprig
Spring Blossom Locks
Golden Crocus
Orange Roseband
Calendobin
Tiger Lily Patterned Top
Orange Nott Flower
Yellow Oleander
Prettily Presented Orange Flower
Survival Orange Paper Flower
Orange Floral Hair Piece
Orange Split Bellflower
Orange Begonia
Orange Snapdragon
Cream Vesnali Rose
Peach Calla Lily
Orange Lachenalia
Star Lily Patterned Top
Yellow Roe Flower
Yellow Flame Rose
Yellow Zinnia
Brilliant Gold Giant Rose Corsage
Melix Flower
Pumpkin Flower
Yellow Columbine
Yellow Gladiola
Common Chai Flower
Summer Dandelions
Yellow Blossoming Tribal Bud
Yellow Bearded Iris
Yellow Moth Orchid Stem
Golden Beauty Flower
Yellow Peony
Yellow Poppies
Survival Yellow Lovely Flower
Lotus Goddess Blossom (Right Arm)
Lotus Goddess Blossom (Left Arm)
Yellow Hyacinth
Octobers Calendula Wrist Clingers
Yellow and Orange Daffodil
Yellow Dahlia
Survival Crooked Yellow Flower
Survival Yellow Daisy
Survival Yellow Paper Flower
Large Yellow Gerbera Ring
Yellow Bellflowers
Survival Yellow Memory Flower
Southern Belle Daisy
Yellow Split Bellflower
Yellow Hibiscus Barrette
Giant Daffodil Beanbag
White Pinwheel Flower
Prettily Presented Yellow Flower
Sunflower
Faded Yellow Rose
Yellow Snapdragon
Yellow Carnation
Yellow Massive Rose Throne
Ornate Yellow Flower Hair Clip
Yellow Tulip
Yellow Chrysanthemum
Golden Flower
Yellow Calla Lily
Yellow Babble Flower
Yellow Daffodil
Yellow Freesia Sprig
Yellow Roseband
White and Yellow Dahlia
Dancing Damsel Orchid
Yellow Begonia
Yellow Nott Flower
Yellow Roseband
Rainyday Desert Rose Flowers
Champagne Bearded Iris
Yellow Lachenalia
White and Yellow Daffodil
White Daffodil
Small Strand of Yellow Flowers Barrette
White Lily Patterned Top
Swirled Blue Flower
Green Snapdragon
Green Roseband
Green Lachenalia
Delish Tea Flowers
Green Begonia
Survival Green Mystery Flower
Ornate Green Flower Hair Clip
Survival Green Lovely Flower
Sage Chrysanthemum Candle
Bluegreen Freesia Sprig
Teal Bellflowers
Teal Split Bellflower
Blue Babble Flower
Blue Roe Flower
Linen Chrysanthemum Candle
Periwinkle Bearded Iris
Small Strand of Blue Flowers Barrette
Prettily Presented Blue Flower
Dusk Flower
Blue Floral Hair Piece
Blue Hibiscus Barrette
Blue Roseband
Blue Flame Rose
Ornate Blue Flower Hair Clip
Dusk Jollinear
Jungle Damsel Flower Gift
Blue Pinwheel Flower
Blue Bellflowers
Blue Nott Flower
Survival Crooked Blue Flower
Sky Bearded Iris
Blossoms of Aphrodite
Winter Rose
Blue Lotus
Blue Split Bellflower
Blue Foxglove
Cyan Vesnali Rose
Blueberry Chrysanthemum Candle
Chicory
Survival Blue Paper Flower
Survival Blue Memory Flower
Blue Snapdragon
Faded Blue Rose
Dusk Chai Flower
Survival Blue Mystery Flower
Blue Dahlia
Survival Blue Lovely Flower
Blue Freesia Sprig
Large Blue Gerbera Ring
Blue Hibiscus
Black Tulip
Blue Carnation
Dusk Bearded Iris
Indigo Vesnali Rose
Blue Hyacinth
Periwinkle
Purple Babble Flower
Purple Columbine
Purple Lotus
Lilac Oleander
Blue Begonia
Lilac Flower
Stinging Aster
Purple Pinwheel Flower
Lavender Peony
Pale Purple Crocus
Purple Nott Flower
Lilac Chai Flower
Lavender Bellflowers
Lavender Columbine
Purple Gladiola
Blue Lachenalia
Lilac Jollinear
Lavender Dahlia
Lilac Roe Flower
Ragdoll Pretty Flower
Survival Purple Mystery Flower
Purple Crocus
Lilac Hibiscus
Ornate Purple Flower Hair Clip
Belladonna
Glory Bearded Iris
Purple Bellflowers
Purple Split Bellflower
Lavender Calla Lily
Purple Carnation
Monks Hood
Faded Purple Rose
Purple Snapdragon
Julipflower
Purple Floral Hair Piece
Lilac Foxglove
Survival Purple Paper Flower
Dawn Bearded Iris
Small Strand of Purple Flowers Barrette
Lavender Split Bellflower
Lavender Freesia Sprig
Purple Begonia
Lavender Roseband
Survival Purple Calla Lilies
Purple Lachenalia
Large Lavender Gerbera Ring
Flour
Survival Purple Memory Flower
Foxglove
Violet Vesnali Rose
Pink Moth Orchid Stem
Purple Tulip
Rhubarb Custard Columbine
Black Hibiscus
Black Roseband
Twilight Flower
Black Lachenalia
Black Begonia
Survival Black Paper Flower
Black Dahlia
Black Freesia Sprig
Black Calla Lily
Black Split Bellflower
Black Snapdragon
Gothic Lolita Rose
Black Bearded Iris
Black Flame Rose
Bleeding Rose of Deepest Blackness
Black Vesnali Rose
Twilight Chai Flower
Prettily Presented Black Flower
Royal Bearded Iris
Deaths Kiss
Black Bellflowers
Chocolate Chrysanthemum Candle
Marsh Flower
Hazelnut Chrysanthemum Candle
Survival Purple Lovely Flower
Token Of The Earth Spirit
Survival Crooked Tan Flower
Blue Lily Patterned Top
White Crocus
Henbane
White Tulip
Clowns White Daisy Pin
Glade Wrap
White Oleander
White Foxglove
Small Strand of White Flowers Barrette
White Plum Blossom Sprig
White Moth Orchid Stem
White Zinnia
White Flame Rose
Large White Gerbera Ring
White Hyacinth
Survival White Calla Lilies
Daisy Memento
White Carnation
Ornate Silver Flower Hair Clip
White Lachenalia
Survival White Paper Flower
White Gladiola
White Columbine
White Peony
White and Red Periwinkle
Arid Jollinear
White Poppies
Accented Moth Orchid Stem
White Babble Flower
White Lotus
Arid Flower
Survival White Daisy
White Split Bellflower
White Begonia
White Snapdragon
White Giant Rose Corsage
White Vesnali Rose
White Roseband
White Bellflowers
White Calla Lily
White Massive Rose Throne
Shinwas Flower of Morning
Multicolor Hibiscus
Scattered Wildflowers
Miniflowers
Spring Seraph Wings
Unreasonably Large Grove of Flowers
Flower Child Flowers
Pet Friends