Information
DJ Tempest has a minion!
Solas
the
Good Egg
DJ Tempest
The
Blacklight Neela
Owner:
Amigara
Age: 3 months, 3 weeks, 4 days
Born: May 21st, 2019
Adopted: 3 months, 3 weeks, 4 days ago
Adopted: May 21st, 2019
Statistics
Level: 1
Strength: 10
Defense: 10
Speed: 10
Health: 10
HP: 10/10
Intelligence: 1
Books Read: 1
Food Eaten: 0
Job: Unemployed

----

Name: Tarasyl

Nickname: DJ Tempest

Species: Elf

Class: Rogue
Appearance: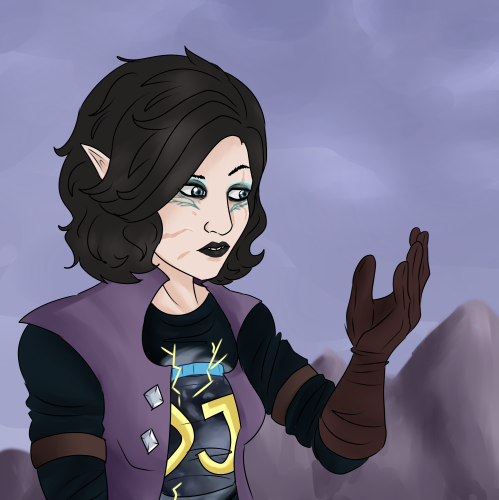 Personality: Though her real name is Tarasyl, DJ Tempest prefers to be called by her nickname. She's an energetic dork who likes to do things on a whim, such as standing on top of a red lyrium crystal, jumping on the bed in a haunted house, or stealing everything useful/valuable from a random house. Not very smart of her, but hey, there's a reason smart rhymes with fart! (<- her words, not mine)
She's not very elfy-- she's bored of the usual snobby "I'm a true elf! All other elves are inferior! I hate humans!" attitude, and she's not as knowledgable about elven lore as most of the others are.
Almost every time she ventures out, she'll be singing all the way to her destination. The responses to this vary, depending on what she's decided to sing-- and often, she'll pick the silliest songs she can think of.
She named her twin daggers "Blue Da Ba Dee" and "Blue Da Ba Die."

Special Abilities: DJ Tempest has learned to harness alchemical mixtures that encase her in various elements, her favorite being lightning (not only is the static electricity fun, but this element in particular makes her go fast!)

Voiceclaim: What Hurts the Most - Cascada

----
(A pet made after my Dragon Age Inquisition character DJ Tempest, a dual dagger-wielding elven rogue whose real name is Tarasyl. But shhh, just call her DJ Tempest. Everyone else does! Especially since she picked the Tempest specialization.)
Pet Treasure
Rave Matter
Magic DJ Box
Headphones On World Off Sticker
Crystal Dagger
Haunted Dagger
Spring Storms
Rave-in
Wrapped Tempest Marble
Shaman Buck Totem
Dark Shaman Wolf Totem
Bad Egg
Woodcutters Wolf Tooth