He left the underworld to be a stylist on the surface world, a place where people pursue sins rather than having them imposed.
His workshop is done up in red velvet, the sort of vintage look one would expect of a finnicky duchess or maybe some imitation gangster who took a little too much inspiration from old Hollywood films. Smoldering eyes look out on a world in dire need of some serious fashion advice. He would clothe the men of this world, given half a chance and a bucket of tailor's chalk. As things stand, his genius and influence are impacted by his limitations.
Only men. The women's fashion industry has enough demons, many of them mortals with cruelty and vanity to match the lowest denizens of hell.
A vanity demon with the worst Narcissus complex you ever saw, his mouth was sewn shut at birth to force him to depend on his looks rather than charming with the typical silver-tipped demon's tongue. This imposed affliction is a constant annoyance but he is skilled enough at what he does that it is never (much of) a handicap.
He is a self-proclaimed god, always needing to be the center of attention even as he tries to lure in his latest victim. Every fashion line that goes mainstream only seeks to worsen this character flaw that also serves him as a strength.*****
A young man named Carter, about to start as a professional in the accounting occupation. Oversized plaid shirt, scuffed shoes and a clip-on tie. It's a sad sight, really. One can't blame the youth for their ignorance, though. This one let his mother dress him practically up to high school and while his mind for numbers may be brilliant, his fashion choices will remain stunted.
Unless, of course, he is rescued.
He has never seen another man so beautiful or tragic-looking. The little shop done up in red is a place he's passed hundreds of times without taking notice. He slips hesitantly through the door in the wake of a figure that belongs on Hollywood Boulevard or the cover of a magazine.
A dizzying array of colors, textures and patterns pass before his widened eyes. By the time the hour is up, Carter is looking at a different man than the self-conscious fool who thought a pocket protector was the epitome of fashion.
He is almost embarrassed to reach for his wallet. Two crumpled twenty-dollar bills. The extent of money he has to his name until his first paycheck comes in. A hand smooth as satin touches his wrist, beckoning for him to put the wallet away.
Images flashing through his mind. This beautiful youth, bent over in pain due to withdrawal. Cigarettes and alcohol are what keep him on his feet. He takes no food and little water. His addictions are a cruel mistress, always hounding him, never letting him sleep.
Carter senses that this wondrous being cannot speak, yet the lingering question is as clear as if it had been whispered in his ear.
"Will you take a part of my suffering, in exchange for my services?"
Carter's answer is spoken with all the ignorance and stupid optimism of youth.
"Sir, I would be honored."
A beauteous smile...and the once-promising young professional is on his knees, his head pounding and his belly tied in knots. It goes on for minutes...hours...years, as far as he knows.
Yet at the end of that period of torment, he walks out of the shop looking better than half the town.
He will return again and again, like so many other misled youths.
Sir welcomes them with the genteel manners of a man wrongfully persecuted yet determined to put his skills to use.
Will this cycle ever be broken? Only the highest ranks of demons could say. Sir's only desire is to corrupt enough souls to please those at the top, to have his addictions erased and have the curse of forbidden speech removed so that he may hear the beautiful tones of his own voice. It is sure to be more lovely than even the singing of angels, or so he has convinced himself.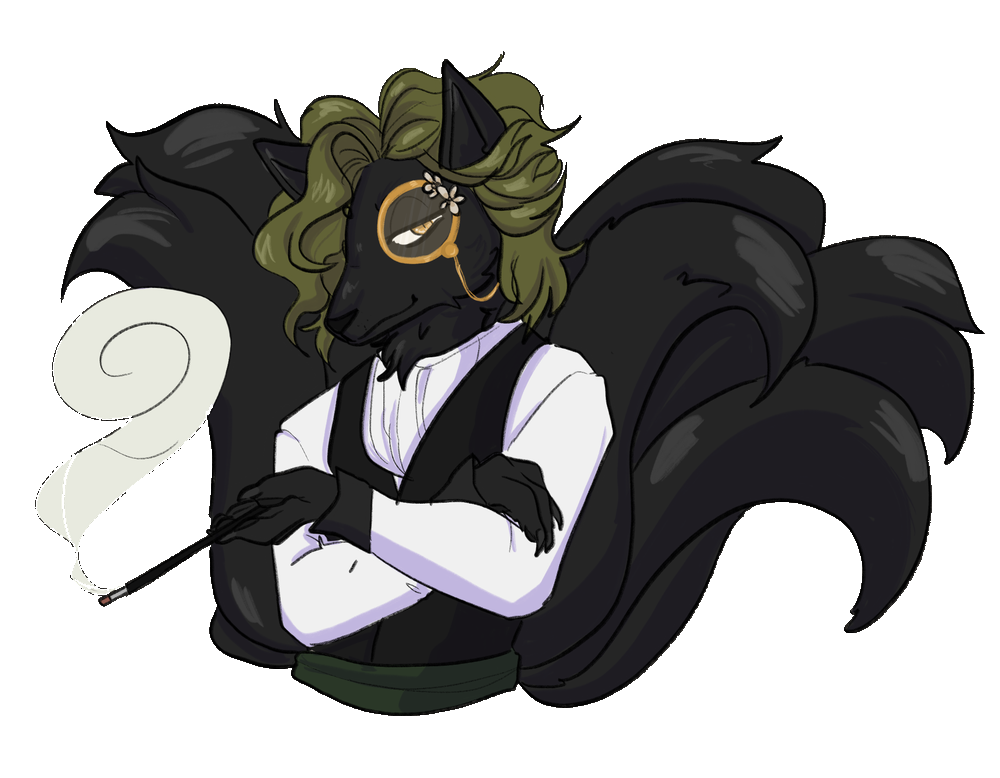 by
Astrocrusader
story by
Pureflower
profile by
seraph
backgrounds from
unsplash
&
ava7