Information
War has a minion!
Guerra
the
Ounce
War
Legacy Name: Huitzilopochtli
The
Bloodred Tigrean
Owner:
Moran
Age: 11 years, 7 months, 2 days
Born: February 19th, 2009
Adopted: 11 years, 7 months, 2 days ago (Legacy)
Adopted: February 19th, 2009 (Legacy)
Statistics
Level: 959
Strength: 2,397
Defense: 2,397
Speed: 2,395
Health: 2,395
HP: 2,395/2,395
Intelligence: 2,537
Books Read: 2337
Food Eaten: 5
Job: Director of SAI
minion
I'm War.
I bear many names.
I'm the strongest of the strongest.
I devour civilizations, races, cities.
I level mountains and raze the land.
Don't take me lightly.
I expect your worship and your admiration for my many achievements.
Death, Plague, Famine, they are nothing against me.
Try not to get on my bad side or you will regret it.


Huitzilopotchli (c) Wikicommons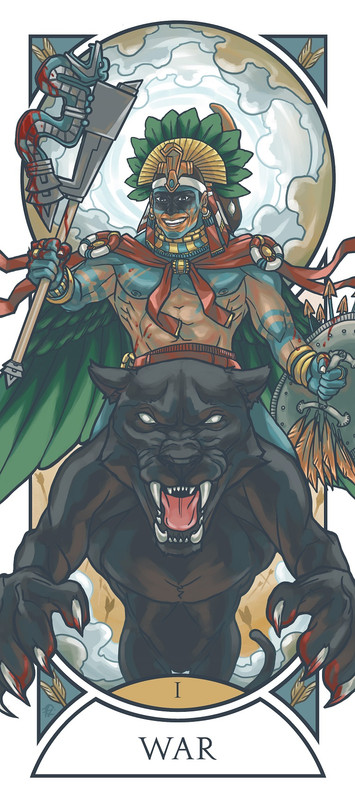 art (c) Hippano.tumblr.com
Pet Treasure
Marez Itzatul Fancy Headdress
Ink of the First King
Bust of a Red Horse
Wood Carved Atlatl
Jollin Warrior Figurine
Plundered Omen Islands Warrior Wall Scroll
Marez Itzatul Exotic Potpourri
Cozcoatl Feather Adornment
Golden Disk and Feathers
Marez Itzatul Jeweled Earrings
Broken Gilded Stone Scale
Golden Chain Belt
Plundered Omen Islands Bronze Disc
Golden Flower Brooch
Golden Square Brooch
Tarnished Gold Disks
Plundered Omen Islands Warrior Wall Scroll
Spaulders of Deathward
Vambrace of Deathward
Boots of Deathward
Faulds of Deathward
Lost Schoolboy Chainmail Shirt
Lost Schoolboy Chainmail Leggings
Rreign Tamer Scalemail Fragments
Torn Blood Stained Piece of Buttoned Fabric
Torn Blood Stained Fabric Patch
Stone Sword Mold
Iron Ore
Gold Ore
Celestium Ore
Flayed Lord Breastplate
Arrow Harpoon
Sun Mahar Halberd
Triple Arrow
Survivors Pump Action Shotgun
Onyx Bow and Quiver
Morostide Bloodred Saber
Bloodred Axe
Kabuto of Deathward
Skull Vodka Bottle
Skull
Cutesy Skull Snow Globe
Battered War Journal
Pre-War Book
Ruling Through Fear
Corruption
Cruelty
Dead Person
Dead Person
Dead Person
Dead Person
Dead Person
Dead Person
Dead Person
Dead Person
Dead Person
Dead Person
Dead Person
Dead Person
Dead Person
Dead Person
Dead Person
Dead Person
Dead Person
Dead Person
Dead Person
Dead Person
Dead Person
Dead Person
Dead Person