Information
scoutly has a minion!
leftovers
the
Skeletal Fish
scoutly
Legacy Name: scoutly
The
Glacier Devonti
Owner:
Sugar
Age: 13 years, 5 months, 2 weeks
Born: February 21st, 2009
Adopted: 13 years, 5 months, 2 weeks ago (Legacy)
Adopted: February 21st, 2009 (Legacy)
Statistics
Level: 18
Strength: 47
Defense: 45
Speed: 45
Health: 48
HP: 48/48
Intelligence: 17
Books Read: 16
Food Eaten: 0
Job: Store Clerk
profile made by
ibook
Tale of the one known as Scoutly
---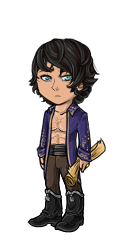 Caleb was not your everyday pirate. For one he didn't like being a pirate. When he first started on a ship he was sea sick constantly, but that passed over the years and not even storms weren't enough to unsettle his stomach. The salty smell that was carried by the wind smelled foul, like the bland rations the entire crew ate. The ocean was not his home either, he longed for shore and the wealth of diversity that it offered.
Traveling was grand, but he missed his home and his woman. Lyra, his beautiful fiance, had gotten ill and died four years ago. That was when he signed up to work under the infamous Capitan Marcos Blaque. Caleb also detested his nickname Scoutly, it was what Lyra used to call him and it brought back too many painful memories. However the crew were stubborn and convinced that Caleb did not exist, he was Scoutly and none other.
The one thing that Caleb couldn't complain about was his role on the ship. He spent most of his time in the crows nest, with an eye out for land or ships, but he was also the Captains personal sparing partner. Caleb was glad that he didn't have to do the heavy labor like the rest of the crew, he wasn't built for that sort of thing. He was too lean, he had muscles, yes, but he was by no means burly. To make up for his frame Caleb was glad for his tall stature, without it he would have been a "rookie target" his first year at sea. The sparing matches were by far the best though. The Capitan was the best swords man in the world and it was an honor to practice with a man of such talent. Caleb learned the way of the sword as a lad, and though he had used a brad-sword as a child, his blade now was more like a rapier, but more durable as the blade was thicker.
Between eating stale rations, dueling with the Captian, scouting and drinking away his sorrows, Caleb was indeed a pirate. Even if he didn't like the face it, he was and it would never change.
ART
xXx
xXx
GeronimoJump
xXx
FAKE
Overlay by:
plum
Pet Treasure
Gold Adorned Teal Bandana
Pirate Treasure Map
See the World
Globe Fruit
Telescope
Brown Broken Bottle
Tentacle Chalice
Gin and Tonic
Tankard Of Grog
Lederhosen Overflowing Beer Stein
Whiskey
Dry Gin
Brandy
Port Port
Pirate Rum
Tankard of Rum
Cask of Rum
Expired Coffee Beans
Stale Moldy Ship Biscuit
Lemon
Scurvy Prevention Orange
Blue Parrot Plushie
Hastily Written Note From Georgiana
Dirty Scrap of Paper
Torn Scrap of Paper