Information
Drips has a minion!
Chook_ie
the
Chookie
Drips
Legacy Name: Drips
The
Galactic Rreign
Owner:
Chook
Age: 13 years, 4 months, 3 days
Born: April 7th, 2009
Adopted: 13 years, 4 months, 3 days ago (Legacy)
Adopted: April 7th, 2009 (Legacy)
Statistics
Level: 7,223
Strength: 8,243
Defense: 7,213
Speed: 4,752
Health: 14,792
HP: 14,792/14,792
Intelligence: 2,740
Books Read: 1610
Food Eaten: 3
Job: Director of SAI
Drips the Rreign was born when Australia was going through the worst recorded drought in history.
This drought began in 2001 and lasted nearly 10 years.
Australia is the driest inhabited continent and has one of the most variable rainfall climates in the world.
The garden that my mother had worked so hard for 25 years to create was a bowl of dust, with all plants dead, even the weeds could not survive.
People who had plentiful water before in rural communities were required to buy water, not only for drinking but for all household necessities.
People in cities were put on water restrictions regarding watering lawns, using sprinkler systems, washing vehicles, hosing pavement, refilling swimming pools, etc.
But these were minor inconveniences.
As we in Australia rely on agriculture as the mainstay of our economy this drought caused havoc - economic, environmental, and social.
Then the drought ended in 2010/11.
Not in winter when you would expect rainfall to occur, but in summer.
In January 14, 2011, almost every corner of Australia was being crippled by flood.
The floods began in the north (Queenland) and worked their way downwards which forced the evacuation of residents across every state, as rivers and dams burst their banks.

The country went from this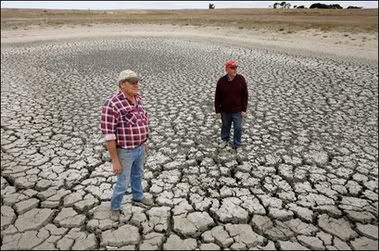 to this - in a matter of days and sometimes hours.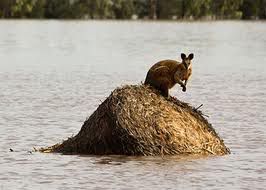 In these floods lives were lost, stock losses were astronomical, and damage to homes, businesses, roads, etc ran into hundreds of millions of dollars.
Lost production added considerably to the costs, as did the intangible costs, such as effects on health etc.
But despite the bad times we have great times as well, and I would never live anywhere else.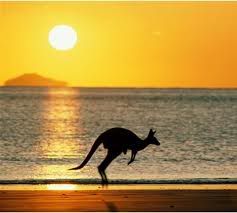 This poem perfectly describes this wonderful, beautiful and harsh country called Australia, that we who live here love.
My Country a poem by Dorothea Mackellar
The love of field and coppice,
Of green and shaded lanes.
Of ordered woods and gardens
Is running in your veins,
Strong love of grey-blue distance
Brown streams and soft dim skies
I know but cannot share it,
My love is otherwise.

I love a sunburnt country,
A land of sweeping plains,
Of ragged mountain ranges,
Of droughts and flooding rains.
I love her far horizons,
I love her jewel-sea,
Her beauty and her terror -
The wide brown land for me!

A stark white ring-barked forest
All tragic to the moon,
The sapphire-misted mountains,
The hot gold hush of noon.
Green tangle of the brushes,
Where lithe lianas coil,
And orchids deck the tree-tops
And ferns the warm dark soil.

Core of my heart, my country!
Her pitiless blue sky,
When sick at heart, around us,
We see the cattle die -
But then the grey clouds gather,
And we can bless again
The drumming of an army,
The steady, soaking rain.

Core of my heart, my country!
Land of the Rainbow Gold,
For flood and fire and famine,
She pays us back threefold -
Over the thirsty paddocks,
Watch, after many days,
The filmy veil of greenness
That thickens as we gaze.

An opal-hearted country,
A wilful, lavish land -
All you who have not loved her,
You will not understand -
Though earth holds many splendours,
Wherever I may die,
I know to what brown country
My homing thoughts will fly.

Pet Treasure
Gloopaloo
Bog Bean Tangle
Caggly
Going Vegan
Cave Betta
Blind Flesher
Zombie Chompers
Going Vegan
Plesish
Caggly
Bog Bean Tangle
Green Axolzombl
Abwubble
Diving Vole Plushie
Blind Flesher
Bog Bean Tangle
Lurking Weed Shark
Diving Vole Plushie
Plesish
Clinging Moss Fish
Diving Vole Plushie
Special Skin Care
Going Vegan
Special Skin Care
Glowfly Fish
Plesish
Splittifish
Splittifish
Cave Gulp
Going Vegan
Going Vegan
Going Vegan
Cave Jelly
Inelegant Zombish
Inelegant Zombish
Diving Vole Plushie
Infested Apple
Infested Apple
Tangle of Eyes
Pink Axolzombl
Special Skin Care
Cave Jelly
Lurking Weed Shark
Abwubble
Clinging Moss Fish
Zombie Chompers
Zombie Chompers
Zombie Chompers
Gloweek
Caggly
Boot with Foot Inside
Black Axolzombl
Blossom Fish
Mittle
Gloweek
Tangle of Eyes
Zombie Chompers
Inelegant Zombish
Lost Man
Boot with Foot Inside
Boot with Foot Inside
Black Axolzombl
Caggly
Zombie Chompers
Gloweek
Blind Flesher
Glowfly Fish
Black Axolzombl
Cave Jelly
Lost Man
Cave Gulp
Cave Betta
Cave Betta
Blind Flesher
Bog Bean Tangle
Splittifish
Black Axolzombl
Gloopaloo
Boot with Foot Inside
Lost Man
Diving Vole Plushie
Tangle of Eyes
Glowfly Fish
Tangle of Eyes
Plesish
Special Skin Care
Plesish
Splittifish
Clinging Moss Fish
Gloopaloo
Cave Betta
Going Vegan
Green Axolzombl
Bog Bean Tangle
Special Skin Care
Abwubble
Gloopaloo
Bog Bean Tangle
Cave Betta
Blossom Fish
Blind Flesher
Abwubble
Boot with Foot Inside
Black Axolzombl
Cave Betta
Ruined Travel Guide
Mittle
Going Vegan
Abwubble
Zombie Chompers
Clinging Moss Fish
Infested Apple
Cave Gulp
Lurking Weed Shark
Splittifish
Tangle of Eyes
Green Axolzombl
Black Axolzombl
Infested Apple
Mittle
Diving Vole Plushie
Cave Jelly
Black Axolzombl
Abwubble
Gloweek
Zombie Chompers
Tangle of Eyes
Zombie Chompers
Mittle
Caggly
Clinging Moss Fish
Abwubble
Special Skin Care
Cave Gulp
Bog Bean Tangle
Blind Flesher
Plesish
Bog Bean Tangle
Pink Axolzombl
Boot with Foot Inside
Infested Apple
Glowfly Fish
Inelegant Zombish
Black Axolzombl
Infested Apple
Black Axolzombl
Lurking Weed Shark
Pink Axolzombl
Inelegant Zombish
Inelegant Zombish
Boot with Foot Inside
Glowfly Fish
Cave Jelly
Diving Vole Plushie
Splittifish
Plesish
Rotten Torra Fruit
Plesish
Inelegant Zombish
Plesish
Cave Betta
Blind Flesher
Cave Jelly
Black Axolzombl
Gloweek
Blind Flesher
Gloweek
Black Axolzombl
Gloopaloo
Diving Vole Plushie
Boot with Foot Inside
Mittle
Clinging Moss Fish
Pink Axolzombl
Cave Gulp
Caggly
Abwubble
Pink Axolzombl
Pink Axolzombl
Mittle
Lost Man
Gloweek
Zombie Chompers
Zombie Chompers
Diving Vole Plushie
Lost Man
Tangle of Eyes
Glowfly Fish
Tangle of Eyes
Tangle of Eyes
Zombie Chompers
Cave Betta
Pink Axolzombl
Lurking Weed Shark
Cave Jelly
Mittle
Splittifish
Boot with Foot Inside
Gloweek
Splittifish
Mittle
Pink Axolzombl
Lurking Weed Shark
Tangle of Eyes
Black Axolzombl
Diving Vole Plushie
Zombie Chompers
Plesish
Cave Gulp
Cave Gulp
Inelegant Zombish
Inelegant Zombish
Caggly
Green Axolzombl
Infested Apple
Caggly
Caggly
Diving Vole Plushie
Going Vegan
Diving Vole Plushie
Bog Bean Tangle
Lost Man
Green Axolzombl
Plesish
Gloweek
Special Skin Care
Special Skin Care
Blind Flesher
Green Axolzombl
Pink Axolzombl
Cave Betta
Cave Jelly
Lost Man
Tangle of Eyes
Bog Bean Tangle
Splittifish
Green Axolzombl
Blossom Fish
Green Axolzombl
Clinging Moss Fish
Mittle
Splittifish
Infested Apple
Boot with Foot Inside
Cave Betta
Bog Bean Tangle
Going Vegan
Cave Gulp
Glowfly Fish
Diving Vole Plushie
Bog Bean Tangle
Lurking Weed Shark
Gloopaloo
Black Axolzombl
Mittle
Survival Purple Lovely Flower
Be Mine Candy Heart
Black Axolzombl
Going Vegan
Blind Flesher
Pink Axolzombl
Black Axolzombl
Bog Bean Tangle
Going Vegan
Bog Bean Tangle
Pink Axolzombl
Cave Jelly
Cave Gulp
Cave Gulp
Inelegant Zombish
Cave Betta
Gloopaloo
Going Vegan
Special Skin Care
Bone Boomerang
Wobbleboard
Didgeridoo
Desert Sand
Crypt Dust
Stinky Dust
Dust
Dark Dust
Sun Fruit
None-Sun
Sunrise
Cheery Sun Sticker
Sun-Sun
Beaming Sun Puffy Sticker
Sun Gem
Gold Sun Relic
Shy Sun Sticker
Sunny Weather Sticker
Pink Stylish Wellies
Plum Stylish Wellies
Green Stylish Wellies
Blue Stylish Wellies
Brown Stylish Wellies
Yellow Stylish Wellies
Pink Stylish Raincoat
Plum Stylish Raincoat
Blue Stylish Raincoat
Green Stylish Raincoat
Brown Stylish Raincoat
Pink Water Shoes
Blue Water Shoes
Orange Water Shoes
Knee Length Striped Wellies
Frog Wellies
Red Wellington Boots
Dawn Harvester Raincloak
Field Harvester Raincloak
Sun Harvester Raincloak
Lilac Harvester Raincloak
Common Harvester Raincloak
Twilight Harvester Raincloak
Cream Harvester Raincloak
Arid Harvester Raincloak
Dusk Harvester Raincloak
Marsh Harvester Raincloak
Dusk Swampie Inner Tube
Dawn Swampie Inner Tube
Common Swampie Inner Tube
Sun Swampie Inner Tube
Lilac Swampie Inner Tube
Cream Swampie Inner Tube
Bloodred Swampie Inner Tube
Blue Flippers
Yellow Flippers
Purple Flippers
Swirly Red Umbrella
Swirly Yellow Umbrella
Swirly Brown Umbrella
Swirly Grayscale Umbrella
Turquoise Float
Water Dreamcatcher
Water Charm
Water Mage Amulet
Water Arrowhead
Phaloroceas Rain Charm
Water Amulet
Shinwas Weather Orb
Water Zhoom
Dark Water Potion
Sad Rainy Sticker
Hail Weather Sticker
The Rreign
Magma Arrowhead
Dark Light Potion
Shinwas Level Potion
Ring of Fire Ward
Shinwas Magical Potion
Shinwas Shampoo
Shinwas Amulet of Flight
Shinwas Bow
Shinwas Health Potion
Shinwas Blessed Water
Daemon
The Legend of Shinwa
Dark Mage Amulet
10 Point Wizard Token
15 Point Wizard Token
20 Point Wizard Token
50 Point Wizard Token
100 Point Wizard Token
Pie Scratchcard
Calvin Blackmoon Scratchcard
Saggitarius Scratchcard
Malerias Gift Scratchcard
Shinwa Scratchcard
Kumos Moon Scratchcard