Information
Atokirina has a minion!
Lil' Atokirina
the
Seed
Atokirina
Legacy Name: Atokirina
The
Galactic Jollin
Owner:
RinnyRoo
Age: 12 years, 4 months, 1 week
Born: January 17th, 2010
Adopted: 12 years, 4 months, 1 week ago
Adopted: January 17th, 2010
Statistics
Level: 6
Strength: 16
Defense: 11
Speed: 10
Health: 10
HP: 10/10
Intelligence: 1
Books Read: 1
Food Eaten: 0
Job: Unemployed
Overlay by
RinnyRoo :D



A Woodsprite (Na'vi name: Atokirina') is a seed of the Tree of Souls that lives on Pandora. These seeds, according to the Na'vi, are considered very pure and sacred spirits. Furthermore, these seeds are believed to be auspicious wheresoever they choose to rest. They are similar in appearance to small deep-sea jellyfish, but they float on the wind like dandelion seeds, possibly aided in this by the denser atmosphere on Pandora. Woodsprites also hold ritual importance. The Omaticaya Clan plants one of these seeds with the body of a deceased Na'vi, so the Na'vi's consciousness will become part of Eywa.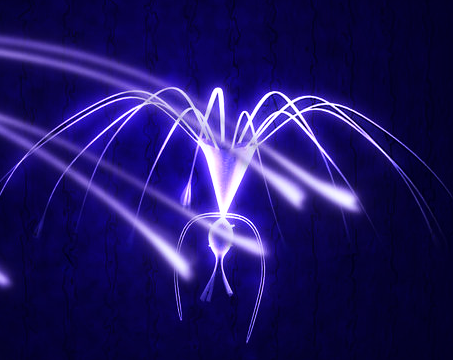 Pet Treasure
Magical Cherry Tree
Magical Orange Tree
How to Plant a Tree Kit
Jelly Legs Fruit
Wyvere
Wyvress