Information
Dua has a minion!
Minion
the
Origami Elephant
Dua
Legacy Name: Dua
The
Angel Ruffie
Owner:
Butterflies
Age: 11 years, 1 month, 2 weeks
Born: March 1st, 2010
Adopted: 11 years, 1 month, 2 weeks ago
Adopted: March 1st, 2010
Statistics
Level: 246
Strength: 612
Defense: 612
Speed: 607
Health: 612
HP: 538/612
Intelligence: 75
Books Read: 74
Food Eaten: 20
Job: Head of Adoptions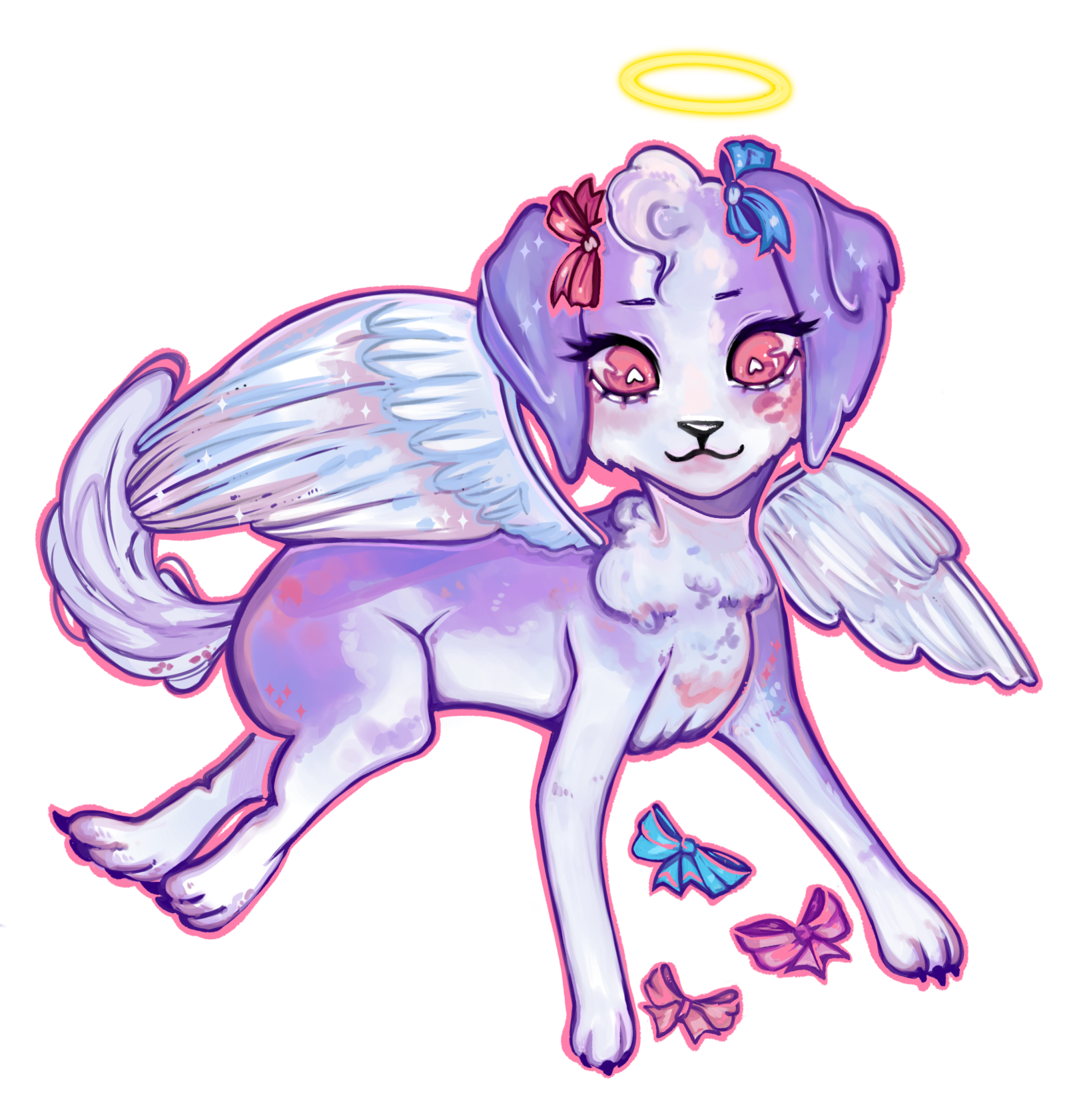 art by
ionxin

Awaiting a proper layout and story

Dua means to call out or summon. She is always around when you need her, completely dependable and always wants to help out. She can lose focus easily and is hopelessly susceptable to daydreaming. She loves to make things pretty with bows and ribbons, so any gift from her is always adored.


Pet Treasure
Luminaire Piggy
Holiday Coconut Candle
Green Holiday Candle
Grayscale Ontra Gift Plushie
Peka Glade Painted Ornament
Oozy Chunky Cookie Stack
Peachy Ontra Gift Plushie
Snoohok Food Gift
Festive Wreath Earrings
Blueberry GumiBat Pop
Pumpkin GumiSpider Pop
Gourmet Boysenberry Candy Corn
Snooburb Food Gift
Pink Simnel Cake
Mini Orange Chocolate Cube
Blueberry Chocolate Ball
Magical Mistletoe
Simple Purple Bow Tie
Gratitude in Hard Times
Entranced Pink Snow Fairy
Entranced Violet Snow Fairy
Red Holiday Candle
Yarnaby
Luminaire Pudding
Health-Conscious Luminaire Snack
Gifted Collar
Brown Handmade Puppy Plushie
Blue Fantastic Tricycle
Entranced White Snow Fairy
Entranced Snow Fairy
Entranced Yellow Snow Fairy
Pink Mothers Day Bouquet
Helpful Huggy Bear
Animal Spots Vintage Cute Apron
Tapioca GumiSpider Pop
Green Apple GumiBat Pop
April 2010 Collection
Surprise Luminaire Gift
Spooky Liquid Fog Sample
Lacy Red Nightgown
Romantic Gilded Vase
Spiritbound Bow Sash
Black Treat Bag
Eggplant GumiSpider Pop
Delish Rainfall Elixir
Delish Tender Belt
Orange Chocolate Ball
Roasted Cocoa Gift
Mini Strawberry Chocolate Cube
Cozy Misplaced Mysterious Melody Gift
Melodys Helper Surplus Ribbon
Apple Dark Matter Lollipop
Royale Ligero Serum
Fourth Anniversary Tangerine Lolly
Berry Chocolate Ball
Lemon Chocolate Ball
Mystical Magical Celestial Lolly
Sandwich Cookie Snowman Pops
Fancy Grape Popcorn Egg
Strawberry Dipped Marshmallow Pop
Midnight Cocoa Gift
Deluxe Gingerbread Village Tin
Sweet Cocoa Gift
Tart Cocoa Gift
Spiced Cocoa Gift
Jar of Strawberry Curd
Jar of Orange Curd
Jar of Meyer Lemon Curd
Jar of Lime Curd
Jar of Lemon Curd
Jar of Grapefruit Curd
Rich Cocoa Gift
Mint Cocoa Gift
Blue Corn GumiSpider Pop
Panzer Hydra Cake Pops
Survival White Carnation
Black and White Lambs Bottle
Black Lambs Bottle
Marshmallow Vesnali Pop
Fresh Vesnali Lemonade
Yellow Giant Bow
Red Giant Bow
Drink of Nogg
Purple Big Fab Bow
Purple Sheer Bow Headband
2012 New Year Goodie Bag
Stylish Misplaced Mysterious Melody Gift
Book of Ghabhphobia
Grape Chocolate Ball
Emotional Nail Polish
Finger Chunky Cookie Stack
Radish GumiSpider Pop
Lime GumiBat Pop
Homegrown Ytiva Vanilla
Mango Raspberry Marmalade
Gentleman Vintage Kanis Plushie
Purple Handmade Puppy Plushie
Orange Marmalade
Coconut GumiBat Pop
Cherry Marmalade
Spotted Lambs Bottle
Savory Pumpkin Lolly
Gingerbread Apron
Gift Horse Plushie
Lacy Purple Nightgown
Green Star Bauble
Green Vesnali Balloon Gift
Green Ruffle Party Shorts
Golden Candle Beanbag
Octice
Non-Traditional Luminaire Wreath
Moon Stirring Stick
Mini White Chocolate Cube
Mini Mint Chocolate Cube
Plum Ruffle Party Shorts
Rose Ruffle Party Shorts
Ribboned Antlephore Trinket
Festive Bell Collar
White Lambs Bottle
Raspberry GumiBat Pop
Turquoise Handmade Puppy Plushie
Hairy Chunky Cookie Stack
Royale Ligero Stockings
Mint Wrapped Kitten Doll
Cream Holiday Candle
Blue Vesnali Balloon Gift
Fancy Buttered Popcorn Egg
Wrapped Book of Mystery
The Art of Bouquet
Liver Chunky Cookie Stack
Snow Trinket
Purrvocateur
Secret Luminaire Spice
Ridiculously Adorable Antlephore Plushie
Purple Holiday Candle
Snow Covered Presents Knickknack
Pink Hair Ribbon
Purple Hair Ribbon
Blue Sheer Bow Headband
Tiny Orange Hair Ribbons
Homecoming Wig
Empty Purple Spider Morostide Gift-Box
Empty Purple Witch Morostide Gift-Box
Empty Green Pumpkin Morostide Gift-Box
Empty Green Witch Morostide Gift-Box
Empty Green Spider Morostide Gift-Box
Empty Orange Bat Morostide Gift-Box
Empty Orange Witch Morostide Gift-Box
Present Bomb
Empty Red and Green Mini-Giftbox
Empty Mellow-Yellow Mini-Giftbox
Empty Blue Mini-Giftbox
Empty Vibrant Purple Mini-Giftbox
Depressing Coal Present
Mini Coconut Chocolate Cube
Mini Cappuccino Chocolate Cube
Ribboned Heart Lolly
Fancy Sour Apple Popcorn Egg
Darkside Painted Ornament
Atebus Painted Ornament
Centropolis Painted Ornament
Entranced Red Snow Fairy
White Vesnali Rose
Cream Vesnali Rose
Pink Vesnali Rose
Red Vesnali Rose
Violet Vesnali Rose
Cyan Vesnali Rose
Black Vesnali Rose
Survival Yellow Carnation
Bubblegum Ontra Gift Plushie
Lavender Ontra Gift Plushie
Tawny Ontra Gift Plushie
Fresh Ontra Gift Plushie
Ocean Ontra Gift Plushie
Sweet Green Bunny Bow Right
Sweet Green Bunny Bow Left
Sweet Yellow Bunny Bow Right
Sweet Yellow Bunny Bow Left
Sweet Red Bunny Bow Right
Sweet Red Bunny Bow Left
Sweet Purple Bunny Bow Right
Sweet Purple Bunny Bow Left
Sweet Sky Blue Bunny Bow Left
Sweet Sky Blue Bunny Bow Right
Aquamarine Long Beaded Necklace
Baking Starter Kit
Luminaire Lamb Plushie
Peppermint Cuddlefish Plushie
Marshmallow Cuddlefish Plushie
Baby Reindeer
Allure Potion
Plain Ribbon Journal