Information
MailJeevas has a minion!
Mello
the
Choco Kitty
MailJeevas
Legacy Name: MailJeevas
The
Steamwork Kerubi
Owner:
CHiSHiO
Age: 11 years, 2 weeks, 6 days
Born: December 28th, 2010
Adopted: 11 years, 2 weeks, 6 days ago
Adopted: December 28th, 2010
Statistics
Level: 111
Strength: 280
Defense: 278
Speed: 276
Health: 278
HP: 278/278
Intelligence: 368
Books Read: 365
Food Eaten: 0
Job: Hotel Chain Owner

Navigation: CHiSHiO's Profile:Subeta Homepage : Explore : Inventory : Forums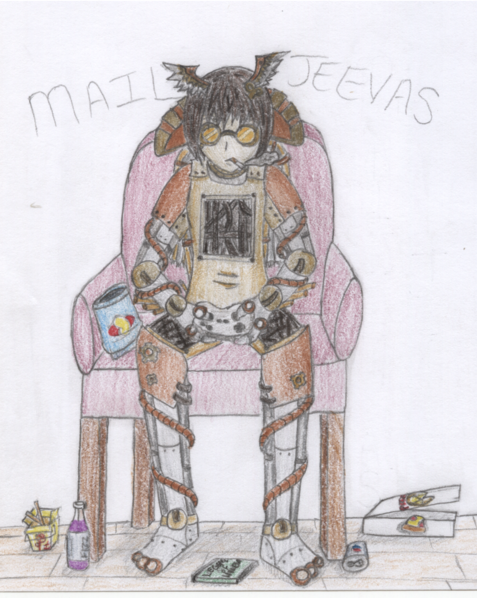 You walk into an eerily glowing room, the only lighting coming from the various monitors set up around the room and the large television that's taking up one entire wall. The kerubi on the couch doesn't even look up at you. "Take a seat," he says, without taking his eyes off the screen for a second. "I'll get to ya once I finish this level."
You brush aside the empty chip bags, pizza boxes and soda cans and sit on the couch to wait for the other to finish what he's doing. When he finally sets down his controller, he turns to you and lights a cigarette. "Sorry 'bout the mess. I was gonna take care of it, I just..." He shrugs, "...got involved in other stuff.
"So who are you, exactly?" He pauses, listening to your somewhat lame excuse as to what you're doing in his room. "That so? Hmm... I guess I can tell a little about myself, since you're so interested.
"The name is Mail Jeevas, but just call me Jeevas. There's not really that much to me, to be honest. I'm a tech head and a gamer, if you couldn't tell that already. I'll play just about anything I can get my hands on, but I really like shooters and classic games.
"Oh, and that l'il guy?" Jeevas takes a long drag from his cigarette and gestures towards a chocokitty sleeping on a cushion in the only clean area of the room. There only piece of trash in the area is a chocolate bar wrapper lying beside him. "That's Mello. He's a primadonna if there ever was one, but I love him all the same. He's pretty good about forcing me to take breaks from the gaming. Y'know, to feed him."
He shrugs again, puts out his cigarette, and picks up his controller. "Well, I'm gonna get back to this now. Knock next time you come over, okay?"
Name: Mail Jeevas
Nickname(s): Matt
Birthday: February 1st
Favorite Food(s): Junk Food
Hobbies: Jeevas spends most of his day playing video games of all kinds, from kid's games to bloody shooters to raunchy dating sims. He collects game systems as well as classic games.
To pay for his rather expensive hobby and Mello's expensive taste in chocolate, Jeevas spends his nights hacking into anything that can make him a bit of cash. And while he started hacking out of necessity, he's grown to enjoy it the challenge and the adrenaline rush he gets out of it and he now does some hack jobs that are more for fun than profit.
He likes creating security systems as well as hacking into them. More for fun than anything, or at least he claims, Jeevas made an elaborate security system for his room to protect his games, though it serves little purpose since he rarely goes outside.
Personality: Jeevas is laid-back and introverted, preferring to spend his time in the virtual world rather than dealing with social situations. He tends to get engrossed in his games or hack-jobs and, were it not for Mello, would most likely skip several meals at a time.
Pet Treasure
Flashback Wild One Cigarette
White PC
Steamwork Laptop
Steamwork S-Pod
Orange Tangerine Laptop
Orange Rad Game System
Orange Gaming Headset
Orange Rad Wireless Controller
Original Gamer Control
Original Gamer Control
Joystick
Golden GamePet
Box of Childhood Memories
Game Clutter
Stack of Coins
Arcade Tokens
Epic Games Issue 1
Epic Games Issue 2
Epic Games Issue 3
Legend of Hilda Gamepet Game
Super Plumber Guys Gamepet Game
Planetoid Gamepet Game
Monkey Cong Gamepet Game
Detrix Gamepet Game
Betamon: Azure Gamepet Game
Betamon: Crimson Gamepet Game
Worn Betapark Map
Midnight Betamon Badge
Moon and Sun Betamon Badge
Thunder Betamon Badge
Charamber Doll
Charamber Special Edition Betadoll
Squirreltle Special Edition Betadoll
Budasaur Special Edition Betadoll
Cindersill Special Edition Betadoll
Shikolita Special Edition Betadoll
Brotodile Special Edition Betadoll
Blazebird Special Edition Betadoll
Mudskip Special Edition Betadoll
Buschko Special Edition Betadoll
Chimmycharred Special Edition Betadoll
Pengplup Special Edition Betadoll
Turdtwig Special Edition Betadoll
Pinglet Special Edition Betadoll
Oshiwhat Special Edition Betadoll
Sneafy Special Edition Betadoll
Finnicken Special Edition Betadoll
Froagie Special Edition Betadoll
Chispun Special Edition Betadoll
Costume Plinkachoo Ears
Costume Plinkachoo Tail
Puffball
Pouty Adolescent Dragon Beanbag
Illegible Ping Instructions
Illegible Detrix Instructions
Illegible Invaders Instructions
Blue Invader Hat
Cyan Invader Hat
Exciting Action Ping Sticker
Immense Blade
Cowardly Ghost Sticker
Marco Plushie
Lorenzo Plushie
Dinoshi Plushie
Mush Plushie
Towser Plushie
King Chelon Backpack
Little Sparky Bomb
Monkey Cong Plushie
Mushy Sticker
JJ Glider Critter Intersect Plushie
Jon Corner Critter Intersect Plushie
Nedd Critter Intersect Plushie
Peder Critter Intersect Plushie
Restarty Critter Intersect Plushie
Mathers Critter Intersect Plushie
Sebel Critter Intersect Plushie
Mebel Critter Intersect Plushie
Stalker
Benny Bun
Tiny Hero Plushie
Tiny Pirate Plushie
Tiny Villain Plushie
Linc Hat
Courageous Hero Masterful Sword
Courageous Hero Shield
Courageous Hero Truthful Eye
Courageous Hero Chainmail
Courageous Hero Glove And Bracer
Courageous Hero Glove
Courageous Hero Golden Hair
Heart Piece
Ocarina Plushie
Wise Princess Gloss Ocarina
Ocarina Pendant
Magical Key
Vigorous Thunderbolt Restorative
Vigorous Undercurrent Restorative
Vigorous Inferno Restorative
Vigorous Raven Restorative
Sensory Perception Core
Falling Boots
Assorted Bottle Caps
Itty Chomp
Fruit Block Salad
Brain Eater Egg
Squishy Brain Eater Plushie
Cyber Caching Device
Pass of Many Uses
EPICon 2013 VIP Lanyard
Empty EPICon 2013 Bag
Likes Coding Statement Tee
Circuitboard Mug
The Interweb
Insane Programming Volume 1
USB Memory Stick
Zims Professional Gamer Sticker
Blue Puzzle Cube
Yellow Goggles
Brass Raygun
Coal Gear Ornament
Silver Gear Ornament
Ivory Gear Ornament
Bronze Gear Ornament
Gold Gear Ornament
Airman Gear Fastener
Gear Clip
Onyx Twenty-sided Die
Black Ten-sided Dice
Precious Gems of Discord
Eye Tyrant
The Doc Rag Doll
Precious Rag Doll
Beer
Bag of Chips