Information
Wonderweiss Margela has a minion!
Fura
the
Hexling
Wonderweiss Margela
Legacy Name: Wonderweiss Margela
The
Scribble Bhakoru
Owner:
CHiSHiO
Age: 10 years, 5 months, 5 days
Born: August 13th, 2011
Adopted: 10 years, 5 months, 5 days ago
Adopted: August 13th, 2011
Statistics
Level: 62
Strength: 156
Defense: 153
Speed: 153
Health: 153
HP: 153/153
Intelligence: 22
Books Read: 11
Food Eaten: 0
Job: Candy Taster

Navigation: CHiSHiO's Profile : Subeta Homepage : Explore : Inventory : Forums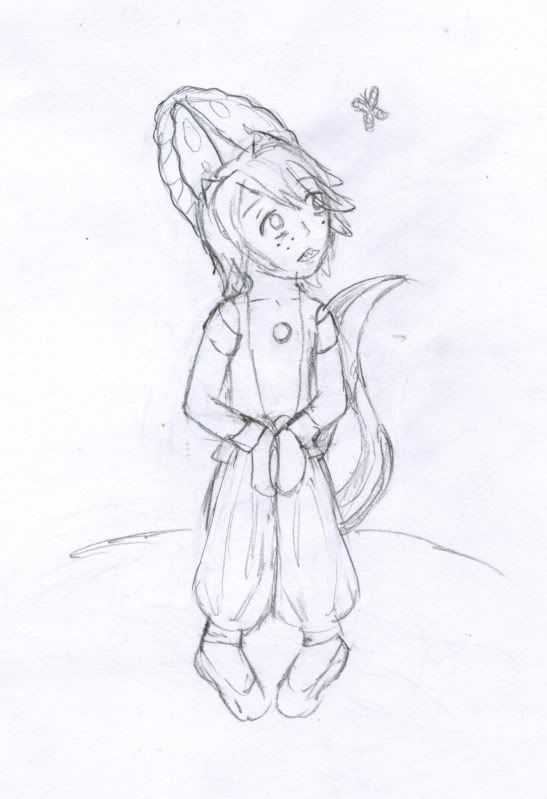 You step into a white room. The walls are plain, undecorated and the corners appear to have been chewed on by some animal. Sitting on the floor beside a small pile of candy is a young Scribble Bhakoru. He sits facing away from you, noisily slurping on a bright purple lollipop, apparently unaware of your presence.
You debate with yourself from a moment whether or not you should bother the boy when he suddenly turns and looks up at you. "Aaah?"
Flustered, you quickly ramble out an apology mixed with excuses.
"Don't even bother," an annoyed voice states from behind you. You whip around to see an irritated-looking Glacier Feli standing in the hall with his arms folded over his chest. "I'm not even sure the kid can understand you."
Your brow furrows and you ask what he means by that.
"That kid's weird. He never says anything and he never does a fucking thing anyone says. And if you're not careful-"
You exclaim suddenly and turn back around. That Bhakoru is chewing on the back of your hair! A disgusted sound escapes your throat as you pry him off. Dislodged, he simply sits down on the ground directly behind you, looking up with large lilac-colored eyes. "Uwaaa..."
The Feli bursts out laughing. "Bwahahaha! That's Wonderweiss for ya, all right." He turns and waves over his shoulder. "Good luck with that."
You watch helplessly as he leaves you alone with Wonderweiss, who is now contentedly chewing on your shoelaces.
Name: Wonderweiss Margela
Nick-name(s): -
Birthday: July 6th
Favorite Food(s): Anything he can put in his mouth
Hobbies: No one can really say what goes through Wonderweiss's mind as he sits staring blankly at walls or off into space, but one can only assume he sees something we don't. He enjoys chasing butterflies and dragonflies, and anything that moves really. He shoves anything he can reach into his mouth, but he seems to particularly like eating candy.
Personality: Wonderweiss has a very child-like disposition. He is very curious and doesn't seem to understand the consequences his actions can have. He is generally friendly towards others, or rather uninterested in them, but he can attack viciously with absolutely no provocation or warning.
Wonderweiss is mostly stationary, staring out into the distance or watching the movements of others, but he has sporadic and unforeseeable bursts of movement and can be right next to you in seconds. He has a low attention span and his focus easily shifts from one object to another.
Originally coded by:
dreamsky
Edited by:
CHiSHiO
Ahhh... (Translation: Friends)
Pet Treasure
Pink Crystal Sword
Yellow Bottled Butterfly
Candy Matter
Mystical Magical Celestial Lolly
Keiths Lolly
Ribboned Heart Lolly
Rainbow Lollipop
Rainbow Lolly
Blue Slime Meltipop
Green Slime Meltipop
Pink Slime Meltipop
Cherry Ghostly Pop
Blueberry Ghostly Pop
Strawberry Jelly Skull Pop
Orange Jelly Skull Pop
Pineapple Jelly Skull Pop
Lemon Jelly Skull Pop
Lime Jelly Skull Pop
Lollipop
Tiny Mortiking Lolly
Tiny Chelon Lolly
Strawberries and Cream Lolly
Peppermint Lolly
Watermelon Lolly
Blueberries and Cream Lolly
Lemon Lucky Seven Sucker
Green Apple Lucky Seven Sucker
Blueberry Lucky Seven Sucker
Watermelon Lucky Seven Sucker
Coconut Lucky Seven Sucker
Fireside Blueberry Lolly
Fireside Blackberry Lolly
Fireside Cinnamon Lolly
Jar of Peppermint Stick Candy
Jar of Pumpkin Stick Candy
Jar of Lemon Stick Candy
Jar of Apple Stick Candy
Jar of Blueberry Stick Candy
Jar of Sugarplum Stick Candy
Jar of Strawberry Stick Candy
Sugar Coated Orange Star
Sugar Coated Lemon Star
Sugar Coated Lime Star
Sugar Coated Mint Star
Sugar Coated Cotton Candy Star
Sugar Coated Grape Star
Pet Friends