Information
Fade has a minion!
Chaser
the
Folicat
Fade
The
Silver Kumos
Owner:
Cheshire
Age: 6 years, 11 months, 3 weeks
Born: August 21st, 2015
Adopted: 6 years, 11 months, 3 weeks ago
Adopted: August 21st, 2015
Statistics
Level: 1
Strength: 10
Defense: 14
Speed: 10
Health: 10
HP: 10/10
Intelligence: 108
Books Read: 108
Food Eaten: 0
Job: Unemployed
_______________
|-|+| F a d e |+|-|


|| Willow Fade Eventide ||



Age: 15
Height: 5'2"
Weight: 110LBS

House: Ravenclaw
Year: Fifth
Pet: Cat named Chase &
Raven named Nox

Favorite Color: Green
Extracurriculars:
CoMC Club, Art Club
Special Interests:
Astronomy, Divination, Charms
- + - + - - + - + -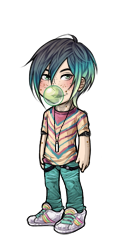 Fade grew up living in the muggle world and for much of his life knew nothing about the world of magic. His mother had quietly hoped he would be a non-magical child since she had chosen to live among the Muggles. But in the back of her mind she knew it was not meant to be. Even before Fade started Primary School she was forced to carefully dye his hair in order to cover up a rare magically inherited condition. Like his late grandmother Willow, Fade was what they called a Metamorphmagus. Although in the beginning the ability seemed to stop and end with his hair color.

It wasn't until Fade received his acceptance letter to Hogwarts that he learned the whole truth of the matter. Apparently before taking up writing, after graduating from Hogwarts in the top of her class, his mother traveled the world working as a broker for Gringotts. On a business trip to America she met and fell in love with a non magical man. Within the next year she decided to retire from her position and settle down with him.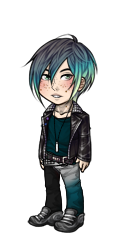 This caused discourse among her family. Coming from a somewhat prestigious magical lineage, only her mother supported her decision. Sadly, Willow passed away before Fade was born.

Fade is a rather quiet individual who is easily embarrassed, but in no way shy of expressing himself. Thanks to the friendships he's developed at school, Fade has become much more confident in himself and his abilities: He sketches life drawings and clothing designs in his sketchbook every day. He can transform a bit more than just his hair and has even managed to get it to stop giving away his every emotion like a mood ring... Well for the most part. As far as school goes Fade finds himself particularly interested in Care of Magical Creatures, Charms, and Divination. He's also made it his mission to find a way into the Restricted section of the Hogwarts Library.


- + - + - - + - + -
art by
Essy commissioned by
Bennet ♥️
- + - + - - + - + -
Daily Wear
Muggle Camouflage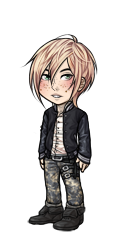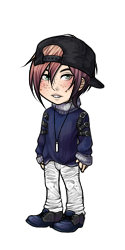 artwork / story / HA designs / pet & minion overlays done by
Cheshire
:star: P.S. - if anyone I RP with has a fan-pet of their OC
please let me know so I can add them to Fade's friend list.

(( collects "wizarding" items & art stuff ))
Pet Treasure
Torn Out Doodle Page
Raven Talisman
Survival Yellow Memory Flower
Raven Feather Quill Pen
Swan Feather Quill Pen
Turkey Feather Quill Pen
Pylot Feather Quill
Sparkler
Anti-Possession Ink
Potion of Loyalty
Amiable Love Potion
Miss Nanny Mirror
Brown-Handled Magic Broom
Svarta
Glowdeer
Tiny Morostide Werewolf Plushie
Know It All Rag Doll
Magic Doll
Flying Beer Pong
Speckled Jelly Beans
Witchs Cauldron
Fancy Corporate Pen
Mechanical Pencil 0.7
Mechanical Pencil 0.5
Mechanical Pencil 0.3
Blue Insignia Pens
Steel Dip Pen
Calligraphy Pen
Ivory Dip Pen
Pink Colored Pencil
Red Colored Pencil
Orange Colored Pencil
Yellow Colored Pencil
Green Colored Pencil
Turquoise Colored Pencil
Blue Colored Pencil
Purple Colored Pencil
Brown Colored Pencil
Black Colored Pencil
Gray Colored Pencil
White Colored Pencil
Burnt Sienna Traditional Watercolor Chips
Burnt Umber Traditional Watercolor Chips
Crimson Traditional Watercolor Chips
Indigo Traditional Watercolor Chips
Mineral Blue Traditional Watercolor Chips
Mineral Green Traditional Watercolor Chips
Vermilion Traditional Watercolor Chips
Crumpled Paper
Pack of Cold Press Watercolor Paper
Hand-Penned Carolling Sheets
Potions II
Pencil Art
Water Magic
Autumn and Magic
Dream Journal
Potion Painting
How to use Magik
Book of Very Interesting People
Dawn Mahar Tome
Flaming Calculus Book
Book of Quills
Gilded Saheric Tome
Bitabook
Betamorphs Set