Information
Casey has a minion!
Macey
the
Angelic Puppy
Casey
Legacy Name: Casey
The
Custom Chibi Montre
Owner:
Nicole
Age: 17 years, 4 months
Born: April 13th, 2005
Adopted: 17 years, 4 months ago (Legacy)
Adopted: April 13th, 2005 (Legacy)
Statistics
Level: 8
Strength: 16
Defense: 10
Speed: 10
Health: 10
HP: 10/10
Intelligence: 14
Books Read: 0
Food Eaten: 0
Job: Register Clerk
As a little girl, all Nicole wanted was a dog to call her own. She would write to Santa each year to ask for a puppy, but her parents told her that it was too cold for a puppy to be on a sled so Santa could not bring her one. At the end of her kindergarten school year, Nicole's mom found a stray black dog roaming around her school and grabbed her before she could get hurt. They had no idea where she had come from, but they could tell that she had been on the road for a while. Nicole's mom took the dog to the vet to get her checked out and eventually found a home for her with a friend's family. Nicole was heartbroken to lose her new best friend.Unfortunately (or fortunately), a few weeks passed by and it seemed as though the dog, now named Casey, was not working out with the family. They said she pulled too much on the leash and gave the kids rope burn. Nicole's family decided to keep Casey and give her a home with them. From that day on, Nicole and Casey were inseparable. Casey was a best friend and constant companion to Nicole, seeing her through much of her childhood. They enjoyed playing together in the backyard and Nicole would take Casey for a walk while she roller skated. Casey's favorite toy was her Rubber Ducky, which she took everywhere with her. When the family got a new dog, Molly, she became the "mommy" dog who took care of the new puppy and eventually they became the best of friends.
On October 13, 2001, Casey lost her battle with cancer and Nicole lost a piece of her heart. She knows that Casey is watching over her and will be waiting for her at the Rainbow Bridge when the day comes.
Casey Art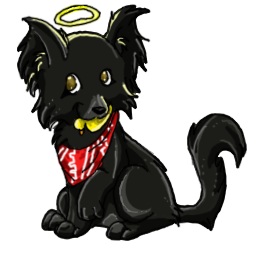 by
yiff

by User not found: josikaea

by
Destiny
Overlay by
Keshi

Vector Patterns by COLOURlovers


Profile template by
Lea.
Pet Treasure
Pompom
Peeka
I-Love-You Rainbow
Rubber Ducky
Rubber Duck
Field Rubber Duck
Arid Rubber Duck
Dusk Rubber Duck
Angelic Rubber Duck
Black Rubber Ducky Sticker
Yellow Rubber Ducky Sticker
Rubber Mallarchy
Over the Rainbow
Loyal Dog Action Figure
Chibi Montre Plushie
Teapup
Grumps
Zodiac Dog Spirit
Baby Angel Sundae
I Love You Montre Plushie
Pet Friends