Information
Thicket has a minion!
Brier
the
Liliflowre
Thicket
Legacy Name: Thicket
The
Glade Legeica
Owner:
Seerow
Age: 13 years, 4 months, 2 days
Born: January 26th, 2009
Adopted: 13 years, 4 months, 2 days ago (Legacy)
Adopted: January 26th, 2009 (Legacy)
Statistics
Level: 5
Strength: 15
Defense: 12
Speed: 14
Health: 11
HP: 11/11
Intelligence: 1
Books Read: 1
Food Eaten: 0
Job: Unemployed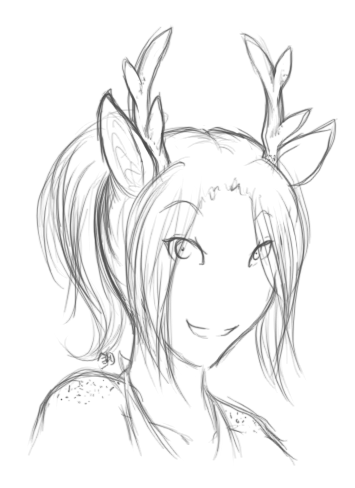 Art by Hagane. Coding by Asmodeus

More art can be seen by clicking the following links:
Jaxxy, Jaxxy, Leinef

The quiet whisper of a brook and the sing-song voice of birds are to be expected in a forest, everyone knows this. However, if you look carefully, you may just see a flash of color from a cardinal, perhaps even the blaze of orange, red, and white as a fox runs past.

As you glance down, you spot something in the damp earth - a hoof print. They are small and dainty, the perfect imprint of cloven hooves. Perhaps those of a deer, for they are the same shape and size.

Suddenly, you hear a sound not so common to the woods. Bright, young, feminine laughter fills the air, swirling around on the breeze. You glance around for the source, expecting perhaps another explorer, for certainly no creature in the woods produce a sound quite like this... right? A brief flash of a spots and prancing feet are all you see as a pair of creatures dart in front of you, disappearing in a fit of giggles between the trees.

Art Details

Overview
Thicket and her lovely sister Copse are a type of centaur that is half deer, rather than half horse. They are a forest sprite and the guardians of their woods - although they spend most of their time playing pranks and tricks on hikers and bird-watchers! They delight in pulling pranks on their caretaker, Gabriel. Thicket is usually content to let Copse take the lead in their escapades.

Details
- Thicket (and Copse) are NOT standard Legeica. They are deer-centaurs.

- Thicket does have an affinity for flowers and likes to decorate with them. Flower necklaces, petals in her hair, and the like are fairly commonplace.

- She is built quite dainty, like a deer. She has the standard brown coat of one and white speckles much like a faun. When compared to her sister, her horns are much larger and have a few branches. She has freckles along her shoulders only, none on her face.
Pet Treasure
Bonsai Leaves
Pan Pipes
Peka Glade Willow Figurine
Woodland Following
Handmade Wooden Bangle
Pink Flower Basket
Red Purdeflowr Plushie
Sacred Lands Jeweled Egg
New Growth
Sweet Petal Tea
Lavender Bellflowers
Blue Flower Arm Wrap