Information
Hilarious has a minion!
CrackMeUp
the
Lollerbot
Hilarious
The
Darkmatter Clawsion
Owner:
Lesleigh
Age: 9 years, 9 months, 2 weeks
Born: November 28th, 2009
Adopted: 9 years, 7 months, 3 weeks ago
Adopted: January 23rd, 2010
Statistics
Level: 69
Strength: 146
Defense: 132
Speed: 69
Health: 143
HP: 143/143
Intelligence: 115
Books Read: 114
Food Eaten: 9
Adopted Hilarious from the pound on January 23, 2010. LOVED the name! Adopted as a Sun Archan. 1/23/10: used a cream clawsion elixir, 1/23/1010: Used a dark matter potion. 7/7/10: Ooopps! Blessed Hilarious and now he is Galactic. 7/16: Hydrus for the achievement and then back to Dark Matter as he should be!
Hilarious is my beloved dark comic. He uses his epic wit to cover up his deep pain. He is also a tremendous whistler. The frequent whistling annoys Boscia to no end--a constant source of amusement to Hilarious.
From Hilarious: Nothing funny about that pound, let me tell ya. Could not even get anyone to crack a smile. Too busy crackin' heads in there, they are. I have a sarcastic wit and dark humor; it comes from a place you do not want to see. Lesleigh and I hit it off straight away because she sees even in the darkness. CrackMeUp was my first gift from Lesleigh and we go everywhere together. CrackMeUp looks harmless, but I am here to tell you: Looks deceive, my friends.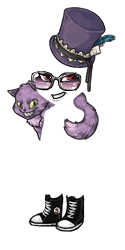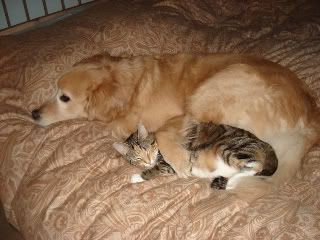 Pet Treasure
Wok This Way Sticker
Good Egg
Rawr Blub
Disturbed Flopit Figurine
Clusterflux Zombie Plushie
Happy Spear
Stalker
Sadistic Shrub
Cheezbord
Festively Glowing Holiday Rogue Cow
Birb Blub
Happy Bomb
Elwood-style Anger Management
Steamwork Turnip
Ballsy Sticker
Pickle Mechanic
Carrot Warrior
Chaotic Umbrella of Poking
Nut Cracker
Comedic Muse
Punkmallow
Snail Costumed Kitty
Distressed Ice Cream
Wanna Piece of Me Sticker
Impostor Turkey
Mad World
Aviator Snail
Chrust
Complain Bot
Diabolical Puppy
Mister Snugglekins
Mismatched Playing Card Deck
Toothy Mug
Mister Shady Guy
Cork Gun
Suspicioid
Hammerhead
Wok This Way Sticker
Super Awesome Potato
Ohno! Road Sign
Rocket Helmet
Crying Egg
Captured Pineapple
A Few Loose Screws
Rift Bot
Half Baked Sticker
Girly Flopit Figurine
Experiment 696 Plushie
Scary Devilish Egg
Party Jelly
Disguise Glasses
Kungfu Gingerbread Man
Chili Cheese Hot Dog
Clown Fish
Mister P
Whaddya Fish
Clockwork Bomber
Frolicking Daisy
Cognoscenti
Rose Nervous Chick Plushie
Eggus
Disco Blob Doll
Suave Onion
Distraught Flying Saucer
Bite Me Sticky
El Wood
Shake It! Santa Toy
Runaway Dinner
Corn Dog Ninja
Bacon and Egg Breakfast
Poop Taffy
Upset Marshmallow
Flack
Chicken Wig
Angel Sammich
Pig In A Blanket Plushie
Chrust
Sociable Fly
Gift Gremlin
Dragon Breath
Tinsel Blob Monster
Cyan Uncomfortably Short Shorts
Mister Giggle-Pants
Woodrow
Summer Fun Old Wizard Action Figure
Mister Top Hat
Pilgrim Flopit Figurine
Failed 2011 New Years Resolutions
Jelly Bean Poopin Reindeer
From Num-Num to Electrician in 508 Easy Steps
Mini Muffin Man
Rivenghe Egg
Attacking Crab
Finger Trap
Laginator
An Idiots Guide to Constructive Criticism
Klaver
Kamikaze Komodo
Generic Minion
Budget TV
Unibrow Disguise
Present Bomb
Grumpy Bendy Banana Toy
Smiley Avocado
Bagged Pufferfish
Purple Possessed Teddy Plushie
Smiley Steak
Wind-Up Squirrel
Picket Sign of Impending Doom
Not A N00b Picket Sign
Happy Rearview Mirror Danglers
Steam Dance Machine
The Truth About Clowns
Punky Fruit
Partysaurus
Wibblephant
Jaw Fish
Bottled School Girl Shriek
Baby Turkey
Booh
Ten Lords-a-Leaping
Amazing Weirdo Goggles
White Muscle Shirt
Earwax Puffs
Googly Glasses
Doughnut Snowman
Chicken on my Head
Funky Pink Clown Nose
Crazy Bird Plushie
Rocket Helmet
Balu
Ebil Arid Toaster
Comatose Lizard Minion
Can of Worms
Disgruntled Cup Fish
Bowling Ball and Chain
Pegleg of Slipping
Cyclamp
Worm Pull-Along Toy
Luminaire Pickle
Bottled Stinker Acid
DIY Rock Star Kit
Cotton Candy Bomb Launcher
Microwaved Marshmallow Chick
French-Fry
Thirteen Inch Pumpkin TV
Stress Balloon
The Feli Field Guide to Popularity
Vesnali Mortiking Plushie
Senor Drippy
Zombie Kitten
Pie Shield
Pancake Top Hat
Big Book of Jokes
Kungfu Gingerbread Man
Compactor
Batty Bat
Sausage Pirate
Balloony
Banana Phone
Lobsterphone
Dancing Turkey
Woowoo
Trick Ice Cube
Mister Giggle-Pants
Potato Pirate
Whoopee Cushion
Corn Dog
Hammerhead
Bucket Hat
Ohno! Road Sign
Diary of a Coconut
Freaking Rock
Very Silly Hat
Silly Calico Kitty Plushie
Sandwich of Questionable Origins
Dhonky
Ninja Flopit Figurine
Shake It! Santa Toy
Hilaros
Joker Staff
Evil Pie Cookie
Military Fish
Rubber Chicken with a Pulley
Egglet
Kamikaze Worm
Valiant Jelly Bean
Pet Friends