Information
Escada has a minion!
Power4Good
the
Halo
Escada
The
Angel Kumos
Owner:
Lesleigh
Age: 9 years, 8 months, 2 weeks
Born: December 28th, 2009
Adopted: 9 years, 8 months, 2 weeks ago
Adopted: December 28th, 2009
Statistics
Level: 110
Strength: 193
Defense: 173
Speed: 108
Health: 174
HP: 174/174
Intelligence: 234
Books Read: 234
Food Eaten: 15
Escada became Galactic on 1/07/10.
On February 2, Escada became a twilight Kumos.
February 21: I took the plunge! Escada became Angelic.
From Escada: Riding on a cloud is cool. Practicing my magic is even cooler. I help out the Wizard from time to time, but that is on the down-low and on a need-to-know basis.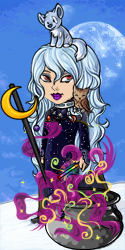 Pet Treasure
Ruby-Accented Scabbard
Water Elemental Staff
Jekyll and Hyde Scepter
Heirloom Bearded Iris Seeds
8 Ball Sticker
Token Of The Earth Spirit
Sanguine Jelly Vial
Vial-o-Sparkles
Upside Down Chemical Spiller 5000
Psychic Bubbles
Magical Keepsake Box
Sorcerer Spectacles
Mister Stardust
Legendary Staff of Mists
Magical Banana Seed
Mystical Pumpkin Powder
Starlight Telescope
Galaxy Orb
Kora Wand of Transformation
Magic Wand
Kerubi Wand of Dreams
Sourcerror
Blue Celestial Flask
Nitwit Juice
Magical Cologne
Oracle Staff
Shaman Gnarled Staff
Bubbly Potion
Magical Hat
Allure Potion
Cauldron
Field Magic Wand
Arid Magic Wand
Dark Shaman Bone Staff
Bizarre Staff
Tribal Priest Staff
Old Wizard Plushie
Old Wizard Hat
Chemicals
Star Gazer Meter Reader
Sheeta Moon Scepter
Magical Pie Wand
Magical Love Paste
Spiraling Ascension Potion
Wand of Power
Sealed Scroll of White Magic
Teeny Pie Minion Magical Wand
Magical Kumos Trident
Old Wizard School Book Tape
Magical Mushroom
Magical Frost Key
Magical Angelic Sneaker
Magic Wand
Magical Broomstick
Magic 8 Ball
Magic Doll
Pet Friends