Information
Scythrin has a minion!
Dusk
the
Sirius
Scythrin
The
Galactic Montre
Owner:
Zay
Age: 9 years, 3 weeks, 5 days
Born: June 6th, 2011
Adopted: 9 years, 3 weeks, 5 days ago
Adopted: June 6th, 2011
Statistics
Level: 2
Strength: 10
Defense: 11
Speed: 10
Health: 10
HP: 0/10
Intelligence: 44
Books Read: 44
Food Eaten: 0
Job: Unemployed
You know of the Grim Reaper, he's a skeletal being that wears a long black as night cloak, he carries a wicked scythe with which he uses to slay mortals when their time has come. He's evil you say? Well that's what they want you to believe.. the reaper I've come to know is far different than the one in horror films. True.. he still is destructive and in the end, is what kills, but it's not his job to decide whether you go to Heaven or Hell. That, is my job. I guide souls, lost or not, to where they need to be. I am Death's Angel, one of the first, and my name is Scythrin. That's pronounced S-eye-th-rin. Now say it all together, a bit quickly, now you've got it. I am the Keeper of Souls. I'm neither alive, nor dead, even though my heart beats, it's just so if I ever betray Grim he can.. "kill" me. I'm a bit of a sad person, aren't I? Not to worry, I don't plan on defying my lord, I like my job, and I do it well.

The Keeper of Souls
The keeper of souls never sleeps, never tires, never weeps.
The souls keep coming in an endless flow, and I am the one to help them go.
They stare blankly ahead, their eyes full of sorrow.
How am I to tell them there will be no tomorrow?
The night is my only sanctuary, I can be free in the thickness of dusk.
Death keeps me busy most of the time.
Seems I am the one who should be the leader in this crime.
The keeper of souls never sleeps, never tires, never weeps.
How is it that my tears are seeping through now?
I wish you luck in the afterlife, don't forget to say goodnight.

Playlist
Puppet on a String - The Hives
Still Doll - Kanon Wakeshima
96 Quite Bitter Beings - CKY
Welcome to the Black Parade - My Chemical Romance
Chop Suey - SOAD
A Stroll Thought Hive Manor Corridors - The Hives
The Dark Messenger - Nobuo Uematsu
Them Bones - Alice in Chains

Love?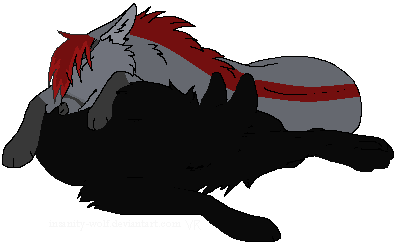 It is a constricting thing. It clouds the mind and body and enslaves us into oblivion. It twists and turns, churning the blood. I often wonder why my non-existent heart aches for it... Why anyone would want it... After all, who could love a departed soul?
Dusk
He is a companion, loyal through and through. Left abandoned when the soul of his owner was led to the pearly gates. Feeling sorry for the poor creature, I took him to Grim. After much debate, Lord Death decided to give him to me, it wasn't Dusk's time to go, but his soul was stolen away and now he is as immortal as I. He helps me to gather and lead the souls to their final resting places.
Artwork/Credits
XX by
Zay
X Wolf Love line art
X by
Boofrickityhoo
Layout and Coding by
Zay
Pet Treasure
Massive Scythe of Slaying
Ghostly Costume Scythe
Sunrise Spirit
Scythe
Illumis Sun Scythe
Father Time Scythe
Death Scythe
Black and Red Candy Scythe
Black and White Candy Scythe
Pumpkin Candy Scythe
Harvester Scythe of Doom
Vengeance
Aura of Mortal Terror
Box of Souls
Spiritbound Travel Trunk
The Death Book
Broken Heart Collar
Skull Pendant
Unnervingly Cheery Skull
Shinigami Sticker
Tribal Priest Staff
Pirem
Sangarius
Scaraph
Vita
Svarta
Haru
Witch Minion
Decapitated Puppy
Horrific Ghostly Aura
Restless Sad Spirit
Restless Angry Spirit
Restless Malevolent Spirit
Soulfox
Blank Possessed Contact
Pet Friends