Information
Keeighan has a minion!
Ouch!
the
Bitten Pie Minion
Keeighan
Legacy Name: Keeighan
The
Twilight Clawsion
Owner:
StripeyKneeSocks
Age: 16 years, 4 months, 2 weeks
Born: July 12th, 2006
Adopted: 16 years, 4 months, 2 weeks ago (Legacy)
Adopted: July 12th, 2006 (Legacy)
Statistics
Level: 119
Strength: 217
Defense: 161
Speed: 164
Health: 170
HP: 0/170
Intelligence: 680
Books Read: 663
Food Eaten: 0
Job: Intelligence Analyst

Welcome
Well, Hello there, I am so glad that you stopped by, I love to have visitors. I am, for the most part, outgoing and friendly. I am extremely loyal and giving in nature. Just don't try to take advantage of me or I will send Chaos over to your house while you are sleeping and no one wants that to happen.
I have a pie obsession, a fetish if you will. I think of pie all day long. The smell of a fresh baked pie, so warm, it just makes my mouth water. I have quite a few tucked away in the gallery. One day I will own every pie item in the world. But for now, I am content with what I have.
I have finally been given an appropriate minion. Although I got a bit excited and took a small nibble. But he does not seem to mind... much.
I have been forced to choke down so many foods that I have never even heard of much less would choose off of a menu. What I do to make my owner happy.... not that I had much choice in the matter. All so that she could get an achievement. Ugh.
In my spare time I have been reading anything I can get my paws on. So many interesting and wonderful books out there. I will have to save up my allowance because most of the books I have not read yet are way out of my price range... I wonder if I can sneak into Stoli's room and scrounge up a few bucks. Though the last time I did that and he caught me he turned me into a frog for three weeks and I certainly don't want that to happen again.
Anyway, Do stop by and visit again. I so enjoyed your company.
Thank you Tigerrrl for the amazing picture. You are a sweetie.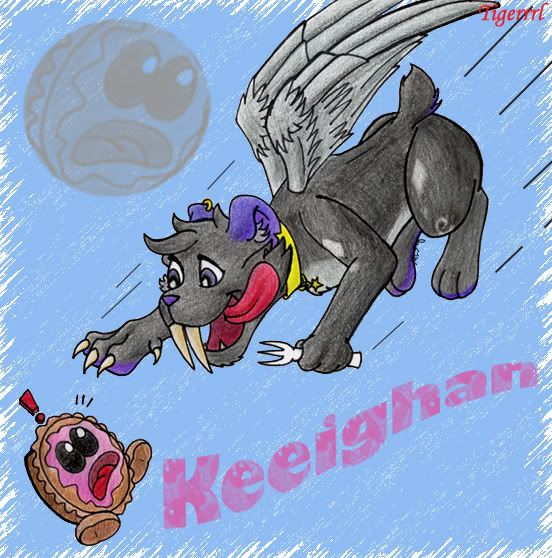 Pet Treasure
Bubble Gum Crunchy Bone Candy
Clawsion Battle Paw
Clawsion Paw Shell
Clawsion Fountain
Clawsion Magic Wand
Clawsion Battle Wand
Teeny Pie Minion Magical Wand
Nostalgic Clawsion Instructions
Scum Crunchy Bone Candy
Simple White Leather Collar
Angelic Collar
Boot Collar
Broken Heart Collar
Cupcake Collar
Heart Collar
Kitty Head Collar
Ice Cream Collar
Puppy Head Collar
Skull Collar
Star Collar
Aeanoid Collar
Telenine Collar
Tigrean Collar
Giselle Kinkylove Padlock Collar
Festive Bell Collar
Furball Collar
Zooky Collar
Kuro Neko San Collar
Mori Choker
Ruffie Collar
Ruffie Spiked Collar
Gothic Collar
Red Witch Choker
Snowflake Spiked Collar
Feathered Metal Clown Collar
Retro Future Silver Collar
Spiked Punishment Collar
Chipper Collar
Mini Gelatin Figurine
Bone Filled Luminaire Hat
Ground Bone Shaker
Watermelon Candy Ruffie Bone
Apple Crunchy Bone Candy
Magical Bone
Clawsion Toy Wand
Sixth Anniversary Balancing Clawsion
Sixth Anniversary Chewing Clawsion Plushie
Clingsion
Fuzzy Clawsion Journal
Clawsion Balloon
Clawsion Shampoo
Pete-in-a-Pie
Pet Friends