Sebakhin
Legacy Name: Sebakhin
The
Sweetheart Jollin
Owner:
Cheshire
Age: 11 years, 2 months, 2 weeks
Born: June 2nd, 2011
Adopted: 11 years, 2 months, 2 weeks ago
Adopted: June 2nd, 2011
Statistics
Level: 1
Strength: 10
Defense: 10
Speed: 10
Health: 10
HP: 10/10
Intelligence: 0
Books Read: 0
Food Eaten: 0
Job: Unemployed



||×| Sebakhin |×||

---

| covetous | cunning | faithful |



Interests: piercings, golden paint, high end jewelry, acrobatics, precious metals, disentangling knots, picking locks, small shrines, burning incense, staying out past curfew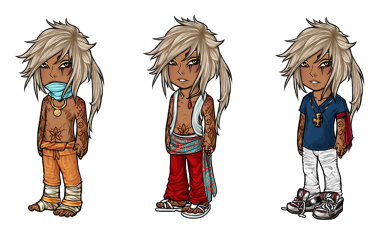 ---
~+~+~ Wizarding A.U. ~+~+~
---
Name: Sebakhin Omari
Nickname: Seb, Seba
Birthday: June 2nd
Age: 16
Blood Status: pure-blood

School: Alexandrian Academy for the Arcane Arts
Ranking: Practiced
Nationality: Egyptian
Spoken Languages: Arabic, Nobiin, English
Special Ability: ??


Extracurriculars:
Ancient Studies, Muggle Music / Gymnastics
Favorite Class(es):
Study of Ancient Ruins, Alchemy, Astronomy
Wand:
11in, chestnut, dragon heartstring, slightly springy
Patronus: crocodile
Boggart: Solifugae AKA: camel spider

Favorite Candy: Pepper imps
Favorite Color: Gold
Favorite Book:
Merpeople: A Comprehensive Guide to Their Language and Customs
Favorite Holiday: Christmas

Goals: Wants to become an archeologist.

Personality: Adaptable, outgoing, covetous, adventurous, and very competitive.

Bio: As a baby Sebakhin had been "Left behind." by his parents, according to his uncle. Raised by his grandparents and uncle until his grandparents passed away, ultimately leaving Ammu and Seb alone with one another. Avoiding his home life as much as possible, Seb spent a lot of time at the local gymnasium where he developed a love for acrobatics. He also became adept as pick-pocketing in order to feed himself, a habit that has been somewhat hard to break. When forced to spend any time at home, he locks himself away in his room and reads books on old languages that his grandparents had collected.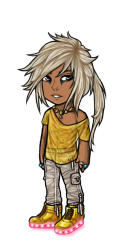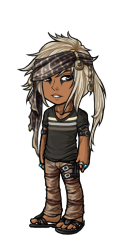 Pet Treasure
Colorful Gemstone
Treasure Chest Plushie
Romero Post Mortem Evil Eye Medallion
Scarab of Scholars
Giselle Thrift Rat Lamp
Gold Summit Key
Silver Summit Key
Iron Summit Key
Bronze Summit Key
Iron Lock Picks
Kings Booty
Skull of Gold Coins
Trio of Golden Statues
Pulled Gold Teeth
Golden Egg
Delicate Gold Feather Trinket
Gold Wing Ring
Gold Medallion Trinket
Gold Incense Burner
Gold Dust
Gold Sun Relic
Gold Crescent Moon Relic
Dove Gold Fancy Necklace
Golden Mahar Earring
Sun Gem
Arid Chelon Gem
Common Chelon Gem
Cream Chelon Gem
Gold Trinket Box
Bejeweled Golden Bunny Figurine
Silky Jewelry Cushion
Gold and Pearl Headdress
Dented Circlet
Jewel Encrusted Goblet